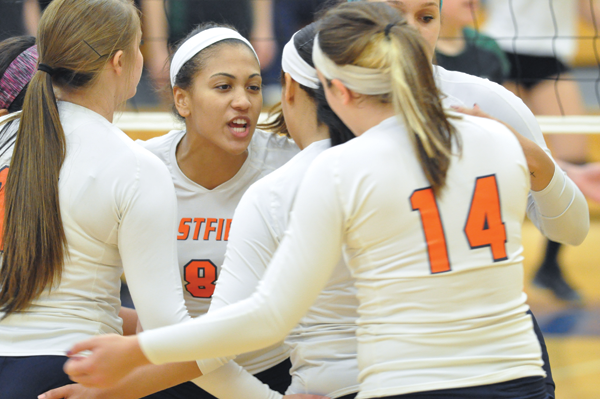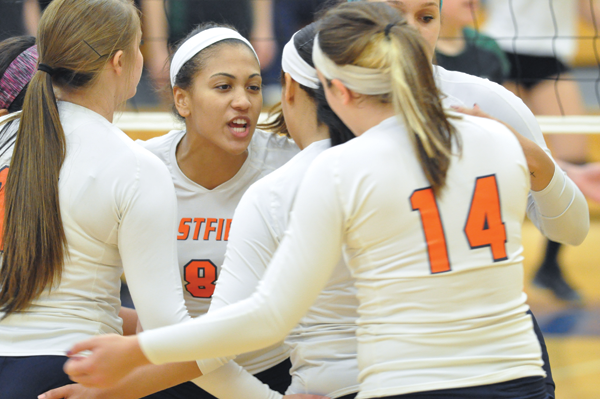 By Kevin Cushingberry Jr., Editor in Chief
Eastfield's volleyball team started its season off on the wrong foot. After losing the coach who recruited them and only practicing a few weeks with coach Caitlin Smith before their first game, the Lady Harvesters weren't sure how their story would end.
"There were times when I thought there was no way we were going to get it together," sophomore libero Cecilia Valadez said. "We wanted it, but things just weren't clicking when we needed them to."
However, after their early-season struggles, the Lady Harvesters won four of their final seven regular-season games, finding their footing just in time to land them in a tie-breaker match with Richland to see which team would advance to the Metro Athletic Conference tournament.
The Lady Harvesters posted three straight 3-0 wins in postseason conference games against Richland, North Lake and Brookhaven and went on to finish sixth in the NJCAA national tournament in Rochester, Minn.
"It felt like I was in a dream," Valadez said. "It felt perfect."
At nationals, Eastfield won its first set against SUNY Adirondack 25-23. It was a back-and-forth battle, with neither team able to secure a lead of more than three points throughout. The Lady Harvesters went up 2-0 after winning the second set 25-22.
Eastfield needed to win just one more game in the best-of-five format to advance in the winners bracket. However, SUNY Adirondack won the third set 25-17 and took the fourth set 25-23 to even the match heading into a 15-point fifth set. The final set started as close as the first sets, with the teams knotted 8-8 after 16 points. However, SUNY Adirondack closed with a 7-1 run to win the set and the match.
"Everyone was so tired by the fifth set," sophomore captain Cynthia Martin said. "It just looked like the energy wasn't there. Our errors and lack of energy only motivated our competitors, and they took advantage. I'm so disappointed that we gave them that game because we could have won. We were so close and we let it slip away. Everyone was extremely upset."
Martin, an honorable mention all-American choice last season, said inconsistency after a fast start was the team's downfall.
"We started off real strong," she said. "Unfortunately, all the energy and confidence we had in the first two matches just dwindled.We were making error after error, and we just couldn't get it together. We battled, but the errors were what killed us."
Exhausted, devastated and defeated, the Lady Harvesters had to quickly regroup to play the Fashion Institute of Technology immediately after the five-set loss.
Again, they won the first set 25-20, but FIT, which came into the tournament ranked No. 7 in the nation, bounced back to tie the match with a 25-18 second-set win. The Lady Harvesters escaped with a one-point victory, 25-24, in the third set.
Once again the Lady Harvesters only needed one more win to end the game. However, FIT won a tough fourth set, 27-25.
"At that point we all just wanted to go ahead and get it over with," Martin said. "Last match of the day, give it everything."
That's exactly what they did. Their blocks, passes and hits were all there. They had smart ball placement. They were on a roll, and there was no stopping them. Finally, they won the set 15-12 for a 3-2 victory.
"We gave every ounce of everything that we could," Martin said. "We were not going to let that game slip through our fingers like we had before. We were all so relieved that finally we were done. I don't think I've ever been so tired in my life."
The win was the first national tournament victory in Eastfield history and the first of the season against a team ranked in the top 10 nationally. However, the Lady Harvesters couldn't dwell on the win for long. They had to get up the next morning for the fifth-place game against No. 7 Northampton.
Eastfield won the first set 25-15, the Lady Harvesters' third consecutive first-set win in the tournament. However, Northampton won the second set 27-25 before losing the third to leave Eastfield in the lead 2-1. The Lady Harvesters lost the fourth set 25-15 and the fifth set 16-14 to end their tournament run.
On Nov. 19, the team was recognized for its sixth-place finish at halftime of the basketball game against CYM Academy.
Now that her volleyball career at Eastfield College is over, Martin said she can look back with gratification.
"Our team has overcome so many obstacles in order to get here," she said. "We've achieved so much. We've made Eastfield history. We set a goal: Beat Brookhaven and make it to nationals before the season even started, and we went out there and we did it. That's something to be proud of."
Martin said the season was an experience she will never forget.
"No, we won't be getting the ring we all wanted so badly, but we made memories, we made history, and most of all we proved something," she said. "No matter how many roadblocks are placed before you, no matter who does or doesn't believe in you, if you really want something all you have to do is believe and then go take it."