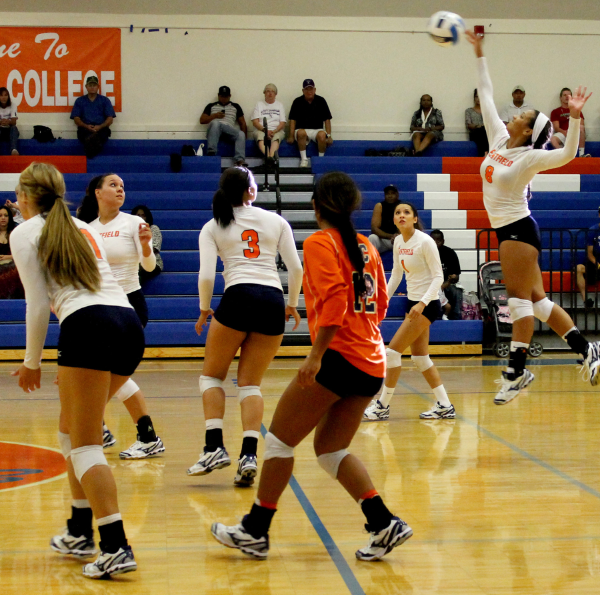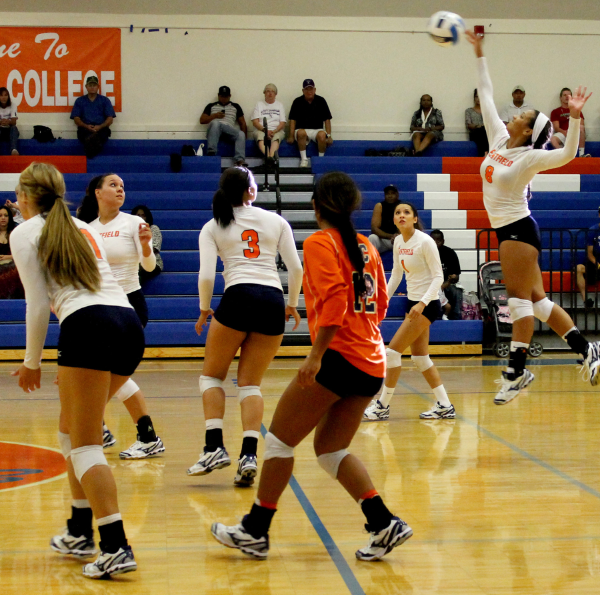 By Kevin Cushingberry Jr., Editor In Chief
After leading her team to the Region V championship game last October, and earning all-American honors after the season, outside hitter Cynthia Martin was anticipating  what her sophomore year would have in store.
Then Martin got a call from her coach, Audrey Glasscock, saying she was taking another job just two weeks before two-a-days.
The co-captain, who had hoped to make nationals with the coach who pushed her more than any in her past, would have to adjust. It wasn't going to be easy.
"We found out pretty last minute," Martin said. "We thought she was going to be here. We were all pretty upset."
Since Glasscock resigned from her position as head volleyball coach in July, Martin and the other three returners from last year's squad have been on an emotional rollercoaster.
"I feel like this year, being sophomores, she would have been on our butts more," Martin said. "She would have wanted us to lead more. With coach Glasscock, practice was real intense. If we made a mistake, she made sure we went back and made it up, but that's what I wanted."
Glasscock told the team she had a new assistant coach coming in, but she didn't know if they would have a head coach for the 2013 season. Caitlin Smith, who is 23 and spent the past four years playing volleyball at Cal Poly, first met with the team on Aug. 5.
"I was expecting to learn a lot from Audrey, how she runs her program, how she runs practice," Smith said.
Smith officially became the Lady Harvesters' new head coach in August, and had just a short period of time to get acquainted with the team before the first game.
"In the beginning, I just had to let them play, and let me get an idea of them as players and them of me as a coach," Smith said. "It allowed me to sit back and see who works well together, who's competitive, who's a leader and just kind of looking at it with fresh eyes."
Although they haven't been together for long, Smith has already seen the talent that made Martin an all-American last season.
"I think Cynthia is definitely a leader on the court," Smith said. "She plays well all around: hitting, defense, kills, digs. She's been consistently leading all of the categories. Her consistency will be vital to our success."
Smith said Martin's experience plays a big part in her ability to lead.
"She's not very vocal, but she leads in how she plays," Smith said. "She sets a good example for the girls. She demands the court when she wants to get that kill."
Co-captain Jordan Taylor said Martin's ability to step up during big moments will be key for the Lady Harvesters' success.
"We're really counting on her," Taylor said. "We're going to have to play big and we're going to have to play our roles."
Tangela Fuller and Cecilia Valadez are the only other returners this season and they plan on leading by example.
"We're going to put our foot down," Taylor said. "We're going to take care of business and we're going to go to nationals."
Martin said although she received recognition for last year's play, she knows leadership is a new responsibility.
"I felt like I could have done way better," she said. "I could have played way better, and I plan on playing way harder this year than I did last year. Our goal is to win our region."
Her co-captain said Martin deserved every accolade she got because she never leaves an ounce on the court.
"Cynthia's the type of player where if she wants to make a play, even if she breaks her leg doing it, she's going to make the play," Taylor said.
Taylor also admires Martin's work ethic in the classroom. Martin earned a 4.0 GPA for her freshman year at Eastfield.
"Cynthia is very organized," Taylor said. "The rest of us will be like 'We're fixing to go to the pool,' and Cynthia won't even roll with us. She's about business."
Martin said her maturity in the academic world has grown during her time at Eastfield, and she knows her good grades will be beneficial to her future.
"I plan ahead when I'm going to study," Martin said. "If something does come up and I can't do my homework, I'll stay up late to do it. If I have something to do, I'm going to get it done."