Harvesters claim five wins in non-conference games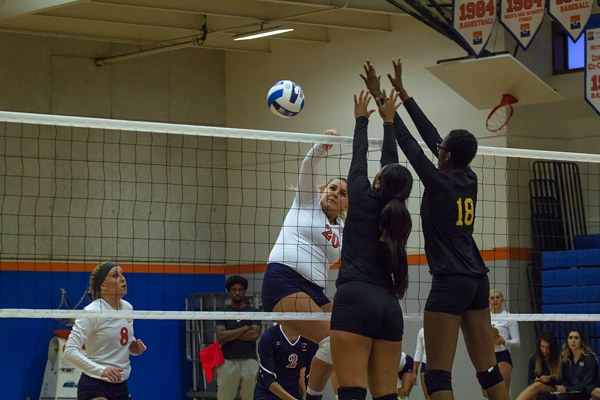 The Eastfield volleyball season is in full swing, with the Harvesters currently holding a 5-2 record and leading the nation in several areas with 353 kills, 104 service aces, 571 digs, and 64 block assists.
The team competed in the Vernon College Classic tournament on Aug. 25-26, going 2-2 and beating Division II and Division I opponents.
These non-conference games are in preparation for their conference schedule, which opens Sep. 18 when they visit Mountain View College.
Eastfield 3, Southwestern Christian 0
The Harvesters kicked off their season on Aug. 23 by sweeping Southwest Christian (25-12, 25-16, 25-7) on the road. Eastfield recorded 27 digs, 30 kills, 10 blocks and 19 service aces. Outside hitter Kerstin Fredrickson had six kills and seven digs, while outside hitter Keishla Reyes had six kills and six service aces.
Middle blocker Chloe Hope also recorded six kills offensively, while defending well with a dig and four block assists.
Seminole State 3, Eastfield 1
In their first match at the Vernon College Classic, the Harvesters fell 3-1 (25-13, 27-25, 21-25, 22-25) on Aug. 25. Middle blocker Payton Costlow had 14 kills, seven block assists and four service aces, while Fredrickson contributed 11 kills and 15 digs. Reyes also recorded eight kills, four service aces and 13 digs.
Eastfield 3, Labette 1
Narrowly winning the opening and closing sets, the Harvesters were able to knock off Division II Labette 3-1 (27-25, 17-25, 25-9, 28-26) for their first win of the tournament. Libero Alyssa Tomlin recorded 37 digs, while Reyes had 13 kills, four service aces and 21 digs.
Fredrickson also hit double figures defensively with 17 digs, while adding two services aces and eight kills.
Eastfield 3, Clarendon 2
The Harvesters took a narrow 3-2 victory (22-25, 25-23, 25-20, 21-25, 15-9) on Aug. 26 in their first five-set match of the season. Reyes and Fredrickson again stood out, combining for 28 kills, six service aces and 25 digs.
Defensively, libero Maura Munoz made 33 digs and Tomlin recorded 27.
Barton 3, Eastfield 2
The Harvesters closed the Vernon College Classic with a 3-2 loss to Barton (27-25, 23-25, 20-25, 25-23, 15-10), which went undefeated in the tournament. Fredrickson and Reyes both recorded 20 kills, four service aces and 27 digs. Liberos Tomlin and Munoz recorded 24 and 29 digs, respectively.
Costlow recorded 12 kills, while middle blocker Alex McPherson had 11 kills.
Eastfield 3, Arlington Baptist 2
Having won the first two sets, Eastfield was unable to keep Arlington Baptist from clawing back and was forced to a fifth set before winning 3-2 (25-18, 25-20, 23-25, 16-25, 15-5) on Aug. 28. Fredrickson had 10 kills and 17 digs, while Costlow and McPherson recorded 10 and 12 kills, respectively.
On defense, Tomlin had 31 digs, Munoz had 29, and outside hitter Lexi Peery had 13 digs and two block assists.
Eastfield 3, Paul Quinn 0
Frederickson led the way with 14 kills and eight digs as the Harvesters posted their second sweep of the season, winning 25-12, 25-16, 25-11.
Peery also recorded six kills, five service aces and five digs, while Tomlin had four services aces and 14 digs, and Munoz had three service aces and six digs.