Intramural coordinator aims to continue program growth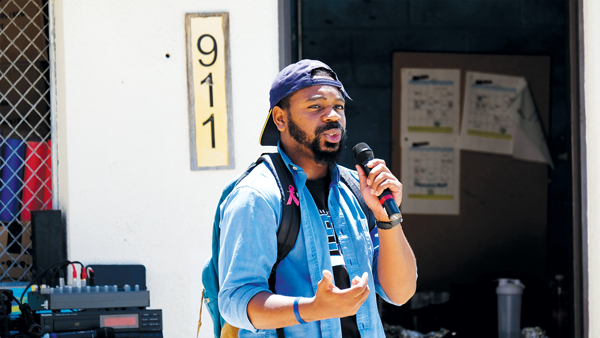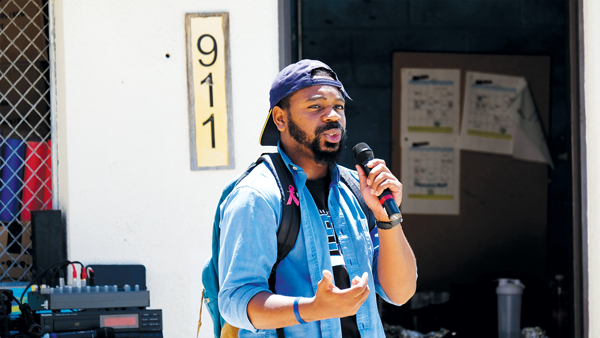 Jide "JC" Carew, who was born in Nigeria, worked as a peer mentor in the Office of Student Engagement and Retention while studying at Eastfield and the University of Texas at Arlington.
After graduating, he took on a full-time job as Eastfield's intramural sports coordinator.
Over the past year, Carew has been adding new activities to the schedule, from Saturday open gyms and traditional sports tournaments to chess tournaments and Workout Wednesdays. He sat down with Et Cetera sports editor Julio Vega to discuss what's next.
Q What inspired you to get involved with intramural sports here?
A Prior to this, my privilege up here on campus was being a peer mentor. I was taken under the wing of Larry Jefferson, the prior intramural program coordinator. I'm always active and I like to play sports. So I was like, "I'll take the job that lets me do what I like a lot." So what I have to do is come up with fun events that I already want to do and participate in because I'm so close in age with students. So of course, intramural sports are just that easy. But it was never anything that I had planned on doing. It's just something I kind of helped [Jefferson] with, and he said, "Hey, I think this would be a good thing for you to grow with."
Q Since starting, what have you done for the program?
A Since my arrival, I've tried each semester to solidify and grow intramural branding as well as our collaboration with different departments on campus. In fall of 2016, I worked with the athletic department to do our soccer program, which is something we've done before, but we used mini goals. We've worked to try to highlight different aspects of our campus such as the dance program and different things on campus that students like.
Q What is your goal for the intramural sports program?
A My goal is for it to accurately reflect the desires of the student body. That may be through the actual intramural sports or maybe through Workout Wednesdays or fitness things or even through recreational spots with games. Going forward, I would like to rival that of four-year institutions. So five years from now, I think we should have intramural sports year-round and then have a variety of sports that accurately reflect the student body and their desires.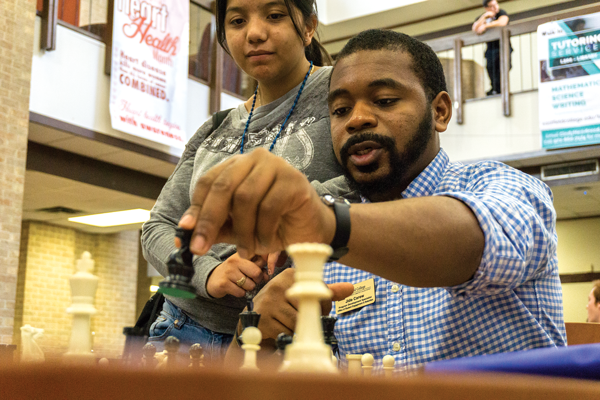 Q How will you help the program grow?
A I plan on making all this growth of intramurals a reality, first, by always listening. Not making sports of things that I want to do or basing our model off what other schools are doing, but basing it off of our student population.
Let's say we have a heavy student population who likes to stay indoors in the Pit and play things like Yu-Gi-Oh!, card games. But every semester, that game switches. It goes from dominoes to spades to Yu-Gi-Oh!, and now we're on Vanguard and from there went to Magic the Gathering.
Q What sports and activities do you want to implement?
A Flag football is definitely one more sport to do. We also want to try softball, use something on our fields as well. And just continue to maintain the sports we have today but on a bigger scale. So for basketball, I'd like to have at least 10 teams in intramurals next semester. For soccer, I'd like to have at least six teams. In the summer, it would be nice to do disc golf and try different things.
I would really love to do some rivalry games, like a districtwide intermural tournament. I like the fact that we have sports, fitness and recreation. It would also be nice to have kickboxing or different workout sports.
Q What has the intramural sports program taught you?
A It's given me a different connection with students, as in, I've [been in] the clubs and the organizations and it's helped me program better, and it wasn't too far of an extension for what I was doing. It helped my credibility and growth on management aspects.