'Bad Santa' makes the good list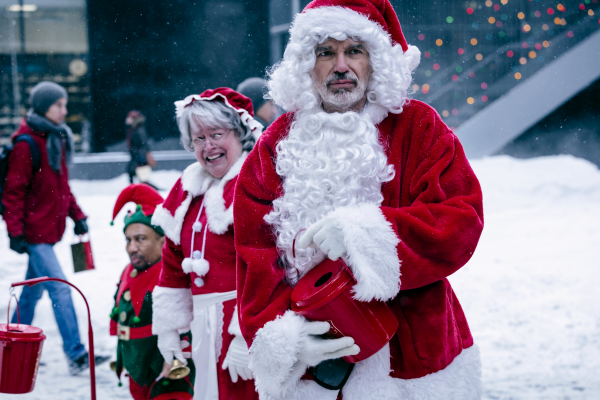 With raunchy humor, a clueless and somewhat mentally challenged sandwich maker and a bunch of alcoholic washed-up cons robbing a charity for children, "Bad Santa 2"is an outstanding comedy in an otherwise underwhelming year for comedic movies.
While Billy Bob Thornton has already proven himself an amazing actor, playing iconic roles like the coach from "Bad News Bears" or Mr. Dickham in "The Judge," the first "Bad Santa" introduced a whole new side of him.
"Bad Santa 2" follows Willie Soke, the star of the first movie played by Thornton, a drunk in his later stages of life who hates everyone and everything around him and is fighting for his will to stay alive.
His "rap sheet" mainly consists of small-time robberies, but he believes he has left that life.
During an attempted suicide, Willie is interrupted by awkward 21-year-old Thurman Merman, played by Brett Kelly. In addition to thinking Willie is just an amazing person, Thurman also believes the washed-up ex-con to be his father.
Willie tries to blow him off, but Thurman can't seem to take a hint.
Willie lets the boy stay when Thurman gives him a package from Willie's old partner-in-crime, Marcus, which contains info on a new job. Willie seemed very reluctant at first, but he decides to give robberies one last chance.
Little does he know, he will be reunited with his mother, Sunny Soke, portrayed by Kathy Bates. Sunny was a part of the children's charity and was the one who tipped of Marcus on the potential robbery. Since she thought of the operation, she feels she needs to be involved.
Now working together as a trio, Marcus, Willie and Sunny start getting involved with the charity, waiting for an opportunity to take the score. Until then, they start their undercover operation as Santa Claus.
After the setup, the movie is filled with hilarious references to the original movie, "Bad Santa" as well as a multitude of raunchy scenes that are just awkward enough to make you uncomfortable but still make you laugh.
If you don't appreciate lewd humor or prolonged sex scenes, this is a good cutoff point.
A glaring issue with the movie is that there doesn't seem to be much character development outside the main cast. Most side characters look like they're about to make a big change, but then they just get cut out of the story entirely, leaving you wondering what happened to them.
Even some of the main character's smaller developments get left hanging with no real resolution.
For example, there is a smaller character that plays a decent role in the trio's plan since she holds the keys to the building, but her character seems so bland, despite having a surprising entrance to the movie. After her first big scene, she only makes periodic appearances with fairly low relevance.
What makes this movie really great is that it isn't afraid to throw in a few comedic punchlines for fun. There were a lot of scenes that had no real relevance to the story, but they were so funny and awkward that you often don't even notice.
Just like most comedies nowadays, they attempt to tie in all of the raunchy humor to some sort of lesson on family or trust, except for a major twist toward the end that ties a neat little bow on the movie.
Overall, the movie was pretty fantastic, assuming you find your mind wandering into the gutter every now and then. Despite having a few issues, the movie is still a must see for those seeking one last comedy to close out 2016.
Don't be fooled by "Santa" being in the title. They put the word "Bad" in front of it for a reason.