Harvesters volleyball places third in nation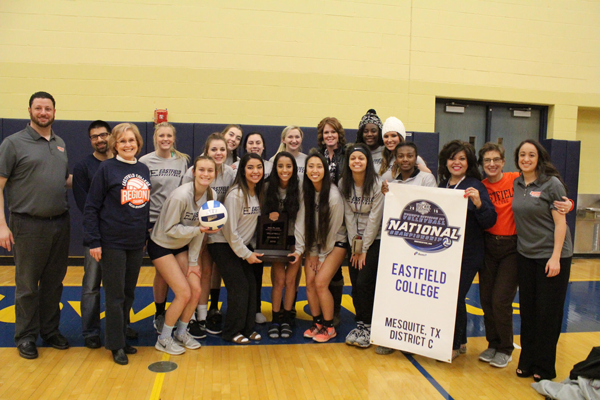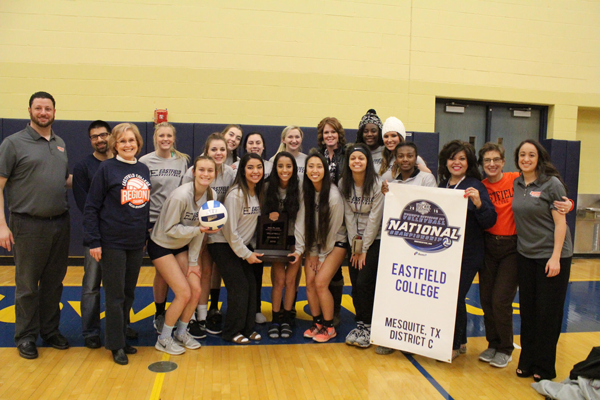 By Brianna Harmon
Managing Editor
@BHarmonETC
ROCHESTER, MINN. — The Harvesters swept their final match Saturday in the National Junior College Athletic Association Tournament to place third in the nation.
Eastfield defeated Central Lakes College 25-17, 25-16, 27-25.
"I can't believe I'm apart of something like this," outside hitter Sammie Thoma said. "This team has really overcome some pretty big obstacles, but we did some incredible things. I think it is amazing that we played the way we did."
Eastfield played without libero Karina Lay, who injured her knee in the first set of the quarterfinals against North Hampton. Freshman Alyssa Tomlin filled in for Lay. It was the first time Tomlin had ever played libero in a game.
"I think she did a great job being that she hasn't practiced it all year," coach Brandon Crisp said. "She has always been our outside hitter. I looked at her at one point on the sideline and told her to take a breath because you could tell she was excited. "
Lay switched from a leader on the court to an eye on the bench as she cheered the team on.
"I felt like I could help the team by telling them what was open,'' Lay said. "I also thought me being loud on the bench would be good because I was loud on the court as well so having that same voice on and off the court would be good for the team."
The Harvesters ran the first two games but struggled in the third.
"I felt like we got complacent," Crisp said.
The close play at the end forced the Harvester to win an additional two points to win the game and match.
The Harvesters opened the tournament Friday against North Hampton, winning in straight games (25-13, 25-15, 24-14) and snapping their opponent's 23-game winning streak.
In its second match Friday against Ridgewater, the team lost the first two games (18-25, 14-25) but fought back to win the next two (25-19, 25-22), forcing a decisive fifth game.
Eastfield lost that game 10-15, missing a chance at the championship and sending them to the third-pace match.
Outside hitter Kerstin Fredrickson and middle blocker Payton Costlow were named to the All-tournament Team.
Eastfield finished first in the nation with digs per set (21.92) and second in the nation with kills per set (11.76).
The Harvesters finished their season with a 26-5 overall record and 11-0 in conference.