Brown redefines 'Atrocity' in latest album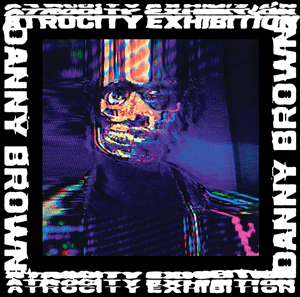 By JON AGUIRRE
Staff Writer
@TheEtCetera
When you listen to the very first track of "Atrocity Exhibition," you become aware that this isn't your average hip-hop album. You realize you're about to embark on a journey, a ride full of terror, pain and hilarity through the mind of Danny Brown.
Brown is not your everyday artist. The Detroit-born rapper challenges his audience with every album, constantly pushing the boundaries of hip-hop.
His newest release is no exception. In fact, it's his most challenging release yet.
Brown uses interesting production techniques alongside unique song concepts to make a boundary-pushing album.
Brown has already proven he is not one for the conventional, specifically with his 2011 album "XXX," though he did make a return to something more accessible with the following release of "Old."
Last year, he promised his latest album would be even more experimental than anything he has ever done. And boy, did he deliver.
[READ MORE: 'Splendor and Misery' paints picture outside conventional hip-hop lines]
I have not heard an album with such raw energy this entire year. "Ain't It Funny," the sixth track, is a perfect example.
Heavy bass and hard-hitting horns envelope the listener. Brown's frantic flow further adds to the wild sound. I don't know if I've ever heard something so crazy. "Atrocity Exhibition" is schizophrenia in audio form.
Like "XXX," the track list emulates a drug-induced high. It builds up to the climax and then has a chill comedown.
This is displayed by the three acts that make up the album, each consisting of five songs: a build-up, climax and comedown, respectively.
There is a reoccurring motif of horror on the album. Nearly every song is dark in tone, but songs like "Tell Me What I Don't Know," "Really Doe" and "White Lines" show Brown's mind as a place full of fear.
He uses funny lines and a goofy voice to distance himself from the personal messages in his songs. Not many artists have such deeply personal songs like Brown.
However, Brown incorporates concepts that may be relatable to some people.
Instead of just telling his personal struggle, he tells the problems of living in an impoverished community.
This concept is definitely nothing new to the genre, and he admits this in "When It Rain," repeating, "You ain't heard it like this before. They don't do it like this no more." This seems like a contradiction, but it is fully intentional. Brown uses old-school song concepts with a completely new sound.
[READ MORE: 'In Good Company' pairs professors' work with artists of their choice]
If you are new to Brown, I suggest listening to his earlier stuff before diving into this album.
However, if you are familiar with his work, then I definitely suggest giving this a listen.
I think we're on the verge of an emerging subgenre. There are more and more artists coming out into the mainstream light with less conventional methods.
Rap artists are pulling influences from other genres to make something wholly original. Like post-punk, this subgenre might come out to be called post-rap.
There aren't many artists quite like Brown. No one writes such funny, dark and intensely personal music.
He is an artist that excels at his craft and pushes the boundaries of his genre.