'Undertale' creates unique experience through retro graphics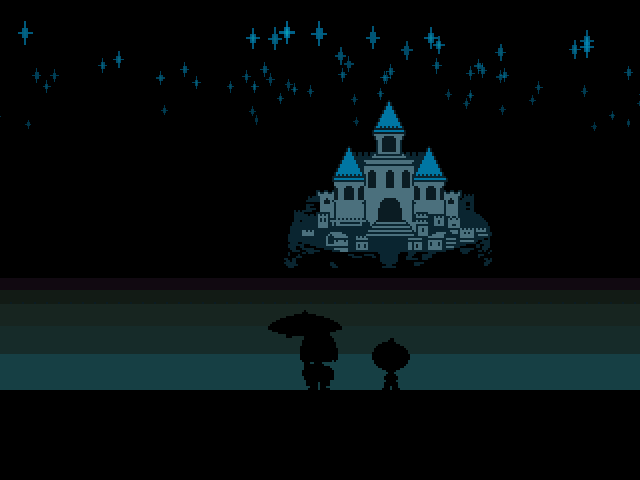 By Josh Taylor
It seems that the indie community in gaming has made a turn for the better in recent years, with such amazing titles as "Goat Simulator" and "Five Nights At Freddy's" hitting
the top of favorites lists world-wide.
It's no surprise that all this success has inspired developers everywhere to try their hand at creating the game of their dreams.
Lucky for us, Toby Fox decided to single-handedly create possibly the greatest narrative driven RPG to date with "Undertale."
"Undertale" is set after a long war between humans and
monsters, the monsters were banished into the underground to live in the darkness.
No human dared to visit the underground in fear of what the monsters would do to them. That is, until one day a tiny human fell into a hole that led her into the dark depths. Scared and alone, the human must find a way back to the surface in hopes of surviving the mysterious adventure.


Fox stresses to every person that if they want to get the full experience of the game, they
should play it by themselves. Not watching it on YouTube or sitting in the same room, simply because it doesn't create the same atmosphere.
If you get emotionally attached to your protagonist and their friends, this game is definitely for you.
In "Undertale" you play as a small human child, whom you get to name yourself, who has fallen down a hole with seemingly no way to escape. The hole leads to the dark depths filled with monsters that hate humans after they were banished to live underground.
You are quickly met by a talking flower named Flowey who at first is being very nice to you, but as soon as you start to feel comfortable in the dark depths, it snaps at you and says "down here, it's kill… or be killed!" This is what makes the game go from a cheery narrative with bright colors, to a dark and desolate wasteland of lost hope. At this point the player realizes that they have to get out of there.
A simple glance towards "Undertale" might leave onlookers with a confused expression, and rightfully so.
With games such as "Fallout 4" being around, with it's top notch graphics and beautiful atmosphere, it's hard to get excited for a 2D game that was made with free developing software. However, as you play the game, the simplicity of the art style might start to grow on you as you are introduced to new people and places.
Staying true to RPG elements, "Undertale" makes every person you meet and place you visit a unique experience that makes you crave the next area.
On top of captivating audiences with quirky characters, the game also introduces an interesting new style of gameplay, mixing the bullet-hell genre (playing as something small trying to dodge an immense amount of enemies) with a dialogue system (trying to persuade enemies). That's right, talking. Essentially, every single enemy you encounter gives you two options, fight it, or talk to it. You could simply murder every monster you come across, or try to make them your friend. There isn't a right way, or a wrong one. It is up to the player to decide how to play, with each way having their merits.
This game not only provides you with the immediate choice of a pacifist run (never killing an enemy) or genocide run (killing at least one enemy), but also challenges your morals the entire time. Are you killing these monsters without listening to their stories? Did you even consider what they were doing before you came along? Do they even want to be your friend? Every decision you make affects the rest of the story.
Fox also creates a great atmosphere with an original soundtrack boasting over 100 different songs, ranging from mellow walking music to intense boss battle themes. Each and every song will make you want to hum it the rest of the day.
On top of the massive soundtrack, you have Fox's witty comedy coming through many characters. Whether dialogue, a sound bite or a character's appearance, something comedic is always happening amidst the suspense and fear that is the underground.
Speaking of bosses, this game has quite a few of them. Unlike your normal boss fight where they have their monologue before the fight, they speak to you the entire time, challenging your every decision. If you run a pacifist route, they try to anger you to try to get you to attack them, and vice versa. They even perform special attacks that may change the dynamic of the game to something you haven't experienced before, and leave you to figure it out.
The broad character spectrum the game offers is no laughing matter either. You have every paradigm covered, from the nerdy friend to the wordless baddie. Each character offers their own unique aspect to the story. Not to mention, depending on if you're pacifist or genocide, different characters become enemies and some allies.
The only drawback I would say the game has is that the story can be really hard to follow for the average gamer. The person who doesn't check every nook and cranny for pieces of story won't get the full experience.
In my personal run through, I made sure to click on everything in hopes of developing the pacifist run for myself, and it was marvelous. However, I watched a genocide run on YouTube and I couldn't seem to find the juice of the story, simply because the player didn't care to read dialogue or check for content. I was at a loss as to why certain characters hated you and some were missing.
Overall, "Undertale" is a marvelously crafted masterpiece of great storytelling, innovative gameplay, interesting characters, witty humor and demanding boss fights that challenges the modern view of a great game. If you have 10 dollars to spare and a steam account, this game is a must play.