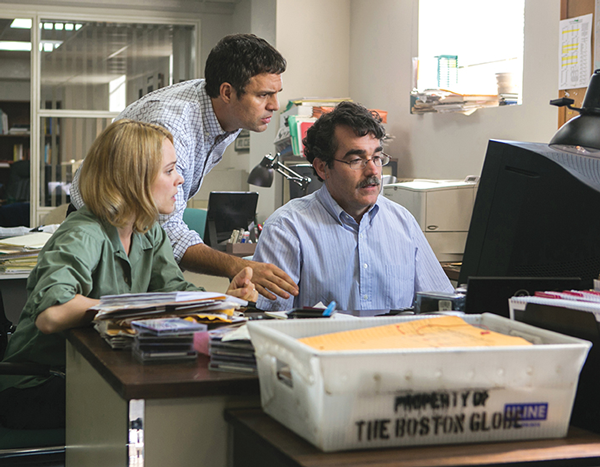 From left, Rachel McAdams, Mark Ruffalo and Brian d'Arcy James portray investigative journalists in "Spotlight." COURTESY OPEN ROAD FILMS
By David A. Silva
When The Boston Globe editor in chief Marty Baron (Liev Schreiber) assigns a team of reporters to investigate sexual abuse allegations against a local priest, the team soon uncovers a web of systematic corruption in the Roman Catholic Church.
Based on true events, "Spotlight" centers on the 2001-2002 investigation of the church by The Boston Globe. It is directed by Thomas McCarthy and stars an ensemble cast including Michael Keaton, Mark Ruffalo, Rachel McAdams and Stanley Tucci.
The news team, under the "Spotlight" section of the paper, utilizes their skill and perseverance to find victims, priests, lawyers and police involved with the incidents. However, they don't anticipate the amount of power and influence the church holds in the city of Boston and beyond.
The reporters have to work for months to prove that abuse in the church is not rare but rather a system of cover-ups and under-the-table settlements.
The film looks to be an early Academy Award frontrunner. McCarthy creates a highly authentic early-2000s Bostonian setting through technology and clothing and blends the topic in focus with other events of the time, like the rise of the World Wide Web and the tragedy of 9/11.
This film moves with an accelerating pace. Piece by piece, the journalists attain information that draws them closer and closer to revealing what lies behind the curtain.
The film provides the intensity the reporters experienced as their story gets larger and larger in scale. This is paired with the growing sense of unease among the church ranks and the undertone of dread felt by victims and their families. It is capped by a subtle yet powerful soundtrack by Howard Shore that resembles historical church music.
The acting and writing in this film allows the different moving parts to constantly keep you entertained and connected to the bigger picture. No actor overtakes any other, which allows each scene to be equally as gripping as the next.
"Spotlight" has opened the door for award season and delivers an entertaining and haunting tale. Although it deals with a heavy topic, it treats it with grace. It works in all aspects, and when it was over, I wanted to immediately see it again.