Corprew driven by dreams bigger than basketball
By Gabriel Flores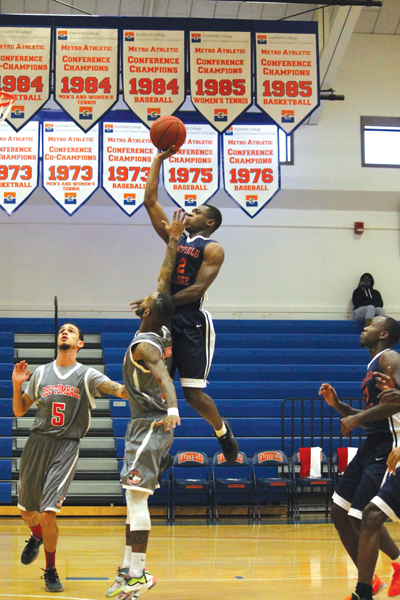 There's only one post on Tevin Corprew's Instagram account. It's a five-second video of a play that looks like something straight out of NBA 2K16.
Corprew starts a few feet above the 3-point line. Taking one dribble, he bolts past his defender and drives right, taking flight just after the free-throw line. As he soars higher, a defender attempts to meet him with an outstretched arm, but fails. With his head nearly at the rim, basketball cradled in his right hand, Corprew viciously throws down a tomahawk slam.
The crowd roars with a collective "Ohhhhhh," and a few fans leap from their seats in disbelief.
Corprew's teammates were equally amazed.
"I was just like, 'Wow!' It was something that you see on ESPN," freshman forward Scott Garriga said. "That dude is a freak athlete."
Corprew is the unquestioned leader of the Eastfield Harvesters basketball team, which is currently ranked fifth in the NJCAA Division III poll with a 12-2 record and leads the nation in scoring at 117 points per game. The sophomore guard averages 33 points and 10 assists, boasting seven 30-point performances, three 40-point outbursts and seven double-doubles.
"Even on a bad day, he's better than everyone else," teammate LeTron Manning said.
For Corprew, basketball stretches far beyond the court. He hopes that one day it will allow him to repay his mother for her sacrifices.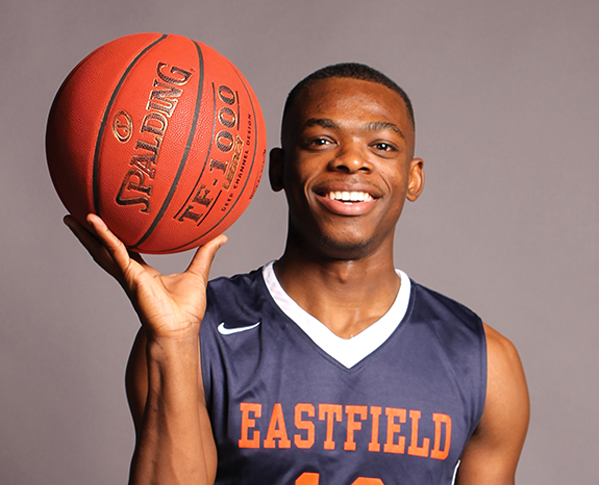 When Corprew was just 6 years old, his father was shot and killed at a nightclub following an altercation.
"I remember the night before I had a bad feeling," Corprew said. "I told him, 'Don't go, don't go.' A couple hours later, my mom told us what happened. When my father was here, I had everything. Once he got killed, I had to start over. I've learned never to take life for granted. I'm thankful for that."
Now 23, Corprew bears the responsibility of providing for a mother who for years has worked tirelessly to provide for her family,
Corprew taking on two jobs as a caretaker and sometimes working more than 50 hours a week.
"She tells me, 'Tevin, I'm tired of working," and I just say, 'Be patient, it's coming,' " he said.
The struggle
This isn't Corprew's first stop at Eastfield. He was a member of the 2013-14 Harvesters team that finished fifth in the national tournament.
But Corprew wasn't satisfied. He wanted a national championship.
"It was the worst feeling ever," he said.
After the tournament, Corprew earned a scholarship to play for Collin College, but he would eventually suffer a knee injury that sidelined him for a year. He decided to return to Eastfield for his final season.
Corprew re-dedicated himself to the game this past summer. He trained alongside NBA talents like Julius Randle, a Dallas native who was drafted seventh overall by the Los Angeles Lakers in 2014, and Flower Mound's Marcus Smart, a member of the Boston Celtics.
He also received motivation from his older brother, Terry, whom he credits for helping him recognize his potential.
"I wouldn't be playing basketball if it weren't for him," Corprew said. "He keeps me going. We are real close. We talk every day."
The entertainer
The squeaking of Nikes blends with the rhythmic dribbling of the basketball against the hardwood floor in the Eastfield gym as players casually shoot jumpers to pass the time before a film session. Corprew strolls in with a playful grin, clutching a Whataburger bag that he holds just below his nose as if to say, "Look what I got."
His slender frame is defined, devoid of any fat. He stands 6 feet tall, but his arms appear to be closer to 7.
"Yo, Tev!" "What up, Tev?" The greetings come from all angles, and seconds later, laughter ensues. Corprew and his teammates file into a small classroom. A group of five align themselves in the back of the room. Tevin picks a corner desk away from the crowd. As he sits, he angles his body slightly to the left so his knees can squeeze under the tabletop. His hoodie is pulled over his head so tightly he resembles Kenny from "South Park."
The film session is part of a busy week for Corprew, whose typical workouts include practicing with the team five days a week followed by at least two additional hours of work on his own, a quick bite for dinner and then another gym session at midnight.
"He's the epitome of hard work," Garriga said. "I've seen his dedication to the game."
Corprew is reaping the benefits of that dedication. He earned Metro Athletic Conference Player of the Week honors for four consecutive weeks to start the season, something no Eastfield player in any sport has ever done.
He has also earned the respect of his teammates, who can't wait to see what he will do next.
"Most people go to the game to be entertained," forward Tre Anderson said. "I go out there to play with him, and I'm entertained. Because when you play with a person of his caliber, yeah, you're going out there to play the game, but at the same time you want to see what he's going to do."
Corprew does more than just score. He sets his teammates up, too. Through 14 games he has 142 assists, including a season-high 16 against Tomball Community College.
"He has this vision nobody else has on the court," Anderson said. "His vision is four steps ahead. You can be behind Tevin and he already knows what your man is going to do and where you need to be. If you get there, you're going to score. It's like magic."
The next step
Eastfield coach Anthony Fletcher believes Corprew's talent could carry him to the next level.
"I honestly think Tevin is a high major player — University of Texas, schools like that," Fletcher said. "I've seen him match up with those guys in open gyms during the sum- mer."
Corprew hopes to use basketball as a springboard in life. As a business major, his goal is to enter the world of fashion with his older brother, who is an aspiring designer.
"I'm just trying to use basketball to build an empire," Corprew said.
"Basketball eventually comes to an end, but it'll take me where I need to be: living comfortable. I'm not the person who cares about the acco- lades and all that.
"I just want to be fine, take care of Mama and my family. Really, that's mygoal."
But first he has his sights set on a national title.
"I never get complacent," he said. "After the game, I'm at the gym. They tell me to stop, but I can't ever settle. There's too much on the line."