Pitching propels Harvester Bees into postseason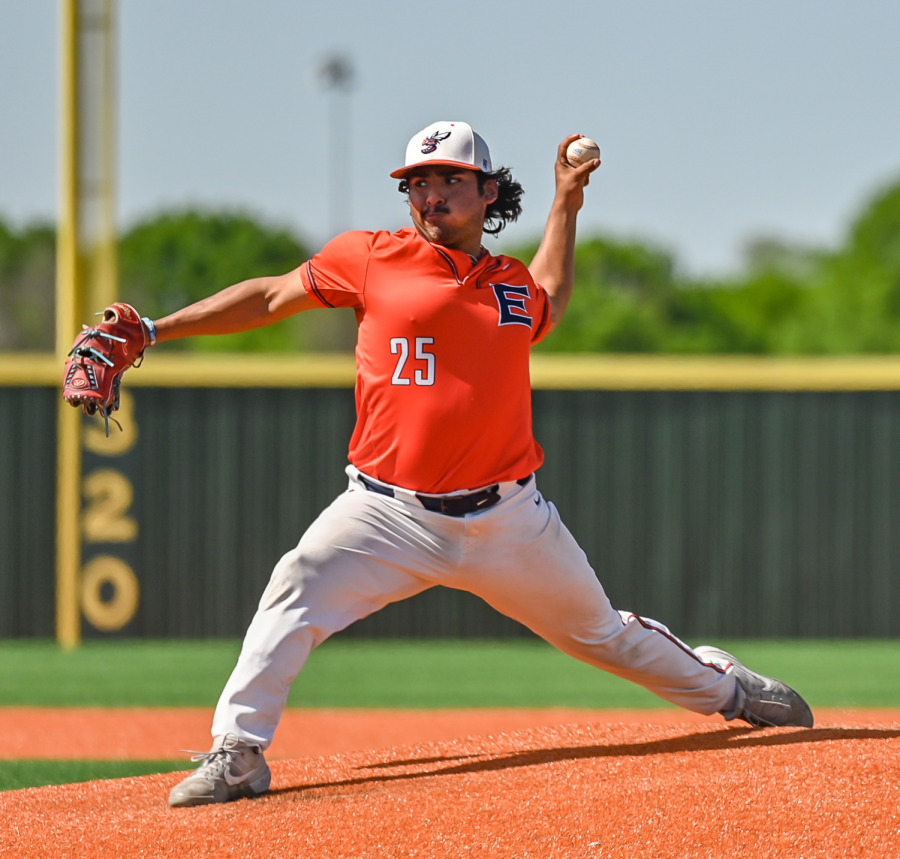 The Eastfield Harvester Bees have already won 42 games and wrapped up the regular-season Dallas Athletic Conference baseball title as they prepare to host this week's South Central District Tournament.
And their pitching is a big reason why.
"They've done the job all year long," coach Michael Martin said. "We wouldn't be where we are right now if it wasn't for our pitching staff."
Eastfield pitchers have posted 10 shutouts this season, which ranks second among all NJCAA Division III teams, and they are eighth in batting average allowed (.254). The staff has compiled a 4.08 ERA, which ranks 15th, on their way to a 42-11 record and a No. 2 ranking in the Division III national poll.
One of the main reasons for the Harvester Bees' success is the performance of its freshmen pitchers, who quickly adjusted to the team's mentality and level of play. Nine out of the 15 pitchers on the staff are new to the team.
"
We wouldn't be where we are right now if it wasn't for our pitching staff.
— Eastfield coach Michael Martin
"This year, we've had some younger guys step up," said sophomore pitcher Stephen Pena, who has compiled a 7-4 record this season with 50 strikeouts in 12 appearances. "We've had some new guys come in at different positions too, and they've done a great job."
Freshman Ryan Dickey leads the staff with an 8-2 record, 65 strikeouts and a 4.48 ERA in 15 appearances this season. He ranks fourth in the nation in wins.
Other key freshman performances have come from Marcus Peters, who is 3-1 this season with an ERA of 1.34 and 51 strikeouts in 18 appearances, and Ian Roberts, who is 3-0 with a 2.25 earned run average and 19 strikeouts in 11 appearances.
Two of the three Eastfield pitchers who have pitched complete games are also freshmen – Jacob Prokarym and Nick Lozano.
Thanks to these strong performances, the Harvester Bees enter the district tournament this week with a 10-game winning streak. Their goal is to extend that streak all the way to the NJCAA World Series, where they finished second last year.
"Pitching will be a very crucial way to get to the World Series this year," Dickey said. "I think that's a big part of this year. We have so many good pitchers."
In Eastfield's last regular-season game on May 6, Pena struck out five North Lake batters in three innings as the Harvester Bees rolled to a 15-4 win. Pena is averaging 12.16 strikeouts per nine innings pitched.
Fellow sophomore pitcher Bryan Adams has added 37 strikeouts with a 3.81 ERA, and Cody Ausmus has almost doubled his innings pitched over last season, going 6-1 with a 2.86 ERA in 17 appearances.
Martin said the pitching staff is continuing to work hard as they prepare for the district tournament, which will be held Wednesday through Sunday on the Eastfield campus.
"Every day is an opportunity for you to come out and get better, and we need to continue to do that until the season is over," Martin said.
Leave a Comment