Volleyball: Harvesters win 1, lose 3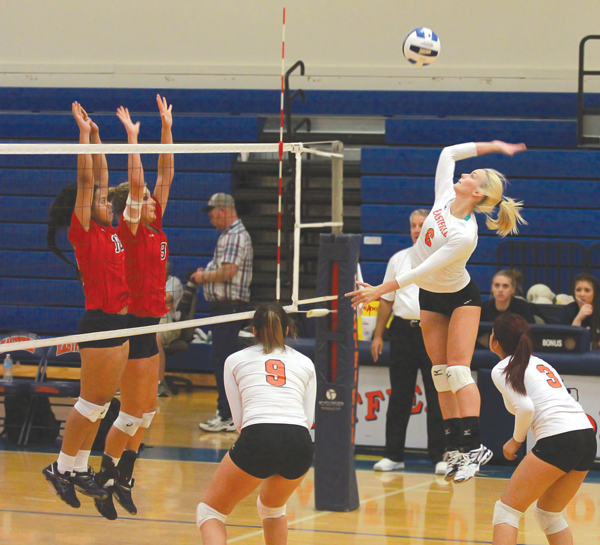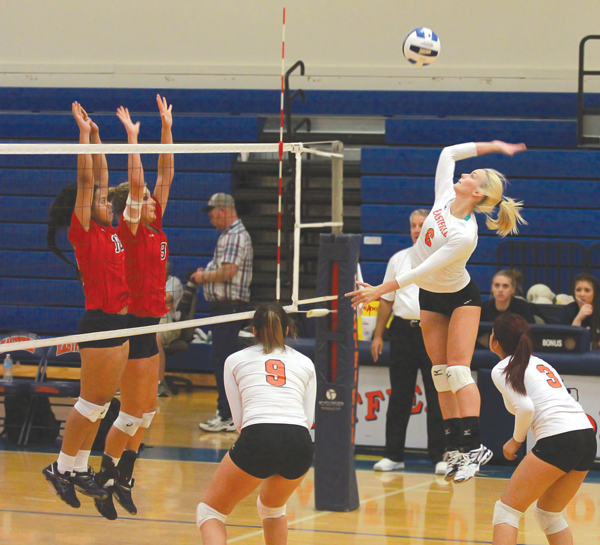 By Brad Watkins and Tony Neese
After winning two of their first three Metro Athletic Conference volleyball matchups, the Eastfield Harvesters (4-12, 2-3 MAC) lost two hard-fought conference matches and split a pair of non-conference matches the past two weeks.
Seminole State 3, Eastfield 0
The Harvesters started strong in the first two sets, opening up leads of 4-1, but could not capitalize in a 21-25, 20-25, 16-25 home loss to the Trojans (9-19) on Sept. 26.
The first two sets were both tied 15-15 before Seminole State pulled away late.
"We always start out or matches really powerful but we got too comfortable in our leads and needed more endurance," freshman rightside hitter Megan Murphy said. "I actually expected a bit more from the Trojans. I thought we would really have a tough time, like [scoring only] single digits, but we fought back."
Seminole State is an NJCAA Division II school that can give out scholarships while the Harvesters are a Division III school that cannot. In addition, seven of the nine players on the Eastfield roster are freshmen.
"We are still working on finishing," first-year coach Brandon Crisp said.
Williams said the Harvesters' inability to close out the match was frustrating.
"They were communicating at the net and we were not," she said.
Despite the loss, several players put up outstanding numbers. Kill leaders were Murphy with 15, Hannah Kamphaus with seven and Tierra Williams with six. Digs leaders were libero Mikala Turner with 21, Williams with 11 and Brooke Barajas with 10. Barajas led the team with 23 assists. Freshman middle blocker Caridad Aguilera played with a strained ACL.
North Lake 3, Eastfield 2
The Harvesters again started strong, winning the first set, but fell to conference rival North Lake 25-12, 21-25, 25-22, 24-26, 16-18 on the road on Sept. 29. Tierra Williams led Eastfield with 18 kills and 11 digs, Mikala Turner had 29 digs, and Brooke Barajas had 46 assists.
Eastfield 3, SAU 0
Eastfield rolled to a 25-12, 25-20, 25-22 sweep of Southwestern Adventist University on Sept. 30. Caridad Aguilera posted 12 kills in 16 attempts for a .688 kill percentage in the victory.
Brookhaven 3, Eastfield 1
Brookhaven dominated the net, posting 59 kills to the Harvesters' 34 in a 25-13, 28-26, 28-30, 25-14 win at Eastfield on Oct. 2. Mikala Turner had 14 digs for the Harvesters, who also got nine kills each from Megan Murphy and Tierra Williams. Brooke Barajas had 28 assists.