Volleyball: Everything you need to know for Eastfield's 2018 championship run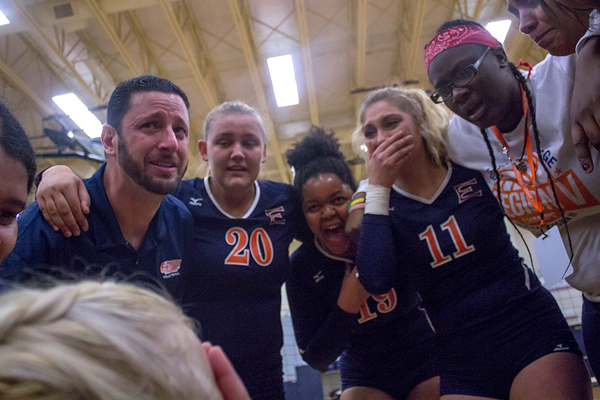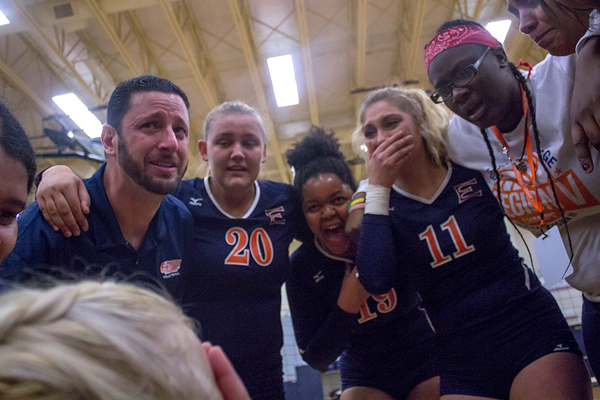 The Harvesters (9-1) are in Rochester, Minnesota, to defend their 2017 volleyball national title. The team will play their first game Nov. 8 at 6 p.m. The opponent is yet to be determined.
Find all the essentials to enjoy the game from Rochester or in your living room here at Eastfieldnews.com.
Follow the action
The Et Cetera's James Hartley will be in Rochester to bring you updates on all the action. For live updates watch James on Twitter, @ByJamesHartley, and The Et Cetera on Facebook, Twitter and Instagram, @TheEtCetera.
James will be live tweeting from practice and matches. The Et Cetera will share tournament stories from eastfieldnews.com on Twitter and Facebook and photos from each match on Instagram.
Matches can also be live streamed at njcaatv.com.
Eastfield's schedule
This national tournament schedule is dependent on the Harvesters winning each prior game and may change.
Match 1/Lorain County Community College — Nov. 8, 6 p.m. (Win 3-0)
Match 2/Central Lakes — Nov. 9, 7 p.m. (Win 3-0)
Match 3/Owens (Championship match) — Nov. 10, 7 p.m.
The athletes
1                           Breana August                             Libero                         Freshman
2                          Courtney Edge                             Libero                         Freshman
3                          Maura Munoz                              Libero                         Sophomore
5                          Mollie Booth                                Outside hitter            Freshman
6                          Naisjah Rivera                             Setter                          Sophomore
8                         Kalli Caddell                                 Setter                           Sophomore
10                       Catherine Mudd                           Outside hitter            Freshman
11                        Jade Turner                                  Opposite hitter          Sophomore
12                       Mica Turner                                  Setter                           Sophomore
13                       Sydney Williams                          Middle blocker          Freshman
14                       Shelby Browning                         Opposite hitter          Freshman
15                       Natalie Scott                                 Opposite hitter          Freshman
16                      Gabby Mize                                   Setter                            Freshman
17                      Keishla "Kiki" Reyes                   Outside hitter              Sophomore
18                      Breanne Harris                            DS/Outside hitter      Freshman
19                      Alex McPherson                          Middle blocker            Sophomore
20                     Kylie Cobb                                    Opposite hitter            Freshman
21                      Skylar Fowler                              Opposite hitter            Freshman
22                     Chloe Hope                                   Middle blocker           Sophomore
Kicking into gear
Volleyball to defend national championship title
Eastfield's championship-defending volleyball team (9-1), is recognizing its full potential heading into the national tournament, head coach Brandon Crisp said.
Last year's Harvesters were undefeated in conference play, but Crisp said it's been a rockier road this season.
"It hasn't been an easy season," Crisp said. "But I like how we're playing at the end. We're playing much, much better now."
Before the season started, Crisp said this year's Harvesters had the potential to be better than last year. They're beginning to live up to that now.
"I think the last conference game against North Lake and then the regional finals are the best I've seen them play," he said. "So they're definitely peaking at the right time. This team still has a lot of potential, it's just up to them to play with that."
This year's Harvesters are third in the nation in kills per set and are ninth in digs per set.
The Harvesters have had four Dallas Athletic Conference Players of the Week and two players recognized nationally this year.
The Harvesters went 9-1 in conference play this season, with sophomore libero Maura Munoz ranking eighth in the nation in digs and sophomore outside hitter Keishla "Kiki" Reyes ranking 17th in kills.
The No. 3 seeded defending national champions will first play the winner of a match between Northampton and Lorain County.
It's only the team's fourth trip to the national tournament. Last year they collected Eastfield's first women's national title.
Crisp said that the team knows it won't be easy to repeat as national champions.
[READ MORE: Volleyball holds 9-game win streak]
The national championship tournament brings new challenges: a different size serving space, uncertainty of what to expect from unfamiliar teams and a longer tournament that could affect the team's energy.
"I feel like coach has done a good job this year of scheduling games and making this season, in a way, as hard as possible," Munoz said. "He scheduled us against Division I and Division II teams, and they were working us. We were tired. And he was like, 'No, you're staying in. No subs.' And so you just have to stay in. But if you really want it, it doesn't matter how long you're in."
Munoz said the anticipation for nationals changes the intensity the squad feels in practice and in games at the tournament in Rochester, Minnesota.
"I feel nervous, but in a way that nervousness turns into excitement," Munoz said. "It makes my heart race, makes me want to move faster. Since I play back row and I am a digger, I've gotta hustle a little more. I seem to wake up a little more."
Reyes, last year's national championship MVP, thinks being in Rochester will give the team more motivation and help them play to the best of their ability.
"Once you're there, once you step on the court, that's what did it for me last year," Reyes said. "Once I stepped foot on the court in practice, in the gym, I was like, 'Oh, yeah. We're here.' That'll help wake up people."
Middle blocker Chloe Hope said the past few weeks have built up her confidence in the team's ability to repeat as national champs.
"If you had asked me a week ago, I would have been nervous," Hope said. "I think in the past week, our team has really gotten our groove together. We've really had a roller coaster up and down this year. But this last week of practice and games we've had a lot of energy and played like a team should. I'm way more confident going in now."
The national championship fight won't be any easier, Crisp said.
"I think we're going to see some good volleyball at nationals," Crisp said. "There's a reason why they're there."
Eastfield's team size — 19 women compared to last year's 15 — has provided more competition during practice and more opportunity to build their skills and compete with each other for starting positions.
Sophomore setter Kalli Caddell said that has made a big difference.
"We were able to play six-on-six during practice and have a full-on scrimmage," Caddell said. "So I think the practices have changed. They've been a lot more intense."
Hope said that competition between teammates has created an atmosphere where the whole team is fighting to be the best. It's strengthened without hurting the family vibe the squad strives for.
"We have girls who are sitting out and rotating in, so it makes it competitive," she said. "Everyone is competing for their spot."