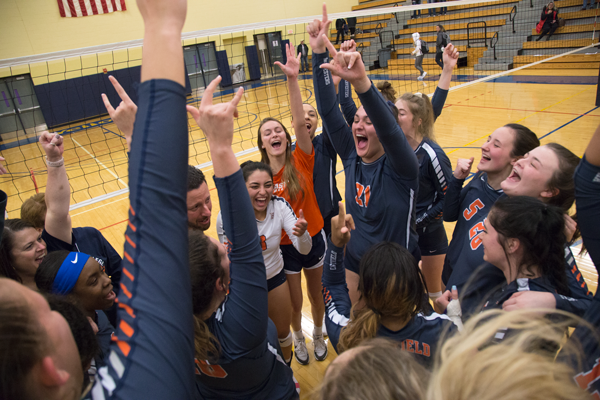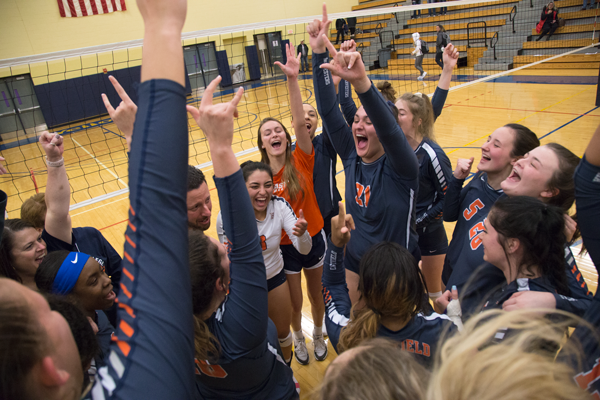 Third seed Eastfield volleyball is headed to the National Junior College Athletics Association Division III championship match after a 3-0 victory over second seed Central Lakes College Friday night.
Eastfield hasn't dropped a set in the tournament, going 25-13, 27-25, 25-17 in Friday's match. They will face first seed Owens at 6 p.m. Saturday.
Middle blocker Alex McPherson said communication on the court was better in this game than in their bout with Lorain County Community College.
"Our liberos were talking better and communicating things like where we're open," McPherson said. "I think they were doing better at that tonight than last night [against LC]."
Libero Maura Munoz said the semi-final match changed the way the squad approached the game.
"I think everyone did their job one step better," Munoz said. "I think that we all finally clicked more and got into that mentality that it's semi-finals and it's not something to play with. We came here for a business trip."
Munoz said the game against LC was rougher than tonight's because of first-game jitters. They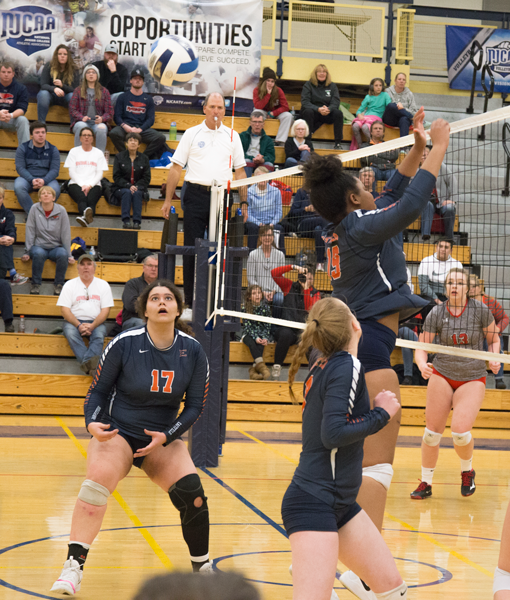 also had a better idea of what to expect in this match.
"I think we definitely stepped it up," Munoz said. "There are always things we can do better, but I think we really brought our game this match."
While the second match was a tougher fight, McPherson said the match with CLC was more fun than that against LC.
McPherson made 10 kills in 20 attempts this match with only two errors. Outside hitter Kiki Reyes had 10 kills in 28 attempts, seven service aces and 14 digs and middle blocker Chloe Hope had 9 kills in 14 attempts.
Captain and opposite hitter Shelby Browning said the squad did well tonight because they meshed well. She said working well with the rest of the team and breaking up the teamwork on their opponent's side are keys to winning.
"You look at us and you look at how we play and you look at how other people play and there's no comparison, we just gel so well," Browning said. "Owens is a good team and they've got good hitters and we've got to understand that, but we've also got to understand that we're a good team and if we play our game, nobody can touch us."
Eastfield head coach Brandon Crisp said he was surprised at how well Eastfield came out during the first set.
"We came in well and we got ahead," Crisp said. "That was nice, to play ahead for a bit."
Crisp called one time out during the second set in Friday's match to tell the team to find their groove again.
"I just told them to get the pass," Crisp said. "If you pass the ball on target you play and go from there, but you can't do anything if you don't pass the ball well."
He credited Reyes' performance in the second set to Eastfield's recovery and ultimate win. Her four service aces in a row were contagious for the rest of the team, he said.
Crisp expects a tough match Saturday but said the squad has what it takes to win. The Harvesters won't change anything about their practice or routine because it works for them.
Volleyball: Everything you need to know for Eastfield's 2018 championship run