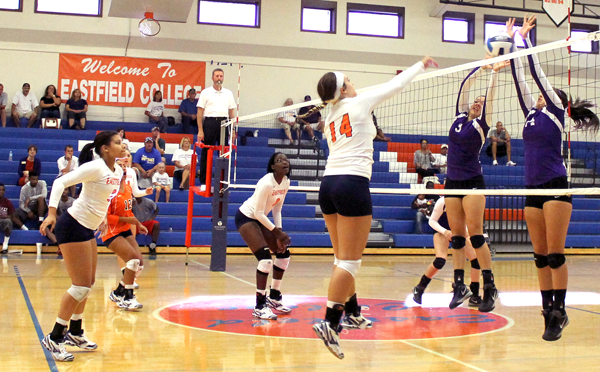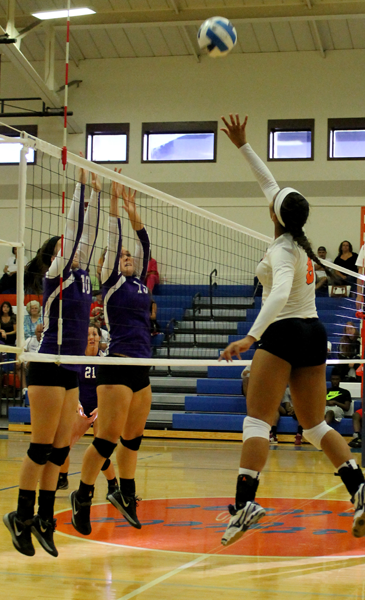 By Kevin Cushingberry Jr., Editor in Chief
Before her team stepped on the court for the Metro Athletic Conference title game, Eastfield volleyball coach Caitlin Smith told the Lady Harvesters the third time would be a charm.
Sure enough, after losing two regular-season matches to Brookhaven, Smith's prediction came true in the postseason. On Oct. 26, Eastfield beat the Bears in straight sets to win the MAC title and advance to the NJCAA Division III Women's Volleyball National Championship for the first time in school history.
The Bears, who defeated the Lady Harvesters in last year's MAC championship, hadn't lost a conference tournament match since 2004.
"We went in there ready to play," sophomore captain Cynthia Martin said. "We walked in their gym calm, and it was sweet revenge."
After last year's defeat the Harvesters' returning players met with former coach Audrey Glasscock and committed to making it to nationals.
However, two weeks before two-a-days, they found out Glasscock wasn't coming back to Eastfield.
"She was one of the best coaches I've ever had," sophomore setter Tangela Fuller said. "It was a rough patch because I wasn't really sure what this season was going to be like."
Smith, who was brought in to be Glasscock's assistant, was promoted to head coach. She said she didn't immediately have control of the team.
"It took me awhile to figure out their personalities, how they were going to gel together on the court," she said.
The players also found it hard getting things to click at the beginning of the season.
"We wanted to be the best we could be," Martin said. "But at the same time we had a brand new coach and freshmen, and there was so much learning that needed to be done."
Freshman outside hitter Paige Morris, who was on Glasscock's club team, said it was hard to see her coach leave.
"When I first met coach Smith, I was curious about how she coaches and how I was going to adapt to playing with her," she said.
Morris, who said she was accustomed to being the "top dog" at Poteet High School last year, became discouraged when losses started piling up early in the season.
The situation got worse when the Lady Harvesters had to forfeit all of their wins in August and September after Fuller was found to be ineligible.
"We would just come in the gym and have no drive or energy," Martin said. "Coach just got sick of it and said, 'If y'all are going to keep playing like this, I'm just going to leave.'"
After that happened, Martin and sophomore co-captain Jordan Taylor had a long meeting with Smith and discussed what needed to change in order for the team to win.
The next day, Martin and Taylor had a meeting with the rest  of the team and told them their goal was still the same as it was at the beginning of the season: "We want to go to nationals," they said.
The Harvesters finished the regular season on a four-game winning streak that improved their conference record to .500 and earned them a spot in the MAC tournament.
Smith said she saw the team grow as the season progressed, and she believes the Lady Harvesters are playing their best volleyball heading into nationals..
"We've really got a fire going," Smith said. "We're working hard in practice, and we're playing better in games."
Smith said that leading the Lady Harvesters to the national tournament just one year after she graduated from Cal Poly was a surprise.
"It was definitely a shock for me to be able to come in and have this type of impact on the girls," Smith said. "It definitely says something about the girls' character."
Martin said the team's turnaround came just when they needed it to, and she believes they keep rolling at nationals. The national tournament will be held in Rochester, Minn., on Friday and Saturday.
"Some teams peak early," she said. "We peaked at the perfect part of the season. We're still peaking, and now we're about to go to Minnesota and finish that off."
Smith said the team isn't focused on where it will be seeded in the tournament. Whether they are No. 1 or No. 8, they'll be ready to play.
"People may not take us as seriously," Smith said. "I think it gives us a good opportunity to show them what we're all about. Hey, we're here to win. We want to come home with a title."