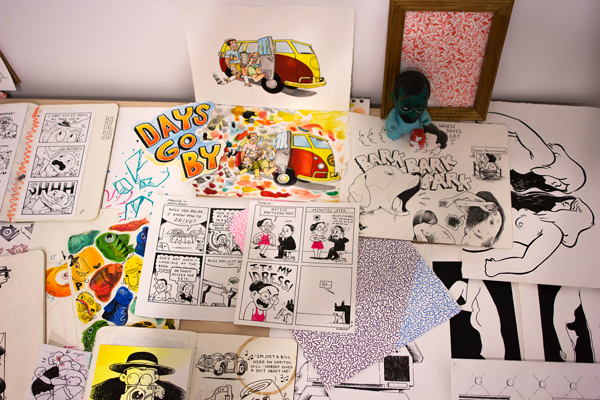 By DAVID SILVA and CAROLINE CEOLIN
@TheEtCetera
Local artist Dyemond Obryan doesn't recall a time in which he wasn't creating drawings.
As a child, Obryan moved around from school to school and said drawing was something he could always do by himself. He also remembers that his drawings would make his mother happy.
"She would be at work and I'd come home from school and I'd have like a buffer time before she got home so I'd draw her something," Obryan said. "She'd get home and sometimes cry and she'd be happy."
He never thought his childhood hobby would one day become his career.
Obryan is now a full-time artist. He has designed graphics for Format, Most Pleasant and NOW Skateboards and has appeared in Jenkem Magazine and Austere Magazine.
His latest gallery show, "Blue Palm," is on display in F-219 until Nov. 10.
Iris Bechtol, director of galleries at Eastfield, said Obryan balances accessibility and refined skill in "Blue Palm."
His artwork is inspired by cartoons, comic strips and skateboard culture. The gallery depicts iconic 1990s and early 2000s cartoons and utilizes a similar style throughout.
Obryan's art in "Blue Palm," even if only through its technique, is an ode to the artist's past experiences and past self. He takes inspiration for skateboard-related pieces through his past of being a semi-professional skateboarder.
Bechtol said Obryan's work is different from the art typically showcased in the campus gallery.
"A lot of work that we show is more traditional, like painting and drawing, and really refined," she said. "I wanted to show something that students could really relate to."
The art and the manner in which the gallery is set is less formal than many galleries at Eastfield
Some pieces are larger and required more than the usual work to install, such as a large painting by the entrance that utilizes the wall as a canvas and depicts a composer fumbling as he tries to collect his sheet music as it flies above his head.
Other pieces are presented as doodles.
Obryan also has multiple traditional comic strips for "Blue Palm" and has created several portraits, including a collection of small portraits that depict people in his life, including Bechtol as well as her husband.
Bechtol was immediately drawn to an illustration of a man sitting on a chair wearing wedged heels with a drawing in the background of Fred Flintstone.
She could recall trying to figure out the meaning behind the wacky man sitting in front of the cartoon icon then realizing that the meaning was not so complex after all.
"I just didn't want to draw a woman," Obryan said, "I think as an artist it's important to draw everything. There's more than just heterosexual males in art and in life."
Obryan's drawing style allows him to create a large number of work in a short period of time, Bechtol said. The show has more than 50 pieces.
John Lemus, who's working toward an Associate of Science, said that attending O'Bryan's art gallery was unique and motivating.
"It inspires you to make your own," he said. "The other galleries that I've been to haven't been like this. It's really nice."
The campus will hold a Q&A with Obryan on Tuesday Oct. 24 from 12:30 to 1:30 in room C-135A.