Student races to the Eastfield repair shop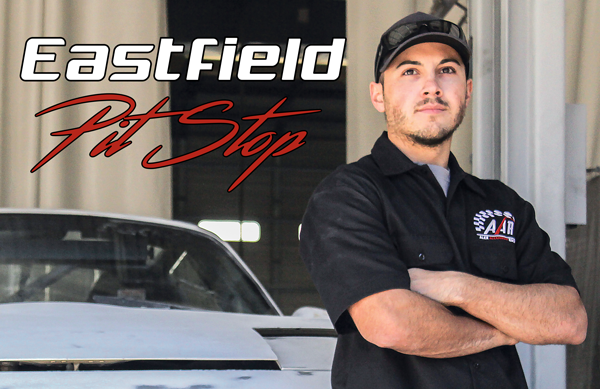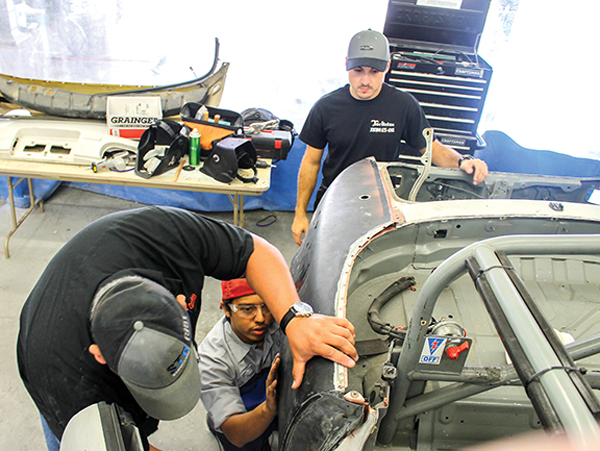 By Parker Ward
During the week, you can find him in class working on his business degree. When the weekend rolls in however, he can be found on the track. Alex Alexander loves going fast. For him, it's a life and death dance with the devil.
"It's kind of like defining your moment, like you're dancing with your own fate," Alexander said. "It's kind of like living on the ragged edge. Going fast is not everyone's strong suit, but it is mine and it's what I enjoy."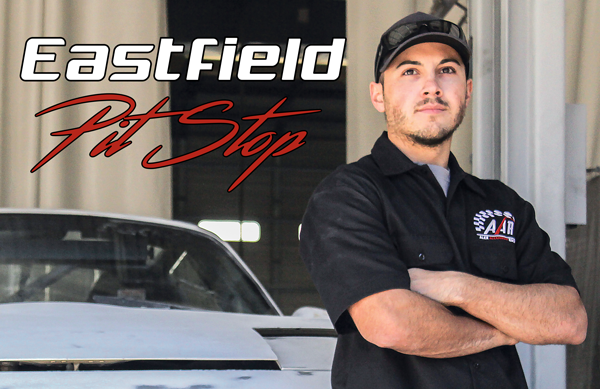 After being inspired by the Gran Turismo Academy put on by Nissan to find their next up-and-coming driver in the fall of 2014, Alexander bought his own racecar, a Mazda Miata.
He races it in the National Auto Sport As- sociation's Spec Miata circuit. The circuit's rules state that the drivers must have a Mazda Miata with stock parts from the car's model year. He races locally, although the track closest to him is Eagles Canyon Raceway in Decatur.
Upon first glance at his car, nothing would tell you that Alexander races in it. However, the interior shows that the car has been slightly modified. Carpet and leather seats have been ripped out and left the Miata barren except for the protective roll cage and a racing seat.
This is Alexander's first year racing in the NASA. Although he finished in sixth place, he is still happy with how he finished.
"I've been running a car that very tired and outdated," Alexander said. "I'm very happy to think that I'm running in the top against some of the guys that put in a lot of money."
However, he is not going very fast right now.
Students in Eastfield's auto body program are spending their class time repairing his car. They are fixing the damage to his back right quarter panel after a racing accident.
"Once we're done welding it back up and patching it up, you'll never know that there was an accident on that side of the car," said Lee Salazar, one of the students working on the car. "We are getting hands-on experience out of it rather than just learning out of the book."
Auto body program coordinator Carlos Ojeda said his students were eager to begin work on Alexander's car.
"The students were anxious to get on it because it was a race car," Ojeda said. "As they're working on that race car, this is the type of stuff they're going to be seeing in the industry."
Alexander enjoys his partnership with the progam and thinks that it will be mutually beneficial.
"One of the biggest things I want to have being associated with Eastfield is not only expanding their auto body program to part of the mechanic side but helping them market," Alexander said. "To let them say, 'Hey, this is something new we're bringing into our program that might interest college students to come in.' "
Alexander fell in love with cars at an early age.
His parents would take him to every car show they could, but his real love came when his father bought him a model car for his birth- day.
"It was a Dodge Viper," he said. "It was the classic symbol of American muscle. That's where I fell in love, was building that little toy car and seeing the final product. In my head, I was like every little kid. I would play with toy cars and act like they were racing."
As he got older, a simple love of cars turned into more of a passion.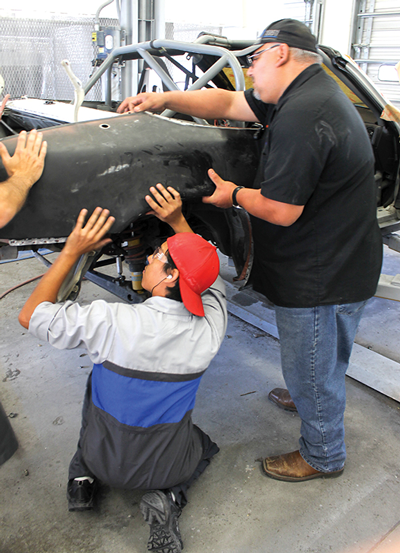 "I was involved with the video games," he said. "I was involved with looking online, reading magazines about cars. Everything just kind of fell together like puzzle pieces."
While taking classes at Eastfield, Alexander is able to finance his racing operation with his job as a mechanic working for the city of Mesquite. But a new set of tires can cost about $1,000.
"It's very difficult," he said. "I want to be the kid that goes out and has a good time and go do all their social events. That's not me. Just about every single dime goes into that car. I'm sur- prised the IRS isn't going after me wondering how I'm spending all this money on my car."
Although he loves going fast, Alexander believes that slowing down and using business skills can be very helpful in the racing industry.
"I'm pursuing a degree in marketing. That's kind of my backup plan," he said. "On top of being a professional race car driver, I want to own my own race car shop."