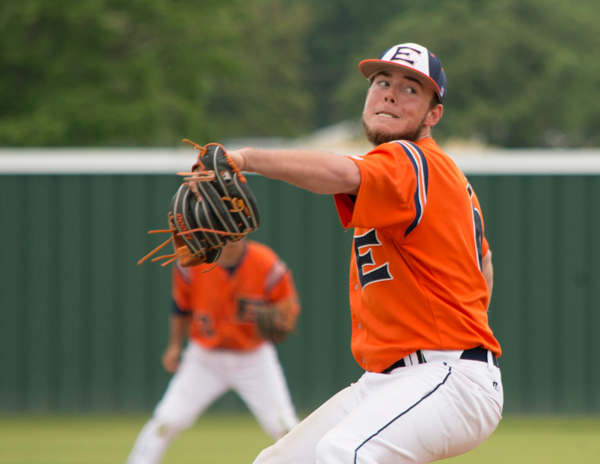 By Brad Watkins
With the score tied 5-5 against Metro Athletic Conference rival Richland College on April 8, Eastfield sophomore outfielder Jason Serchay stepped to the plate and smashed a ball to deep right field.
The crowd gasped as the ball sailed over the right field wall, giving Eastfield a 6-5 victory in the first game of a home doubleheader.
"I put everything I had into it," said Serchay, who went 3-for-4 with two RBIs in the game for the Harvesters.
The game marked the first of four wins in five games against Richland from April 8-14. The odd schedule was the result of a number of postponements and cancellations due to the snow and ice earlier in the season.
"We can't play baseball on ice," Harvesters coach Michael Martin said. "We've got to make up for lost time."
Eastfield pounded out 14 hits in the seven-inning game. In addition to Serchay's big game, Casey Maack was 2-for-4 with an RBI and a run scored and Daniel McConn and Michael Kister were both 2-for-3 with a run scored.
Redshirt sophomore pitcher Sebastian Murray also had a solid outing, giving up 11 hits by only three runs in five innings of work. Brandon Saddler (2-0) picked up the win in relief.
"Murray pitched well today," Martin said. "He was calm and patient on the mound."
The Harvesters actually trailed 3-2 going into the fifth inning but tied the game on an error by the Richland infield. Serchay delivered an RBI single to give the Harvesters a 4-3 lead, and a wild pitch to redshirt sophomore infielder Blayten Magana allowed another run to score, pushing the lead to 5-3.
"I was trying to be smart and patient out there," Magana said.
Richland scored two runs in the top of the seventh inning off Saddler to tie the game again, setting the stage for Serchay's homer.
The Thunderducks bounced back strong, scoring five runs in the first inning off Dakota Hunter (2-1) on its way to winning the second game of the doubleheader 10-4. Eastfield managed just seven hits, compared to Richland's 14. Maack was the only player with multiple hits, going 2-for-5 with a double and an RBI.
The two teams met again April 10, with Eastfield sweeping the doubleheader, 9-1 and 9-8.
Blake Barr (6-3) went all seven innings in the first game, striking out 13 of the 27 batters he faced and allowing just three hits. McConn was 2-for-3 with two RBIs for the Harvesters, while Serchay was 2-for-2 with a double, an RBI and two runs, Tanner Dickerson was 2-for-3 with an RBI and two runs, and Maack was 2-for-4 with two runs. Mason Arasato drove in two runs and stole a base, and Blayten Magana added two RBI.
In the second game, Eastfield exploded for six runs in the first two innings and cruised to the win. Serchay had another big game, going 3-for-5 with a home run, five RBIs and a run scored. Kister was 2-for-5 with two stolen bases and a run scored, and Connor Scruggs doubled and drove in two runs. Simon Sedillo (2-0) picked up the win in relief, and Colby Beal earned his first save of the season.
The two teams met for the final time April 14, with Eastfield taking a 7-2 win behind another strong pitching performance by Murray (5-2), who gave up just one earned run on five hits while striking out seven and walking three.Dickerson went 2-for-3 with two RBIs and two runs scored in the victory, and
Magana, Scruggs, McConn and Serchay all drove in a run.
The Harvesters, who improved to 27-9 overall and 16-6 in conference play by winning two out of three games against Brookhaven this past weekend, have two more conference doubleheaders remaining. They take on North Lake this weekend and Mountain View May 1-2 to close out the regular season.