Schlarb fosters inclusivity on campus
When Chris Schlarb's parents found out they were transgender, they threatened to kick them out. The disapproval made for a rough home life, so Schlarb turned to school for sanctuary. Schlarb spent most of their time on the Purdue University campus to avoid the conflict. They would wait until their parents were asleep to return home. 
"I remember my dad yelling at me and saying I need to wear women's clothing and stop wearing men's clothing," Schlarb said. "For me, that wasn't comfortable, so that wasn't gonna help with my confidence." 
Schlarb took on several campus jobs and formed connections with university employees who became big influences in their life. They spoke with department leads about their college majors and how they got their positions. These conversations encouraged Schlarb to attend graduate school and pursue a career in student services.
Inspired by that college experience, Schlarb has made it their purpose to create a safe space for LGBTQ students and employees as a student life coordinator at Dallas College.
"My favorite part is working with the students — seeing them learn, grow and develop as people and expand their skill sets," Schlarb said.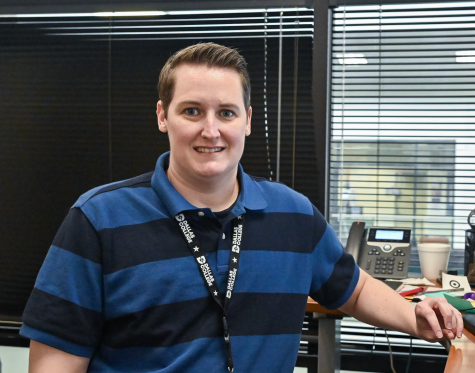 Schlarb credits Dani Witzigreuter, one of their student affairs advisers in college, for encouraging them to attend graduate school and starting them on this higher education journey.
She helped Schlarb complete applications, practice for interviews and, most importantly, grow comfortable with themselves.
"She really helped me process, reflect and figure out how to navigate difficult situations," Schlarb said. 
Even with Witzigreuter's guidance, graduate school was difficult. Schlarb struggled with issues most college students face such as financial stress and feelings of hopelessness. But they also had to deal with uncomfortable situations because of their trans identity.  
"Navigating gendered spaces and trying to be successful while you're still having that internalized gender dysphoria or internalized transphobia is kind of a battle," Schlarb said. "I had a lot of things I was struggling with when it came to gender issues and trying to find LGBTQ safe spaces." 
Despite the challenges, Schlarb graduated from Michigan State University with a Master of Arts in student affairs administration. 
Schlarb began their Dallas College journey in 2018 as the service learning and civic engagement coordinator at Eastfield, where they also started the PRISM organization to support LGBTQ students. 
PRISM meetings allow students to discuss LGBTQ topics, participate in community-building activities and connect with new people. 
"Even if you don't want to be part of the LGBTQ club, to see that positive visibility and know that there is an LGBTQ club on campus helps when it comes to support and climate," Schlarb said.
"
It's been great working with Chris because they're awesome and so supportive, and they really care about students.
— Emmy Hardy, PRISM president
Schlarb also impacted other Student Life employees such as Jide Carew, who helped co-advise PRISM. Carew said he was not familiar with some of the struggles LGBTQ students face, but Schlarb helped him see the importance of inclusivity.
"They brought a lot of accountability and helped me understand a section of our students that I didn't necessarily have an in-depth amount of knowledge about," Carew said. 
Schlarb transferred to Brookhaven about six months ago. After noticing the lack of representation for the LGBTQ community on campus, they felt a need for resources there as well. 
Schlarb helped start the LGBTQ employee resource group and is now the group's co-chair. Their goal is to educate staff and faculty on the community to help make it a safer and more affirming place for students. 
They also started a PRISM student club at Brookhaven. This is where Schlarb met Emmy Hardy, who joined PRISM last semester and is now the president of the organization. 
"It's been great working with Chris because they're awesome and so supportive, and they really care about students," Hardy said. 
Schlarb's passion is ensuring that all students have the resources to thrive at Dallas College.
"Finding that sense of community and finding that group that is really supportive, where you can just be yourself, learn more about the community and find support – I think it's really important," Schlard said.