LGBTQ History Month celebrates identity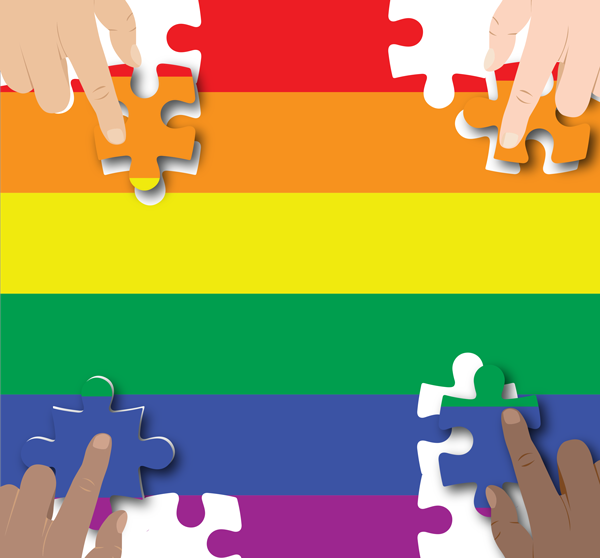 Eastfield held its first celebration of LGBTQ History Month by providing activities and resources designed to educate and bring the student body together around the LGBTQ community.
Chris Schlarb, adviser to PRISM, a new student organization meant to spread LGBTQ awareness, said Eastfield's celebration of LGBTQ History Month was instrumental in helping shape a welcoming community on campus.
"We really don't get this education in high school or even in college courses," Schlarb said. "LGBTQ history and people are pretty much erased from history. It's important that we bring
it to light and learn the importance of LGBTQ individuals in history in order to assist LGBTQ individuals and society in being more accepting and inclusive."
The opening welcome event on Oct. 3 had students participate in craft activities, a meet and greet, group discussions and a resource fair.
LGBTQ student leaders were also in attendance, such as PRISM president Sandra True.
She said that sharing her experience, as a 45-year-old lesbian, with younger students was important because she could provide personal insight into many historical events most students didn't live through.
"Being gay as a teenager, it was not something that was out, and you didn't know what to do with it," True said. "I grew up in a very small town, and when I moved to Plano during my high school years it was all new to me. … I was like 'Whoa. Wait a minute. This is what it is.' It was figuring out what all those feelings were about."
PRISM held a meeting on Oct. 4 for an interactive activity on LGBTQ history.
Attendees paired together specific events with the years they occurred to create a timeline of historic events that impacted the LGBTQ community.
PRISM members and visitors then compared how other movements at the time were like the LGBTQ movement. They also discussed how the gains and losses seen in the LGBTQ movement are similar across other movement populations, such as the civil rights movement.
Schlarb said that PRISM's creation was heavily inspired by students, LGBTQ or otherwise, who wanted to have a LGBTQ presence on campus, something that Eastfield has had difficulty maintaining in the past.
"I haven't seen any hangout location for LGBTQ individuals [before PRISM], which is part of the problem, right?"
Schlarb said. "Like invisibility and not being able to find each other. Even as a staff member who's worked here seven months, I don't really know that many LGBTQ-identified staff members."
Schlarb led the Out in the Workplace workshop on Oct. 9, which presented LGBTQ challenges in the workplace and strategies to overcome them.
Some of the obstacles LGBTQ job applicants face include the decision transgender individuals face on whether to list
their chosen name or legal name on their resume or information that should and shouldn't be included on a resume.
The National Coming Out Day Celebration was held on Oct. 11, which is the anniversary of the second March on Washington for lesbian and gay rights in 1987, also known as
"The Great March."
National Coming Out Day is an annual LGBTQ awareness day meant to celebrate what it means to be out or not out about identity.
LGBTQ students could share their coming out stories and identity challenges in a supporting and accepting environment.
True said that when she came out at 21, America, and especially Texas, were nowhere near ready to accept the presence of the LGBTQ community.
[READ MORE: Faculty, administration aim to establish diversity center]
"When I first came out into the bar experience, we would sit in the bars and when the police would come in, we'd have to separate because if you were touching or showing any kind of affection, they could drag you out and arrest you," she said.
This LGBTQ History Month celebration happened at the same time as the planting of the new historical marker in Oak Lawn, one of Texas' oldest and still-standing LGBTQ communities.
Oak Lawn has a rich history of being one of the few gathering places for the community since the 1950s.
The LGBTQ community in Dallas has access to the Resource Center and the Dallas Area Rape Crisis Center.
The Resource Center provides LGBTQ individuals with job listings, leadership development programs, LGBTQ equality maps and more. These resources allow members of the LGBTQ community to be informed about what places and environments are LGBTQ friendly.
DARCC provides counseling, a 24-hour crisis hotline, training programs about preventing sexual harassment and violence, and other forms of help to victims of sexual assault, regardless of gender or sexual orientation.
Schlarb said that while they would call this first LGBTQ History Month celebration at Eastfield a success, they believe the LGBTQ community at Eastfield will need more time to flourish.
"I would like to see more LGBTQ events throughout the year, for the history month to continue for next year and in the future," Schlarb said. "I also think it's important to develop LGBTQ resources on campus, more specific policies that assist trans students, as well as more single-stall restrooms on campus, so there's a lot of LGBTQ-specific resources and needs that could be enhanced on our campus."
True said that the LGBTQ community will always be welcome to those looking for a place to belong and be accepted.
"The gay community is very close knit and very community oriented. When we celebrate, we celebrate together and when we cry, we cry together."