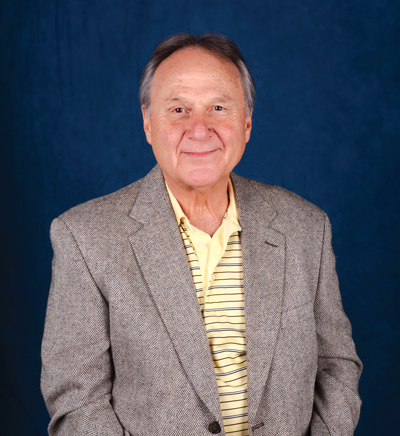 By Nicole Céron
Just last year, Professor Doug Richardson earned a 40-year longevity award for teaching business classes at Eastfield College.
"He was truly dedicated and you could see that till his last days," business professor Emilio Lopez said.
He died from cancer Dec. 11.
"He was in the same office for years and years and years and when you walked in it was very evident that he was all about family," Dean of Social Sciences and Human Services Mike Walker said.
"There were pictures of his family that filled all the walls. When he was here away from them; he talked of them all the time. He loved them dearly."
His family was the most important thing to him, Sharon Cook, assistant to Eastfield's president, said.
"That one was a hard loss for me because I have known him for 32 years," Cook said. "He was one of the faculty members that whenever I started 32 years ago that kind of took me under his wing, shared the college's history and importance of community college."
Cook said she and Richardson grew close. He and his wife enjoyed the outdoors, she said, and he played and volunteered in the Eastfield's Scholarship Golf Tournament each year it was held.
Richardson started working at Eastfield in 1973. Economics professor Bob Felder said he knew and worked with him for 38 years and developed a strong friendship.
"A special thing is that he had twin granddaughters and I had twin grandsons just three or four years of difference and we used to talk about getting them together," Felder said.
Richardson lived in Frankston with his wife, Karen. He had three children and many grandchildren.
Richardson earned a Bachelor of Business Administration in 1967 from the University of North Texas. Before starting his teaching career, Richardson worked as an engineer for two years at General Dynamics and five years at General Motors.
In 1972, he earned a Master's of Business Administration in industrial management at the University of North Texas and taught at Tarrant County College for a year before becoming a full-time teacher at Eastfield.
"His wife was also a community college instructor at Tarrant County," Cook said. "They used to live in Arlington. She was in Tarrant County and then he was driving all the way here to Eastfield."
In 2000, he was recognized as the Eastfield College Innovator of the Year and was awarded the National Institute of Staff and Organizational Development Excellence in Teaching Award.
Thirty years ago, he developed a business and marketing program at Eastfield. He collaborated with Ealing, Hammersmith & West London College and was the first to teach online courses there.
Richardson directed Eastfield's Cooperative Education Program, which helps students develop work experience.
"He preferred to teach that way," Walker said. "He did that because he cared so much that they didn't just need to check a box that said 'I took this course,' but they really learned real life experiences that they would need when they needed to move on to something else."
Through this program, he developed outstanding rapport with both his students and the employers they worked with, Cook said.
"He loved his students and the students loved him; but the fact was he was so caring," she said. "He cared for their well-being, cared that they succeeded in their classrooms and succeeded in those work opportunities."
Last summer, Richardson was diagnosed with cancer. Knowing this did not stop him from teaching his online classes and checking up on his co-op students, Cook said.
The day after his passing, the flag was lowered at Eastfield in his honor. The flag will be given to his family at a memorial service today at 2 p.m. in S-100.
The Dallas Community College District Foundation plans to establish a memorial scholarship for co-op or business students in Richardson's honor.
"It's really hard to imagine Eastfield College without Doug," Walker said.