'Gone Girl" gives 'til death do you part' new meaning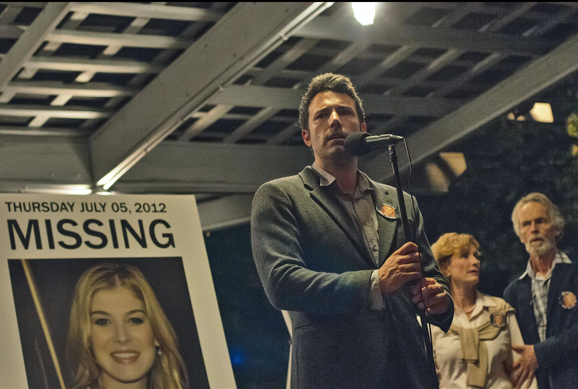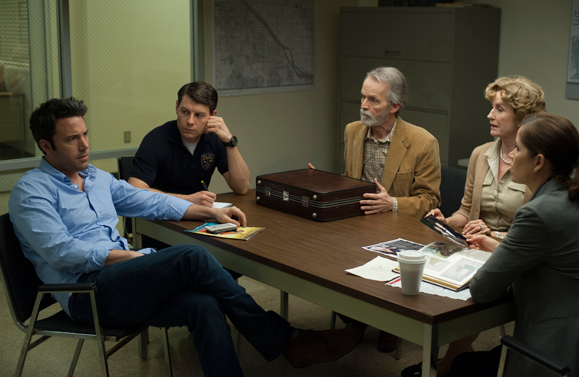 By Courtney Schwing
Movie Review: 4.5 stars
A somber resonance coupled with crisp light floods the screen. A blonde woman rests her head on a pillow as Ben Affleck narrates.
"The primal questions of a marriage: What are you thinking? How are you feeling? What have we done to each other?
"I imagine cracking open her head, unspooling her brain, trying to get answers."
Then the blonde reveals her identity: Amy Elliot Dunne, played by Rosamund Pike, wife of Nick Dunne (Affleck).
"Gone Girl" is the film adaptation of Gillian Flynn's 2012 bestselling thriller-mystery novel of the same name. Flynn adapted the screenplay herself, while David Fincher (director of "Fight Club", "Se7en" and "The Girl With the Dragon Tattoo") directed the film.
True to Fincher form, "Gone Girl" instantly takes aim at the jugular.
On the Dunnes' fifth wedding anniversary, Nick visits the bar he owns with his acidtongued twin sister, Margo (Carrie Coon). After enjoying a mid-morning bourbon and a vivid conversation about proper gifts for the fifth year of marriage, he returns home.
When Nick realizes that Amy is not home and that there seems to have been a home invasion, he calls the local police. This sparks a missing persons campaign for Amy. Inevitably, this puts Nick in the position of prime suspect for his wife's disappearance and possible murder, creating a media firestorm with him at the center.
Flynn's "he said-she said" method of storytelling comes full circle with Fincher's unwavering lust for pristine production value. The narration of the film is told in two parts by Affleck and Pike, which overlap, run circles and perform acrobatic feats around each other as the plot slowly unravels. The Dunnes' depraved secrets brilliantly clash against the stark and glistening aesthetics of the film, which is just so Fincher-esque.
"Gone Girl" is a dark satire on the disturbing truths of a marriage gone rancid and how the glory days remain just under the surface. This disillusion opens dialogue about an abundance of other stereotypes found in the film. Topics such as the concepts of "hell hath no fury like a woman scorned" and "men are pigs," gender roles, gender equality and marriage taboos are all explored by Fincher.
It's almost impossible to figure out if Fincher is taking an official stance on these topics or if he's simply here to stir the pot. This is a highly plausible idea, considering that throughout "Gone Girl", you find yourself acting in an almost inappropriate manner.
Audience members laugh hysterically in the most depraved moments of infidelity, potential homicide, and moments shared between Pike and a brilliantly casted Neil Patrick Harris, who portrays Amy's wealthy, but deranged ex-boyfriend.
At the center of this story, Fincher appears to be reveling in deep-rooted sadism, like a small child who sets ants on fire with a magnifying glass. He seems to have an understanding of those primal questions Affleck poses at the beginning of the film. Knowing there are no answers for Affleck's character, or for people finding themselves asking that very question, Fincher provides an understanding of the depth of human nature.
Fincher forces his viewers to face these darker sides of morality that are generally masked in gossamer. He disregards political correctness in favor of honest and instinctive storytelling.
"Gone Girl" is a brilliant story, so effervescent that it resembles a performance art piece in which all actors take part in its success.
The characters are so endearingly portrayed that you find yourself wondering if the actors are actually the characters or if they are the characters acting.
Affleck gives what is arguably the best performance of his career, and Pike redefines herself as an actress in the haunting role of his wife.
Fincher is at the height of his career in this intelligent and dark film, which is booming with Oscar buzz.
"Gone Girl" uncracks the skull and unspools your brains, leaving you reveling in the genius of this film.
It is rated R for a scene of bloody violence (make no assumptions), some sexual content/nudity and language.