DCCCD's growing early college high school programs changing campus culture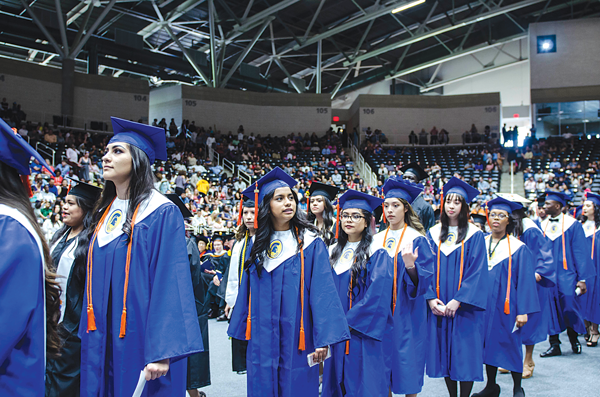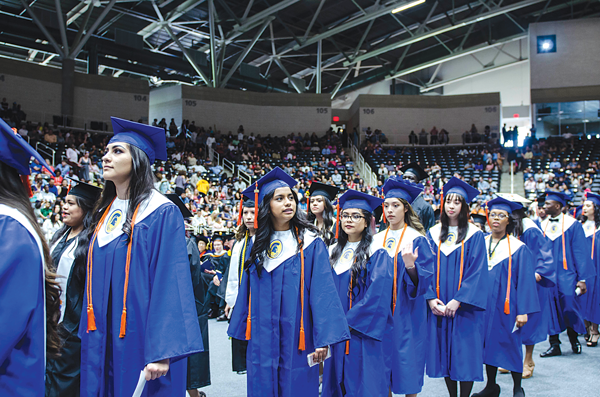 Early college high school programs play a big part in the Dallas County Community College District's future, as Chancellor Joe May has made clear in recent meetings and speeches across the district.
Dual credit and early college high school students made up 28.4 percent of students enrolled at Eastfield College in fall 2018, according to the college's institutional research department.
Early college high school student enrollment grew 44 percent between fall 2017 and fall 2018, while dual credit enrollment saw a 27 percent growth in that same period.
Students in early college high school programs simultaneously complete two years of high school and college.
The success of these students has risen since the first cohort reached graduation. Twenty-seven percent of students from W.W. Samuell High School who took part in the program graduated in 2016, completing in two years. Thirty percent completed in three years.
The most recent group, the 2018 cohort, graduated 54 percent of students in two years. That means the success rates of high school students at Eastfield is higher than that of non-early college high school students.
Janice Hicks, coordinator for Eastfield's dual credit and early college high school programs, said wrap-around services, such as the food pantry, counseling and other non-academic services, and additional advising contribute to the success of these students, but they still have to work hard.
"Some of these students do have jobs," she said. "Some of them have parents they have to take care of. So the circumstances are all different."
Early college high school programs can also play a role in the statewide 60 by 30 initiative, which aims to have 60 percent of Texans college educated by 2030.
The district has adopted this with the goal of having 60 percent of Dallas County residents college educated by 2030.
With higher success rates among early college high school students, they may be one of the keys to reaching that goal.
Culture shift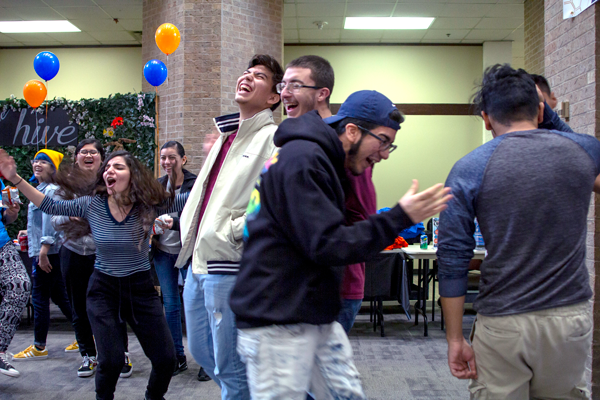 History professor Liz Nichols, president of the Faculty Association, said the number of early college high school students is changing the culture at Eastfield.
Many faculty believe that the introduction of progress reports was partially driven by the presence of high schoolers on campus. Nichols said the classroom environment also can be changed by the presence of these students.
While the numbers show success, and Nichols has not had any real problems in the past, she said the feedback in the Faculty Association isn't all positive.
"I think that the dual credit office needs to have better communication with faculty about their processes," Nichols said.
Hicks said the course registration process for her students is largely the same as non-early college high school students.
While these students are unable to register themselves, they are not able to register ahead of other students.
Students can tell their advisers which classes they want to register for in advance, but Hicks said non-early college high school students have the same opportunity to browse classes and meet with an adviser ahead of time, then register the day classes open.
[READ MORE: Faculty workload, 8-week terms face scrutiny]
"I know that faculty have expressed concerns to me this semester that sometimes in certain locations of the college where there is a higher population of high school students that there is too much PDA, there are loud levels of noise around classrooms and faculty offices."
Hicks said most PDA, such as holding hands, is not prohibited in the student handbook.
Most early college high school students integrate well into the college community so it's hard to know if the students publicly displaying affection are high schoolers or not, Hicks said.
Nichols said PDA and noise levels are probably due in part to the age difference between traditional and early college high school students.
"You are dealing with an element of immaturity because of their age," Nichols said.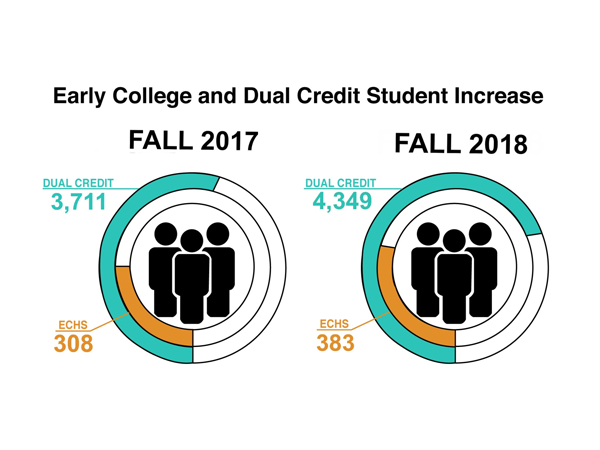 Chemistry professor Vinu Johnson said he has experienced more maturity with most early college high school students, not less.
"On the whole I find them much more enthusiastic, much more receptive to instruction," Johnson said. "And they are, on the whole, better learners. I think they are more invested in learning compared to other students."
He said since early college high school students aren't taking a break between high school graduation and college, some of the foundation necessary to understand chemistry is still fresh.
Immaturity and interest in the subject matter have been an issue from time to time, but overall his experience has been positive.
In most cases, professors don't know how many early college high school students are in their classes.
That's a good thing, Nichols said. Integration into the Eastfield community and the college experience means students will get the most out of their education.
"There's always going to be a mixture, but I think if early college high schools are located in the structure, the actual physical structure of the college, then as much as possible we should be integrating them into the classes rather than them having high school classes or college classes in very much a high school setting," Nichols said. "I personally have an ideological issue with that."
That college experience is paramount to the success of the program and, in many cases, Nichols said high school students have integrated well into the rest of the Eastfield culture.
English professor Elizabeth Huston said, like Nichols, she usually doesn't know when she has early college high school students in her classes.
In most cases, she only knows when students self-disclose that they are in high school during ice-breakers or when they have conflicts with class activities due to being a high school student.
One of the problems she's had has been with parents reaching out to her in place of her students. Some want to know what grade their children are making in her class — something she is legally prohibited from sharing — and others want to argue about grades or get an explanation about why their child didn't do as well as they expected.
"I think one of the things that could be helpful is to help parents learn about what their students are doing and learn that their students need to be responsible for themselves rather than relying on parents to help them when they have a problem," Huston said. "Like sending me a note or calling me and saying they are sick, or something like that. It's up to the student to let me know that."
She attended a parent orientation once, but hasn't heard about any recently.
[READ MORE: Vision statement draws criticism at town hall]
"We had the parents come, and some other family members could come, and they were so excited about their kids getting to go to college like this," Huston said. "[Administrators] spent some time with them explaining that this is college, so maybe we could do something like that again, making sure parents know what their students are going to be expected to do. So not only do we train the students to be ready, we train the parents to be ready."
Hicks said parent orientation is still an event, as well as a signing day, where students dedicate to attending an early college high school are important events. She said she's seen parents tear up when they realize that their children will be able to get a college degree. Many of these students are first-generation college students, Hicks said.
Nichols said most faculty don't see the presence of the high school principals or other high school administration walking around campus to monitor the behavior of high school students.
She suggests early college high school administrators attend division meetings to introduce themselves. That way, she said, professors will know who to contact in cases where they need to address issues with their students.
Nichols said the effort to increase the number of early college high schools means professors are more and more likely to be teaching classes exclusively made up of high school students. It's not something she signed up for, but she said it's a trade off.
She said she would rather teach high schoolers than have research, papers and manuscripts distracting her from her teaching.
"You don't have high schoolers at a four-year, but you always have to have that next manuscript in the pipeline," Nichols said.
Justin Lonon, vice chancellor of the DCCCD, said with concerns about space some professors may be going to high school campuses to teach more often. It already happens from time to time.
Lonon said that the DCCCD is looking into creative ways to handle space problem.
Nichols said she knows she will eventually be teaching high school classes on high school campuses.
Career technologies programs
Career technologies early college high school programs are different than those in other divisions of the college, Executive Dean Johnnie Bellamy said.
Classes are not all integrated, there isn't as strong an emphasis on transferring to a four-year university — though it is encouraged as an option — and students are doing more hands-on work, she said.
The CTE early college high school program with Spruce High School is about to graduate its first cohort of students. Bellamy said several are transferring to four-year universities while others are going directly into the workforce, including some for Texas Instruments.
The heating, ventilation and air conditioning early college high school program will be graduating two of the five original students with associate of applied science degrees in their first cohort this year — the other students either decided HVAC wasn't right for them or went back to their home school.
Those HVAC students were integrated this year.
"We haven't had any problem with it," Bellamy said.
[READ MORE: Tuition increase scrapped for fall 2019]
Mechatronics will be sending 16 of 20 early college high school students to graduation this year. Mechatronics and computer aided design instructors don't have a problem with the prospect of integration, Bellamy said.
The obstacles faced by career technologies instructors haven't been so related to maturity as much as helping the students stay interested.
"Students who are not so interested, having to try to get them interested, help them understand this is life, this is employment for you after high school," Bellamy said. "You may be going straight to work after high school or off to a four-year, whichever you choose. But you have that with a lot of people. A lot of people decided, 'Eh, I don't want to do this, what else can I do?' So it's not anything different."
State law requiring government contractors to sign pro-Israel document affects campus speakers