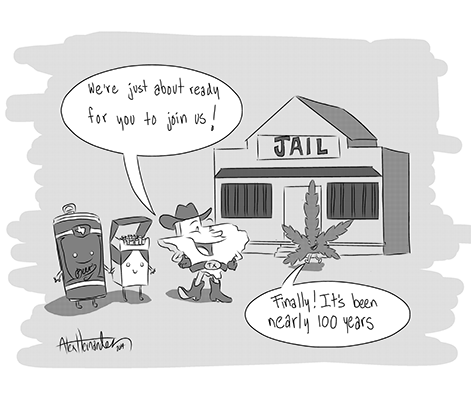 Now that recreational marijuana usage has been legalized in Washington and Colorado, advocates are pushing for legalization in other parts of the country, including Texas.
Although it may seem hard to believe that a largely conservative state — the same state where more than 20,000 people were arrested for marijuana possession and usage in the previous decade —would ever legalize or even decriminalize the drug, recent events show that public opinion is rapidly changing in its favor.
A survey conducted in October by Public Policy Polling revealed that more than half of Texans support marijuana legalization.
Even Gov. Rick Perry said he strongly supported decriminalization at the 2014 World Economic Forum in Switzerland, saying he would introduce policies that would prevent people from "going to prison and destroying their lives."
We support these stances, but where can Texas go from here?
Colorado's laws regarding recreational marijuana use provide an excellent blueprint for other states to follow. Residents age 21 and older can only have an ounce or less in their possession, and having anywhere from 2 to 6 ounces is a mere misdemeanor — the same as a traffic ticket. A license is also needed to sell marijuana, just as one is required to sell alcohol.
If marijuana is legalized in Texas, we also believe it should be taxed, which will increase revenue for the state.
Regulating the THC level in each plant would be a good idea, as well.
From 2001 to 2010, Texas spent more than $20 million arresting and prosecuting people for marijuana use and possession. In addition, thousands of people have been sent to prison for using a drug that has been proven to be less harmful than alcohol, which is perfectly legal.
The decision to not legalize marijuana is doing far more harm than good.
We must continue to fight for marijuana decriminalization and legalization in Texas, and if recent public opinion is anything to go by, we are getting closer to this goal.