Student's herbal hobby steeped in ancient culture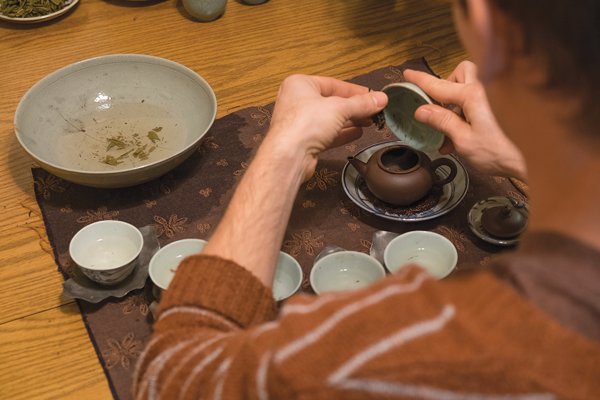 — Video by Narely Martin
Jeff Cornelius carefully carries the cast-iron kettle from his apartment kitchen to the small dining room, setting it down on a wooden holder and taking a seat at the table. The tea, a dark brew called a Pu'er, is already in the small clay teapot.
He sits down and prepares. First, he lifts the small lid off the little pot, pouring steaming water into it. He uses this water to rinse the cups, pouring the almost instantly brewed tea from the pot into the matching cups to cleanse them. He sets the pot down when empty and dumps the tea into a large bowl, repeating twice more before finally serving the Pu'er.
Cornelius grabs each individual teacup with care and passes them across the table with both hands. The tea has a light orange color. Steam rises from the heated teacups. The liquid emits a melody of natural scents, woody and fresh. The first sip has a warm bitter taste followed by a light citric flavor, with hints of minerals in the aftertaste.
Cornelius, a 36-year-old radiology major at Eastfield, has been aging teas and collecting teapots, cups and other accessories since he was in his 20s. Cornelius has a passion for the beverage and the cultural history that comes with it, from the common Chinese Pu'er to more hard-to-find Korean teas. It's a hobby that requires patience and a willingness to spend some money.
Most of the time, Cornelius sits alone once a day and pours his tea into three cups, all in front of him. The odd number of cups is more aesthetic and a part of qi beliefs and traditions in China. The time is spent slowing down, focusing on the way the tea tastes, smells and makes the body feel.
While in the Eastern world tea drinking is communal, in the West it tends to be a more solitary practice. Because of the rarity of truly devoted tea connoisseurs, it can be hard to find someone who enjoys the slow, lengthy process as much as Cornelius does. It requires patience and, to some degree, focus. A tea ceremony can take minutes or hours, depending on the person, the time they have to devote to the process and the personal preferences of the tea drinker.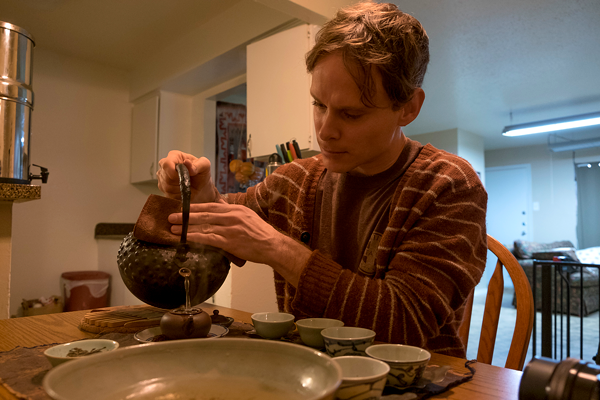 History of Pu'er
The Cultured Cup , co-owner Kyle Stewart, Specialty Tea Institute Certified Tea Specialist and Tea Mentor, said the story of how Pu'er tea came to be was more of an accident rather than an advancement. Chinese people for thousands of years were the only ones that knew how to grow and process the tea.
They wanted to keep this a secret from the world, since they had something that nobody else had.
Transporting the tea was difficult. Since they never told anyone about it, they had to do it themselves. The tea transportation could take up to two years, moved on the backs of pack animals as conditions constantly changed.
"If you had loose leaf tea, it only has about 3 percent moisture," Stewart said. "It is like a sponge and it absorbs all the moisture and the aromas. That is not a great way of transporting tea."
The Chinese figured out that if they ground up the tea and compressed it into bricks, they could wrap animal skin around it and protecting it better. The tea even in that compressed form would still collect enough moisture, 10 percent or more, to attract fungi and bacteria from the air.
At the end of the trip, the tea transporters noticed that the bricks changed colors from the bacteria and fungi. Their buyers said it tasted better than when they purchased it fresh.
It took thousands of years for the Chinese to figure out, due to lack of scientific advancements, how to start this bacteria and fungi process. There's no other tea in which you add bacteria and fungi.
"That's an interesting thing about this story," Stewart said. "I don't think they planned on this happening at all. It was the only tea that I think was created by an accident."
Preparing the tea
Some Chinese ceremonies that involve Pu'er Tea are called Gong Fu Cha, which is the more practice the better you get, similar to Kung Fu and Cornelius method. With Pu'er there's two ways. Sheng is a slow aged Pu'er and Shou a rapidly ripped. Shou takes two months to make but doesn't age like the slow aged one, replicating a slow 10 year aged one; method created in 1972. Rinsing the tea leaves and immediately pouring it off, opening the brick a little, doing it once or twice depending on the age, then start steeping depending on the age of the Pu'er Tea.
The name of the tea process Cornelius uses is Gong Fu, which is a quick steep afterwards longer brewing periods can be done. It starts off with boiling two pots of spring water, using a glass kettle and a Japanese Tetsubin cast iron pot. Spring water is used to prepare and make the tea. Purified water makes the tea taste light while spring water contains the right amount of minerals.
A gas range stove is used for the heating process. The fact that his apartment came with a gas range stove was a bonus, if not Cornelius would have to be making tea outside.
Cornelius uses the hot water from the glass kettle to clean, rise and warm the cups; putting tea in cold cups will make it get cold quicker. The Japanese Tetsubin is used to heat up the tea. Afterwards he evenly spreads the tea among the cups, removing the lid from the teapot so that it will not oxidize. The process is repeated and can be done for long periods of time.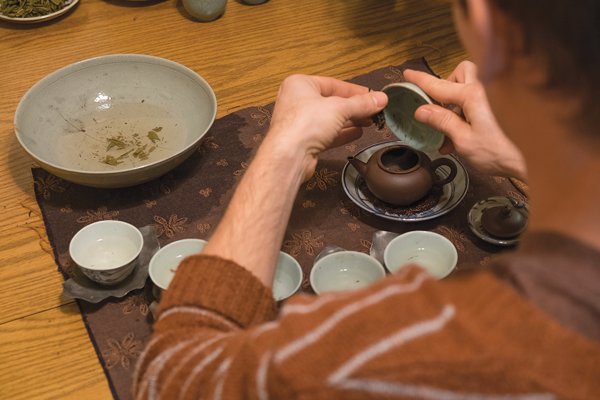 Tea in the United States
Tea in America has not been that popular, mainly due to the American Revolution and the heavy taxes placed on tea. Most Americans still got tea but from countries other than England.
However, tea consumption has been slightly growing in the West since the Victorian Era. The United States is the only Western country currently growing in tea imports and consumption. This is due to all demographics but mostly recently due to millennials who contribute up to 87 percent of tea consumption, with Generation Z starting to get involved, according to the Tea Association of the U.S.A.
Tea is the second most popular beverage in the world, second only to plain water. But while the market has been making advances in America, the community of traditional, hot-tea drinkers is still relatively tiny.
Getting involved in Tea
Studying art paved the way into tea culture for Jeff Cornelius. Art has a beautiful history of antiquity and antiques made by artists. Making his interest into artisan tea wear, paintings can cost thousands of dollars, while antique teacups can be inexpensive. Experiencing something of a high artisan level without breaking the bank, making it a cheaper transition, eventually leading to his obsession with Pu'er.
"It involves so much time, so much patience," Cornelius said. "It's an appreciation of older things so it was a big part of me getting into it."
Cornelius and his friends even attempted to open a tea shop in Houston, but ran into problems with zoning laws. The store never opened. Over the time trying to open the shop, Cornelius continued expanding his hobby by collecting antique Asian teapots and various forms of Pu'er Tea. Cornelius tried to share the love for tea and the experience with his friends, but most were more interested in generic teas and fruit infusions.
"Even people that love tea, you can't always share it with them because it is a really specific area, it is such a big tea world," Cornelius said.
Cornelius buys his teapots and tea from online vendors. As a beginner, it's a gamble. Some sources may not be that good. Cornelius says that spending money on unreliable sources is called a tuition fee.
"You can spend thousands of dollars on junk throughout the years," he said.
With time, understanding of tea develops and picking out products gets easier, though there is always a risk of making a bad purchase.
The Pu'er Tea that Cornelius buys comes from the minority people in Southwest China or the Yunnan Province, some of the most pristine conditions in which tea can be grown. The tea is grown in steep mountain cliffs, in protected forests.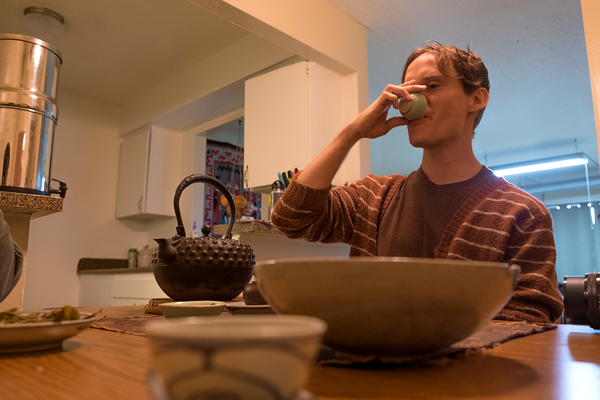 Common Ground
Cornelius and his girlfriend, Madylin Harwell, meet with their similar interest in ceramics, due to her multiple BFA in ceramics and metalsmithing, allowing the two to share interests. Cornelius makes tea daily; keeping the tea in separate containers.
"I would say it is just the same as any other hobby like collecting cards or drinking different beers, only less common," said Harwell.
Harwell and Cornelius discuss and plan to one day go to Asia with their shared interests in ceramics, while drinking tea and studying from potters.