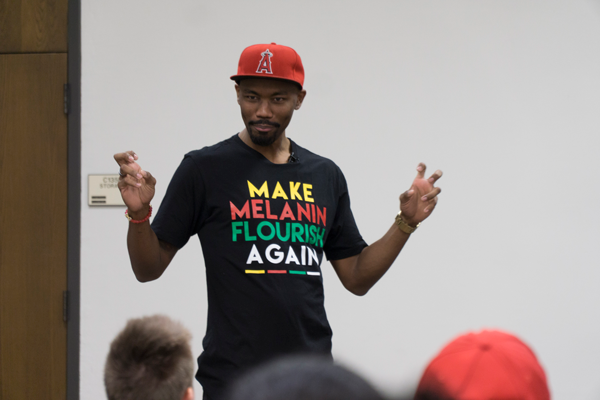 By SAMUEL FARLEY and ARIA JONES
@TheEtCetera
Author and motivational speaker Jonathan Jones encouraged students to "take off your cool cap and put on your listening cap" before opening up a dialogue about hip hop lyrics during the college's final Black History Month event, "No Beats, Just Bars."
Jones, a Richland graduate, challenged the audience at the Feb. 28 event to pay closer attention to the messages artists are communicating in their music.
He said it's important for students to understand the power of words because they must be intentional with what they say and to whom they speak.
Jones then played three hip-hop songs that touched on social issues such as racism, LGBTQ rights and suicide awareness.
The first song was "Land of the Free" by Joey Badass, which opened a discussion on race relations.
The song says that there are "three K's and two A's in AmeriKKKa" and that electing Barack Obama as the nation's first African-American president was "just not enough."
It also points out how black Americans still have the names of their slave owners.
Eastfield student Zyjanae Martin's spoke emotionally about the uneasy feeling of knowing the culture of her ancestors had been stripped away.
She said she went through a similar experience of questioning her heritage, like Joey Badass did growing up, because she knows things like her religion were taught to her ancestors.
"I grew up in Pleasant Grove and I'm African, but I don't know who my people are," she said. "We lost a lot when we were brought to this country."
The next song, "1-800-273-8255" by Logic, brought up the topic of suicide and depression. The title is the real phone number for the National Suicide Prevention Hotline.
The artist's words "I don't want to be alive" are repeated in the chorus at the beginning of the song, but by the end it changes to "I finally wanna be alive."
Niko Robbins, an engineering major, spoke about the importance of realizing that the LGBTQ community is everywhere and that suicide statistics among trans people is particularly high.
"Since this is about LGBTQ people and I'm queer, there is actually something called the Day of Silence, and it is a day where people in public will not speak at all," Robbins said. "It is to show respect and to show what it's like for queer people or LGBTQ people who feel like they can't speak or have even ended their lives because they didn't even feel safe to be in the world"
Robbins offered support to anyone in the room who was struggling.
"If you call that number, it really is them, and they will hear you," she said. "And there are so many groups of LGBTQ people out there that you can join."
Students and faculty discussed the importance of acceptance of people in marginalized communities.
"At the end of the day we all just want to be understood and loved," history professor Liz Nichols said. "And we have to have compassion for people when they decide to share their stories with us."
The song list also included a more upbeat song, "No Fear" by Dej Loaf.
"When it comes to fear, if we prepare accordingly for certain things, whether it's a test or a relationship, we can eliminate it," Jones said.
Throughout the event, Jones stressed the importance of being open, being respectful and exercising free speech.
The conversations involved personal experiences and outlooks, and people didn't always agree.
The discussion remained civilized even when disagreements arose.
At one point two students debated whether artists should use derogatory language toward women.
"When I came in here, the environment was already set to pay attention, to get that energy, and receive those words with an open mind," said Courtney Pickens, coordinator of the college's Providing Hope, Awareness, & Suicide Education program. "Because I've seen conversations about race and sexuality go all the way to the left, I think it's important to have a conversation but also be respectful of the differences."
After the event ended students seemed more open to expressing themselves and their feelings.
"I was able to meet a fellow LGBTQ person at this event, and we have already begun to discuss how we can reach out to the LGBTQ community here on campus," Robbins said.
Jones was pleased with the outcome of the conversations.
"Hearing the students interact was my favorite part," he said. "Because when the engagement comes from a personal experience, then we begin to relate to one another and see others' perspectives."          
— James Eyre contributed to this report