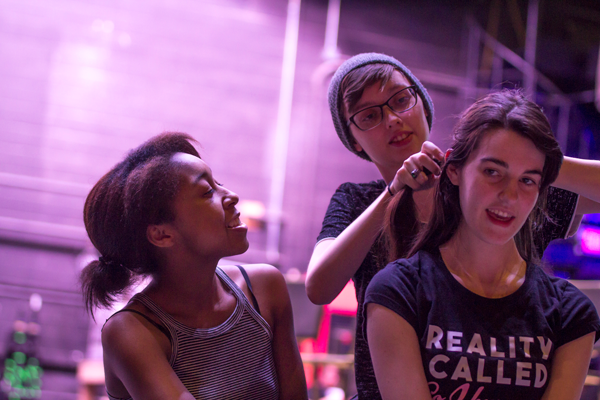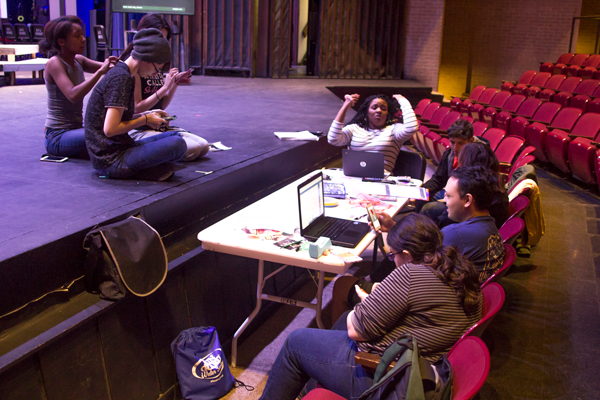 By CAMERON R. COOK
@Cameron_ETC
The Harvester Theatre Company explores the tales of two friends of Anne Frank, the Jewish girl whose diary from the Holocaust became world-renowned, in "And Then They Came for Me: Remembering the World of Anne Frank."  
Performances are Nov. 15-16. Guest director Lucas Haupert is an Eastfield alumnus. 
Eva Geiringer and Ed Silverberg were two teenagers who both lived through the Holocaust, during which their friend Anne perished. 
Ed, who survived the Nazi's purge of Jews on the run, Anne Frank in 1942 before she and her family went into hiding. He knew her only that year, during which Anne looked at him as a love interest, writing of Ed in her diary as her first boyfriend. 
Eva, a childhood playmate of Anne, also went into hiding before being sent to a concentration camp that she later survived. After World War II ended, Eva's mother and Anne's father married, both having lost their respective spouses in the war. Had Anne lived, the girls would have been stepsisters.   
The play is different than most, with videotaped interviews of both friends played along with actors performing their stories on stage.  
Joe Martinez portrays Ed and Oliver Wyer portrays Eva. Brittany Rupert is playing the somewhat smaller character in this story: Anne.  
"What I've learned is to make it impactful, give a meaning and a purpose to this wonderful character that I am portraying," Rupert said. 
She said she had known of Anne's story since she was in fourth grade and was absolutely ecstatic to get the role.  
"We really want the audience to feel the way the characters feel," Rupert said. "We want them to really grasp this situation and understand so that it won't happen again."  
Martinez said that a lot of middle school students and high school freshman would be coming to see the shows as a part of their studies about the Holocaust. 
His character's story, Martinez said, is different in the way that Ed never went to a concentration camp. He was briefly captured by the Nazis and then escaped. He and his family were on the run, planning every day around evading the Nazis. One mistake could have gotten them killed.  
"This is someone's life," Martinez said. "This actually happened to him, so I want to get that across."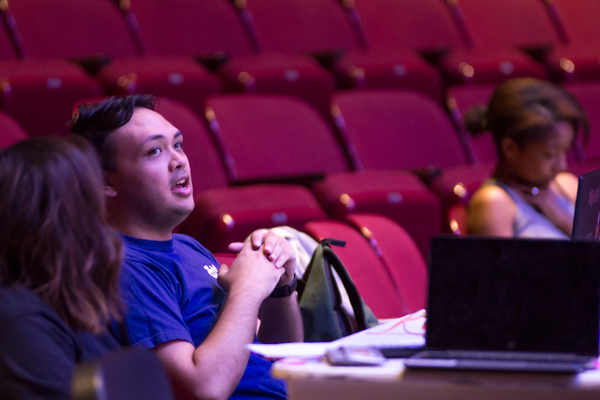 He said the director, Haupert, has shown the actors the respect that is required of these stories.  
"A reason a lot of us are so eager to get these accurate is Lucas' determination to get real emotions," Martinez said. "That way, we are actually doing this in honor of them and not just doing it as a show."
For his part, Haupert said he wants to help his actors delve in the same type of experience he had as a theater student at Eastfield, during which he felt like part of a family.
"I really loved my time here. … Rather than you're just a student who's learning how to act, you're a part of a big community," he said. "It's really nice to be a part of something bigger than yourself. They make you feel very welcome here."  
Haupert went on to graduate from Oklahoma City University with a Bachelor of Fine Arts in acting with a minor in directing. He eventually wants to earn a Master of Fine Arts in directing.  
In the meantime, Haupert is doing work at Pocket Sandwich Theatre in Dallas and also performing guest direction on plays such as "And Then They Came for Me." 
He said with the multimedia aspect and minimalist approach to the background, he wants this particular play to resonate with the audience in a detailed way.  
"They get a bite of history, but at the same time they get to experience what the characters are experiencing themselves," Haupert said.  
Martinez said he thinks these events can help students' knowledge of current issues in other countries. 
"Understanding the Holocaust, something that's already happened, is definitely going to be easier than learning about something that is still going on in the other side of the world," Martinez said. "If people can relate these stories to someone else's and see what's being done, then hopefully we can start to do something about it."