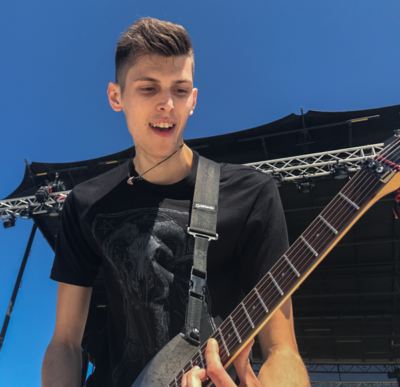 By JAMES HARTLEY


@JamesHartleyETC
With a crowd of only about 25 people, Orenda had high energy and kept their small audience moving this weekend at So What?! Music Festival.
Orenda, a metalcore band out of Tempe, Arizona, got to So What?! By winning a competition and were slated for one of the earliest set times. While most of the attendees for So What?! were still waiting outside the gates, they took the stage.
The set started slow, with frontman Winston Purkiss blending in with the guitarists and bassist. When one of the moved up to the front of the stage, they all moved up. It gave a stale feel to the performance, but by the second song the band had amped up their energy.
The further the set went on, the more comfortable and energetic the performance felt.
For one song, Purkiss jumped off the stage and over the divider that kept him from the crowd to start a mosh
pit, then in the last song Guitarist Jason Hinkle did the same.
If there was anyone in their audience that wasn't moving before Purkiss jumped the barrier, they were now.
The band had a solice sound and seemed well practiced. On the last song, Purkiss clapped on the mic, causing a disruptive thumping sound. Aside from that, the set was smooth and clean overall.
Purkiss' vocals were strong and brutal, and while most of the time his screams had a unique aspect but there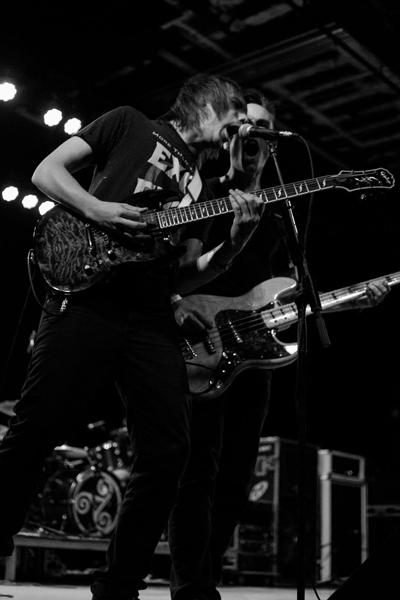 were points throughout the performance that it morphed into a generic metalcore feel without much unique personality.
During moments where bassist Zach True was called on to deliver clean vocals, they were truly clean and in tune, something that can't be said about a lot metalcore clean vocalists.
The guitar, bass and drums were always in synch, but there were no moments of "that's insane" when it came to the actual music. While they had their performance nailed down better than some headliner bands, Orenda didn't seem to have much individual personality in their sound.
A "mad at one or both of my parents" song, while well written and performed, topped off the generic metalcore archetype.
A metalcore band like Orenda, with their attention to detail and ability to control the crowd. will be very successful in the scene. First they have to find their own sound or they'll fade into the massive pool of nameless metalcore groups.