Editor's Note: Includes season one spoilers.
How do you kill Pablo Escobar? Don't ask anyone in season one of the critically acclaimed Netflix original series "Narcos." They've all tried and failed. Local police officers, drug enforcement agents and other drug kingpins have taken their shots to no avail.
When we last left our favorite drug-trafficker hunters Javier Pena (Pedro Pascal) and Steve Murphy (Boyd Holbrook), they were witnesses to one of the most embarrassing law enforcement fumbles of all time.
The Colombian government had captured the notorious Escobar (Wagner Moura). However, he turned himself in for a five-year sentence in his private resort-like prison protected by his sicario, or hitmen. While this was an obvious slap on the wrist for the narco-terrorist, Escobar quickly got antsy in his isolated paradise.
With the recent death of his cousin and right-hand man Gustavo Gaviria (Juan Pablo Raba) and his opponents in the Cali cartel eyeing his territory, Escobar's paranoia leads him to kill two of his closest associates. The Colombian government jumps on this and plans to surround his prison, capture him and extradite him to the U.S.
However, they manage to screw that up. Colombian Vice Minister of Justice Eduardo Sandoval (Manolo Cardona) goes into the sicario-filled prison with the mistaken belief that Escobar plans to cooperate. Instead, Escobar takes him as a hostage, tries to negotiate with President Gaviria (Raul Mendez) and then, with Sandoval as his human shield, escapes unharmed.
The first episode of season two highlights the almost unbelievable blunder that just occurred. Agent Murphy, our super-suave narrator, returns to inform us of the major lengths the government went in its efforts to extradite Escobar, including 4,000 soldiers, seven dogs and "four f***ing helicopters."
What do Pablo's enemies do now?
Unfortunately, I was still asking myself that three episodes into the season.
[READ MORE: 'Henrietta Lacks' deserves acclaim]
After the law enforcement misfire, the U.S. and Colombian governments change tactics, and this switch-up seems to drag on forever. I couldn't help but think that the creators were stretching out the season on purpose just to fill up a 10-episode season. I was starting to feel like the second season wasn't going to be worth it.
Then, in episode four, things blow up: dynamic character interactions, dramatic shootouts and things, well, literally blowing up. It's just Pablo's style.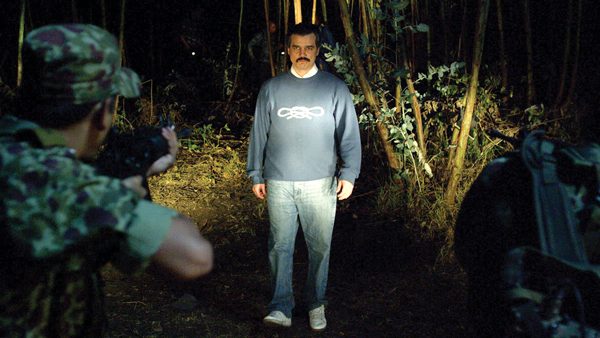 From then on, it's a nonstop array of action, betrayal and dangerous new allies. The pieces that began to develop in the earlier episodes now come together.
We also get new characters in the revolving door that is the narcotics war, including Limon (Leynar Gomez) and Maritza (Martina Garcia), who serve as good representations of the effect Escobar has on the Colombian community.
For better or for worse, we get more Escobar in season two. The character arc between him and wife Tata (Paulina Garcia) gets repetitive early on, but soon deepens our knowledge of Escobar as a family man. We also witness
Escobar's internal struggles as he deals with Gustavo's death in a genuinely heart-breaking delusion.
The relationship between Agents Murphy and Pena is moved to the sidelines as Murphy deals with wife Connie (Joanna Christie) leaving Colombia out of fear while Pena places himself in morally gray territory to stop Escobar.
Season two is much more character-driven than the first, giving the viewer a chance to know each player beyond his or her famous, or infamous, actions. As good as some character arcs may be, the show does have moments where it stumbles.
Events that likely had bigger real-life emotional impact are simply brushed away. Escobar's interactions with his father; Murphy's dive into alcoholism; the moral conflict that Limon and Maritza have with their actions and each other. All are lacking compared to their historical counterparts.
This is a shame, considering the marvelous acting. Moura absolutely shines as Escobar, and every supporting and minor character leaves a lasting impression.
The setting's aesthetics don't lose any of their magic in season two. Shot in Medellin, Colombia, the show is showered with a genuine essence of Latin American pride, culture and humility complemented by a hypnotizing score.
"Narcos" season two ends with a peek of what's to come, and with season 3 and 4 already in the works, we have a guarantee of more drug trafficking extravaganzas (whether or not it's Escobar, I'll never tell). Despite its slow start, season two delivers the goods and has me anxious for the next shipment.
[READ MORE: Movie Review: Wilder's classic 'Wonka' showcases legends talent]