District handgun regulations still undetermined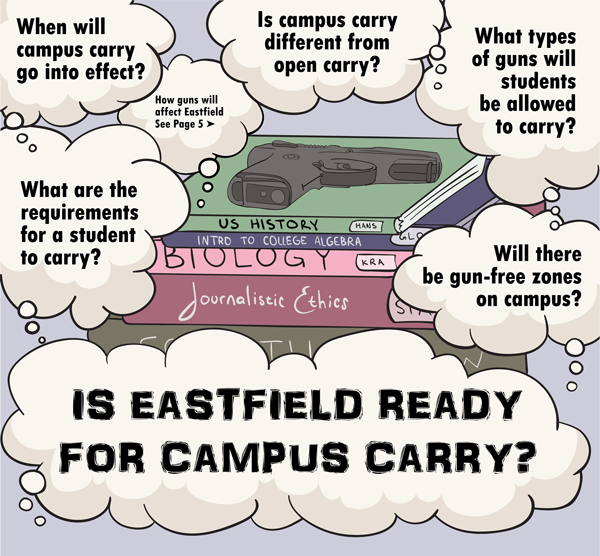 Texas handgun license holders will be allowed to bring their concealed guns to campus starting Aug. 1, and the Dallas County Community College District has yet to solidify any gun-free zones.
The campus carry bill allows colleges to set aside exclusion zones where guns are not allowed. The Board of Trustees must approve those zones before Aug. 1.
The Board of Trustees started discussing a staff proposal at its May 2 meeting, but ran out of time before reaching any conclusions. They will hold a special meeting later this month on the issue.
"We have got to have final action on this in June," Robert Wendland, general council for the district, told the board at the meeting. "We have no flexibility."
Phil Ritter, trustee for District 2, suggested making guns illegal in classrooms, an act that Attorney General Ken Paxton has said would violate the law.
"The almost universal response from the community college community is that they don't want concealed guns in the classroom, and we get up to this point where we have an advisory AG's opinion that says, 'no,' and we're crafting a policy based on an advisory opinion that we're not necessarily bound by," Ritter said. "As trustees, I feel that we have some duty to listen to this community and what they want to see if there's a way we can craft a policy that accomplishes what the overwhelming sentiment of this community is."
Dorothy Zimmermann, trustee for District 3, said handguns carried on campus by concealed handgun license holders only increases safety.
"I like looking through church knowing who carries, and that if somebody comes through one door and blocks another, I know who can defend us," Zimmermann said. "It's a great security."
Wesley Jameson, trustee for District 5, suggested the board should consider challenging the law.
Before the meeting, Wendland said everything is on track.
"We're confident that we will have action by the board in time to have the regulations in place," Wendland said.
The DCCCD hosted forums in the fall and spring to gather opinions from students, employees and community members on what areas should be gun-free.
Amy Vance, dean of the Science, Technology, Engineering and Math Division, is the college's liaison to the DCCCD campus carry committee.
Vance said she doesn't expect much to change when campus carry is implemented.
"When they come back to campus in the fall, with the signage, I don't anticipate there will be much different, other than signage," Vance said.
Signs will be placed at exclusionary zones to denote the areas as gun-free.
Vance said a list of exclusionary zones will be published as soon as they are confirmed.
[READ MORE: Bills intend to strip veteran, undocumented student aid]
Psychology major Josh Nelson believes Eastfield's gun-free zones should be limited to areas that are necessary, such as labs with toxic chemicals or anywhere where there are pressurized gasses.
Nelson believes that if someone returns fire at an active shooter in a room with pressurized gasses or hazardous materials, they're "likely to cause more damage than just taking out the shooter."
He also said the K building, which houses the child care center, should have armed protection outside, but that no weapons should be allowed inside.
"We really took into consideration what the faculty, community and students said but also what the law would allow us to do," Vance said.
Temporary exclusionary zones can pop up from time to time if an outside group mostly composed of minors reserves a room at Eastfield.
Vance said the Eastfield campus carry committee's suggestions include science labs, parts of T building, the counseling center and any "high-stress areas." The childcare center will be exempted.
Vance said in February that the committee would like W building, where the police academy is located, to be excluded as well.
"They have some kind of simulation where it's like you're at a firing range, but it's not real bullets," Vance said. "Even though there may be signage on the day of the events, someone may not pay attention to the signs, walk in, believe it's real and use their real gun to 'save the day.' "
Tarrant County College has already solidified their gun-free zones, including areas primarily used for performance halls, health services, childcare, testing, early college high school programs, physical education and counseling. The police department at TCCD campuses will also be gun-free.
Kilgore College banned guns in the police station and their health and science center as well as at sporting events. Grayson College also banned guns at sporting events, disciplinary hearings and religious gatherings and will allow them in dorms and workout facilities.
The Collin College Board of Trustees held a first reading of the proposed exclusionary zones on Collin College's campus April 25. They are expected to vote on the proposed zones in May.
The University of Texas, which implemented campus carry on Aug. 1, 2016 along with all other public four-year universities in Texas, excluded areas including dorms, labs with hazardous materials, animal research facilities and any area primarily used to house K-12 activities.
Education major Carina Salcedo said that, while Eastfield and the DCCCD have offered forums, she believes a lot of people don't know about the law. She suggests that, even after implementation, the college offer a place for students to go and ask questions. She also worries that students may not have enough notice regarding to where exclusionary zones will be before returning in the Fall semester.
"If they have questions they can go there, state their concerns like 'how will this affect me,' and for people who will have guns to know where they can and cannot go," Salcedo said.
Ashley Damares, an education major, did not know the law required handguns on campus to be concealed or that it was not already in effect.
"The people that are scared need to know how it's happening, and the people who carry them need to know how they could get in trouble for it," Damares said.
Damares said the forums hosted at the college are not enough.
"They've had fliers for other things they do on campus at the tables, but they haven't had anything about that," Damares said. "If you heard about it from a friend you would know about it, but other than that you wouldn't know that it even existed."
She suggested using class time to educate students on the law and implimentation.
Nelson said that if students do not understand campus carry or know that it will be implemented in August, it is "willful ignorance" because of the forums offered by Eastfield and the DCCCD.
The law prohibits anything that would create a general exclusion. Classrooms, offices and any other area throughout campus that may, in effect, prohibit firearms throughout the general campus are considered general exclusions.
Private colleges have the ability to opt-out of the law. Only one private four-year university in Texas, Amberton University in Garland, has opted to allow handguns on their whole campus. The only private two-year college is Jacksonville College. Jacksonville College does not have any gun policies immediately accessible online.
Other areas prohibited by concealed carry laws will also be exempted from campus carry, such as sporting events, places of worship, hospitals or nursing homes.
[READ NEXT: 'I just want to survive': Student with muscular dystrophy fights through health issues, attends school]