1997 national champions reunite, reminisce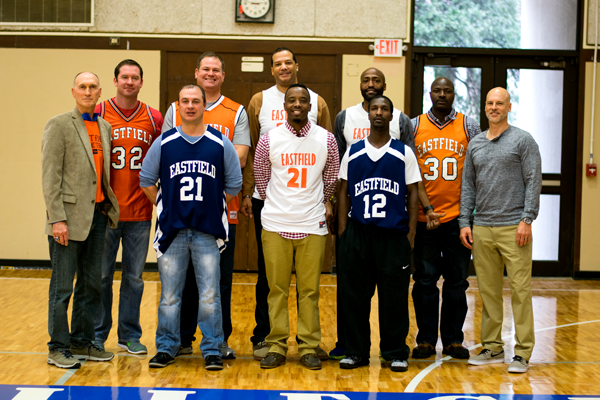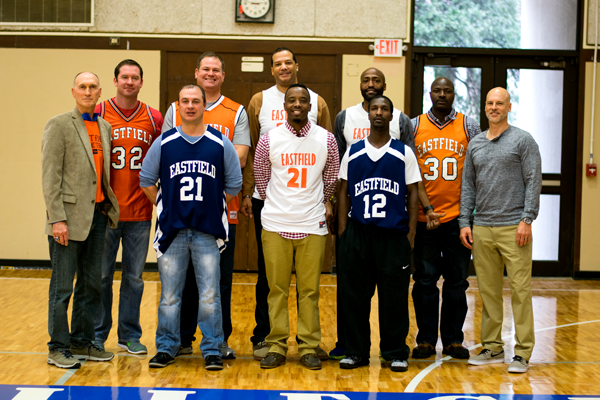 Eight men step out onto the same court where, 20 years ago, they had played and practiced through the season leading up to the first national championship in Eastfield sporting history.
The sound of squeaking shoes has long subsided, but the memories of that season still live on for members of the 1997 Eastfield Harvesters basketball team.
Eight of the 11 former players reunited on Jan. 14 for the 20-year anniversary to reminisce about that winning season over lunch with coaches Bob Flickner and Mark Murdock. Then they met up at the home gym to see Eastfield's current team host North Lake. At halftime, those present honored them as they walked back on the court. 
The championship team consisted of Henry Williams, Chuck Young, Rodrick Clarke, Devin Williams, Byron Bynum, John Baker, Jay York, Will Young, Cordell Ray Jr., Ray Lee and Greg Monroe.
Among those present were Assistant to the President Sharon Cook, former Eastfield President Rodger Pool and former Et Cetera sports editor Michael Morrill.
Flickner described the moment as special and was glad to see the players he once coached living their own lives.
"All those guys did so much for me and so much for the school," he said. "They're a great group of guys. Being able to mesh [them] together is the biggest part of a coach's task as well as developing that chemistry and culture where the guys want to play their best for the team."
Chuck Young remembers how in the start of the season, "Indian Relays" were the norm for conditioning.
"We had 30 guys, and the last person in line would have to run up to the front," he said. "We hated them!"
Ray Jr. said the team spent that Thanksgiving with Flickner's family, being treated "like one of their own."
[READ MORE: HARVESTERS USE DEPTH IN 11-1 START]
York has fond memories of practice.
"We just used to have a lot of fun, cutting up in practice," he said. "But there were tough practices, and it was a lot of hard work. The fun we would have, goofing off and picking on each other, was probably the best thing about it."
Will Young remembers a few instances that brought him to laughter while at the national tournament in Delhi, New York.
"We got grounded," he said. "We actually went up and hiked the mountain one night and weren't supposed to. We were supposed to be in our rooms. Coach Flickner had said, 'Where were y'all at?! What are y'all doing?! There could have been an avalanche or something!' Between that and our assistant coach almost running off the road because he saw a turkey that flew out in front of the van. He had yelled, 'Oh my gosh! Did y'all see that turkey?' So yeah, that was pretty funny."
In the national tournament during the 1996-1997 season, things weren't always looking bright for the Harvesters. Down by 3 points in the semifinal, Eastfield eventually overcame Gloucester County College, then ranked first in the nation, to book a place in the final. York stepped up in the semis, scoring the final 4 points on a layup and two free throws to seal the victory.
"Emotions were running high [and] nerves were running high," he said. "It was just a great feeling knowing we were one step [away from] the national championship."
The team faced Jefferson Community College of New York in the final. Trailing by 4 points with less than a minute to play, Eastfield fought back to win the national title.
Chuck Young was especially relieved once it was over.
"It was a lot of jubilation and excitement and anxiety," he said.
Will Young believes the bond between his teammates was the key to winning the title.
"Anything could have happened, but all you can do is trust your teammates," he said. "Y'all worked that hard to get where you are at."
[READ MORE: HARVESTERS HELD TO 3-3 IN CONFERENCE]
Ray Jr., who holds the campus record for season rebounding with an average of 11.1 per game, was named the 1997 National Player of the Year after the season ended.
"Winning that meant a lot," he said. "I couldn't have won Player of the Year without my teammates … and my coaches. That was us persevering and going over the edge, winning the national championship."
The players gave a lot of the credit to the coaches. Without their support and guidance, they said, history would not have been made that year.
Flickner described his assistant, Murdock, as a "sponge" who was always hungry to learn more.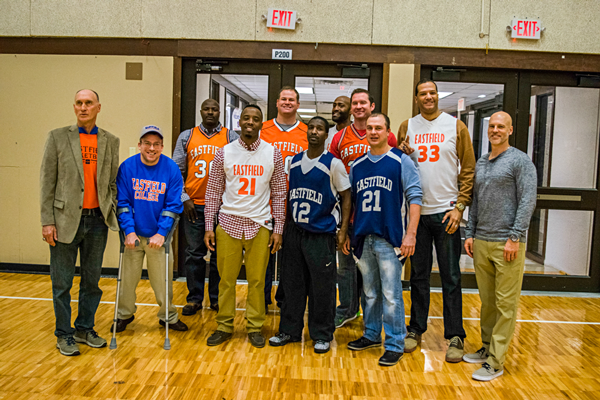 "He really energized me and the team," Flickner said. "He even got me to do some basketball camps in Europe. Spiritually, we were on the same wavelength."
Twenty years later, many of the players have moved across the state, the country and even abroad.
Ray, described as a "tall and intelligent player" by Flickner, transferred to Hawaii Pacific University, then served in the U.S. Army until 2006. He now works with the FBI and is assigned in Washington D.C.
Chuck Young transferred to the University of North Texas and is now in gym management, working as a personal trainer at Impact Fitness at White Rock Lake.
York racked up 96 career field goals. Described by Flickner as an "intelligent," "fun" and "savvy" player, he transferred to Texas A&M-Commerce and now works as a regional director for Mylan Pharmaceuticals, overseeing the Southeast area of the U.S.
Will Young, a "mountain of a man" standing at 6'7", transferred to Oakland City University in Indiana and won another national title his senior year in 1999. After, he joined Christian organization Athletes in Action and has traveled to New Zealand, Fiji and South Africa.
Williams, known as "Little Henry" to Flickner, also stuck with basketball. He now officiates games at all levels in the Dallas area, including high school.
Bynum now lives in Minnesota, where he has run his own barbershop for nearly 18 years.
Baker, who holds 249 career assists, received his masters in divinity from George W. Truett Theological Seminary in 2007. He is now the lead pastor at Antioch Community Church in Salt Lake City.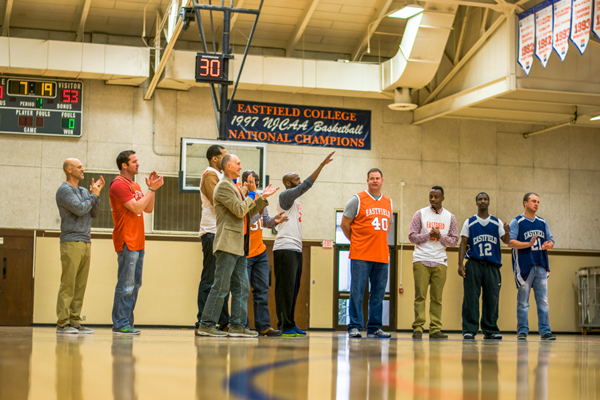 Monroe, a "strong rebounder" and "a real force on the court," now lives in College Station.
Murdock is a managing partner at CryoUSA in Dallas, which helps athletes with fitness and physical therapy.
Flickner retired from coaching in 1998, but he continued working as the athletic director until 2005. He was inducted into the NJCAA Basketball Hall of Fame in January 2016. He is currently a fitness trainer and teaches tennis at Eastfield.
Flickner believes it was God's blessing that he has had such a lasting impact on the athletic program at Eastfield. He wants to continue that legacy for many more years.
"Keep on keeping on," he said. "I'm very thankful for continuing to serve the students, the school and the community to the best of my ability each and every day."