Intensity of 'Don't Breathe' shines in quiet moments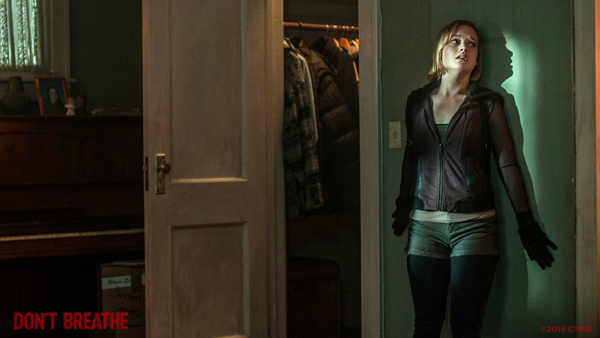 Director Fede Alvarez takes audiences on a deadly game of cat-and-mouse in his new horror-thriller "Don't Breathe."
Alvarez, director of the 2013 "Evil Dead" remake, scales back the blood, gore and shock horror that characterized his breakthrough film by delivering a simple, yet stirring, premise.
Jane Levy stars as Rocky, a young delinquent who plans to run away from her neglectful parents with her boyfriend Money (Daniel Zovatto) and her younger sister, Diddy (Emma Bercovici). The couple plans to break into the home of a blind veteran (Stephen Lang) with their friend Alex (Dylan Minnette) and retrieve a large sum of money rumored to be in his possession.
Once they're inside the house, however, the group discovers that the blind man is much more dangerous to them than they are to him. The ensuing action takes the characters through intense hold-your-breath moments and many dark twists.
[READ MORE: Review: Action carries 'Free State of Jones"]
With its run time at 88 minutes, "Don't Breathe" is a relatively lean picture. However, I wish it was trimmed down just a bit more.
The biggest problem I had with the movie was that the first 20 minutes or so seemed completely unnecessary. We get Rocky's over-saturated background story and then get a monologue that restates what we just watched.
I understand that as a delinquent who's about to rob a blind U.S. veteran, the filmmakers have to do the best they can to make her a sympathetic protagonist. However, they completely miss the fact that Levy does a phenomenal job portraying her character and that throughout the film we get a nice balance of both compassion and criminal ambition from her character.


As good as this movie is for its premise, it fails when it tries to be anything else. There are moments in the movie that do diverge (however shortly) in an attempt to awkwardly develop characters or add psychological motives. This slows the movie's pacing down and contributes to plenty of eye-roll worthy moments.
Once the group is inside the house however, we get jam-packed suspense the rest of the way through. This suspense is delivered through the movie's loudest moments and amplified in its quietest ones.
[READ MORE: Millennials' health habits set new hopes for tea industry]
To represent how eerie and effective the movie is during its quiet moments, I made an observation of the audience every time there was a still, tense scene. The audience, no matter how hard they tried, could not help but break the silence. Every time the characters had to hold their breath or carefully calculate their next step, someone in the audience would laugh nervously, cough or talk out to the characters on-screen.
No one could bear it. No one could sit through it. The tension was real, and every twist, jump scare and brutal act of violence was extremely devastating.
Alvarez creates a thrilling ride in a very small space. The film works very well for its premise and its genre and shows that Alvarez is a legitimate player in the horror world.
[READ NEXT: 'Hands' makes great addition to sports genre]