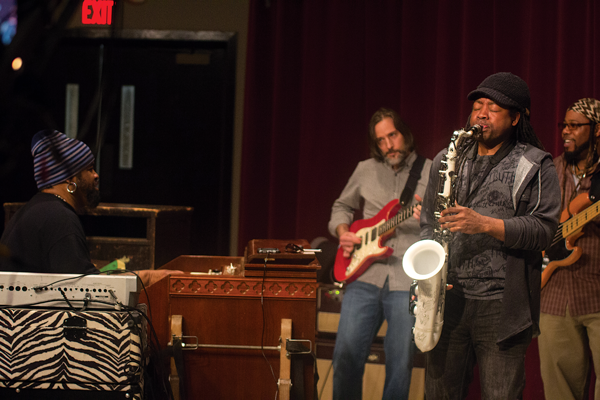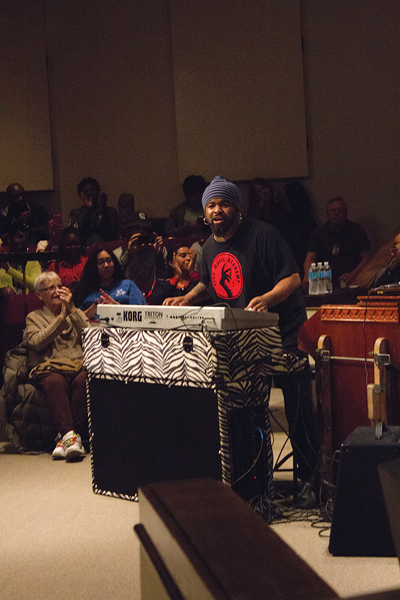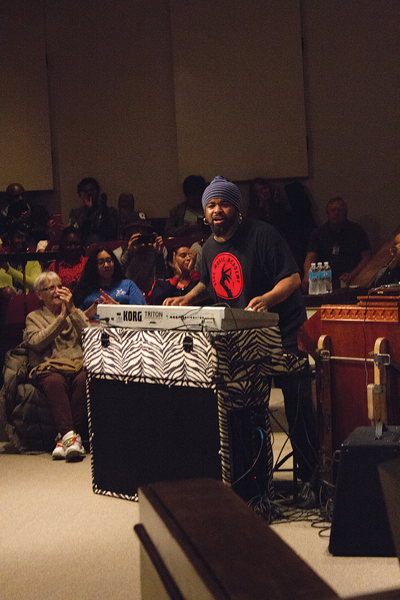 Former Eastfield student and Grammy Award winner Bobby Sparks and his band transformed the campus into a low-lit, toe-tapping jazz club on Feb. 1.
Students, staff and faculty sat in on a jam session which featured several jazz and funk staples. Sparks' award-winning work with such legends as Kirk Franklin and Fred Hammond set the bar high for the concert, which was part of the Wednesday Recital Series and the college's Black History Month celebration.
With the first note of RH Factor's "Hard Groove," feet were already tapping. The song felt like a real introduction to the band, with each member getting time to shine individually. Todd Parsnow and Justin "Jay Mack" McKinney's groovy guitar and bass playing got heads moving. By the number's climax, Keith Anderson was expertly slaying a saxophone solo while percussionists Frank Moka and Jason Thomas added epic drum fills.
The performance was well-received and the audience only became more enamored with the songs that followed. Foot tapping eventually evolved into shoulder moving, head bobbing, and full-on cheering.
Anderson's saxophone solos were a highlight of the jazz-heavy setlist. He transitioned from slow jams to Herbie Hancock's funk-frenzied "Sly" effortlessly.
Individually, each musician was allowed ample time for their light to shine, but together they were phenomenal.
In some of the most memorable moments, the band participated in energetic musical conversations. Moka and Thomas kept the audience enthralled as they engaged in a game of call and response. First, Moka chanted and played energetic drum solos on everything from congas to cowbells. In response, Thomas mimicked him on a drum kit with rapid speed and precision. Later in the set, Sparks and Parsnow played similarly, emulating each other's solos on keyboard, organ and electric guitar.
[READ MORE: What's love got to do with it? A history of Valentine's Day]
Dr. Oscar Passley, director of Eastfield's music program and a friend of Sparks, joined the band on flugelhorn during the phenomenal cover of Joe Henderson's "Black Narcissus."
Sparks showed off his incredible skills during a soulful keyboard solo in which he switched between his Fender keyboard and vintage 50s electric organ. It served as a testimony to his talent and his well-earned Grammy Awards.
With exuberant covers and wildly entertaining impromptu jam sessions, Sparks and his bandmates created an electric that lingered in the concert space long after the band stopped playing. The crowd emerged from their seats and thanked the advanced musicians with a lengthy and heartfelt standing ovation.
The Wednesday Recital Series continues on Feb. 15 with a performance by the Frederick Sanders Quintet. As for Sparks, he is currently touring with Lauryn Hill while working on a new album of his own.
[READ NEXT: 'Series of Unfortunate Events' mysterious, binge-worthy]