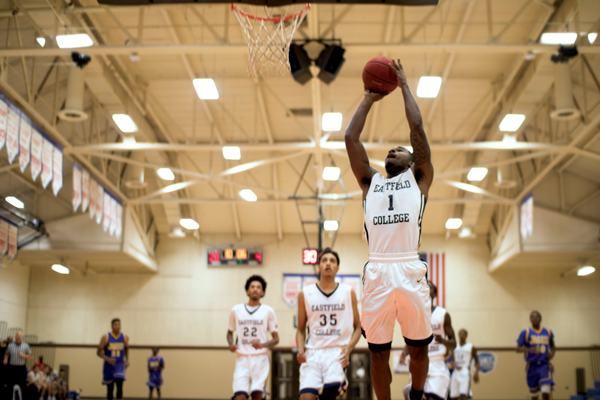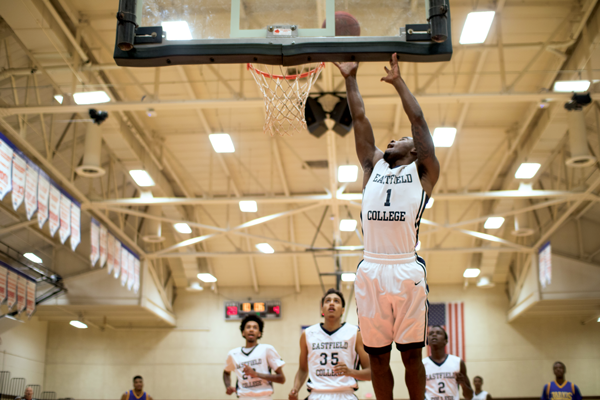 By BRIANNA HARMON
Managing Editor
@BHarmonETC
The Eastfield Harvesters basketball team has one thing on its mind: returning to the national tournament.
Eastfield finished fourth in the national tournament last season. The Harvesters have made 14 national tournament appearances, winning only one national championship
under former coach Bob Felder in 1997. They were runners-up in 1992, 2004, and 2013.
The Harvesters were the top-scoring team in the NJCAA Division II rankings last season, averaging
101 points per game. Shooting guard Ed Williams led the nation with 123 3-pointers. Williams took a scholarship to play at University of the Southwest.
Going into this season the Harvesters are ranked No. 3 in the nation in pre season polls.
Only shooting guard Zack Duncan and forward Jacob Donahoe are returning from that team. Duncan's role changed as the season went on, he went from playing.
[READ MORE: Volleyball wins first conference title since 1994]
Now Duncan starts for the Harvesters. Duncan said he is excited to
finish what he started last season, when he was named third team all
conference for his performance at the end of conference play.
"It feels good coming back this year to a brand new squad,"
he said. "I'm a scorer and a shooter, so I want to have my shooting percentage up. I want to be able to make big shots when I need to."
New additions to the team are shooting guards Ishmael Hook and Melvin Joiner.
Hook is a transfer from Ranger Junior College, where he redshirted last season.
"I want to win a national championship here," Hook said. "I want to be able to help the team where they need me. I want to keep my field goal percentage high."
Joiner, a true freshman out of David W. Carter High School in Dallas, where he was named to the All-State, All-District and All-Region teams during his senior season. He was also named the defensive MVP for the district and co-MVP of the district.
Joiner said it has been a transition for him coming straight from high school to play ball at Eastfield.
"The game speed is something you have to adjust to," Joiner said. "Goals for myself this season are to lead my team to victory every game and perfect my craft."
Coach Anthony Fletcher said the Harvesters have all the pieces needed to make it back to the tournament.
"I think we have a shot. We are out there competing," Fletcher said. "I think this team will be like any other team in the past where any night there can be a new leading scorer."
[READ MORE: Disc golf course welcomed by avid players]
Eastfield has started non-conference play 4-0, leading the nation in points scored per game with 138.3 and most 3-pointers made in a game with 15.
"Every game a new person can step up and be the game's MVP," Fletcher said. "That is exciting to
me because when you play like that you are hard to guard because somebody can't come in and focus on a certain guy."
Fletcher says that the biggest thing for the team is buying into the system.
"We are skilled offensive players," Fletcher said. "We can put five guys on the court that can shoot the ball and score in many different ways, that's our system. That's Eastfield basketball. You have to give your body up for your teammates. You can't get complacent, and these guys don't."