Partnership for mobile pantry aims to reduce student hunger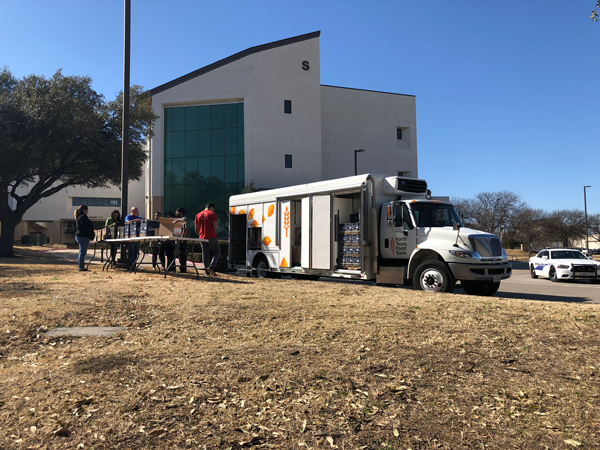 The North Texas Food Bank gave away fresh produce Jan. 31 to community members, students and employees in an effort to combat food insecurity.
The bank's food truck, which was stationed from 1 to 3 p.m. in parking lot 4, provided a bundle of corn, eggplants and bell peppers to each visitor.
The mobile pantry visits are a partnership between the North Texas Food Bank and the Dallas County Community College District.
A 2016 survey by the Wisconsin HOPE Lab found that 41 percent of DCCCD students said they skipped or cut the size of their meals because of a lack of money.
"We have too many students that are hungry," Upward Bound administrative assistant Sandy Hampton said.
Hampton has had her own struggles, which is part of her reason to aid the students in need. She saw the issue of food insecurity almost immediately after she started the position with Upward Bound 18 years ago.
"That's when I started making sure we always had food here for them," she said. "And it just kind of grew. Their friends would come with them, and they would see them get a soup you know and I would say, 'Did you eat lunch today?' And they would be like, 'No." And like it's there if you want it, take it."
Hampton said that she keeps food around her office in case people come to her with an empty stomach. About five or six students come to her on a daily basis in search of much needed nutrition.
The North Texas Food Bank is on campus giving away free produce! They're in Parking Lot 4 giving away corn, eggplant and bell peppers until 3:30 p.m. @TheEtCetera pic.twitter.com/M5v3HYR93r

— David A. Silva (@DavidSilvaETC) January 31, 2018
The food truck is only a small step toward supplying people in need of food. An on-campus permanent pantry should be opening early in the fall semester, said Katy Launius, associate dean for the Office for Student Engagement and Retention.
"The mobile pantry is only fresh and refrigerated items," she said. "So that's why we are working on longer-term plans to have shelf-staple products like canned items, peanut butter and all those kind of things to really provide well rounded food sources to students."
But the college needs to organize an adequate amount of space for food and the possibility of a refrigerator for dairy product, Launius said.
"When you think about the fact that we have 15-16,000 students who attend classes here, that is a huge potential service," she said. "We just need time to put processes into place."
The mobile pantry also visits other DCCCD campuses.
Botany major Gustavo Rojas was one of many students who visited the mobile pantry. He said the option of fresh groceries was better than something fast and microwaved.
"It's pretty awesome because not a lot of students I feel like have access to vegetables and stuff," he said.
The food bank also provided recipes for those who aren't accustomed to cooking with particular ingredients.
The mobile pantry will visit campus Feb. 28, March 28 and April 25. Food bank staff will also provide information on applying for food stamps.
Club Spotlight: Plant-based nutrition not just for vegetarians, vegans