'Your Amazing Story' contest to accompany Common Book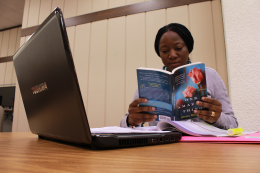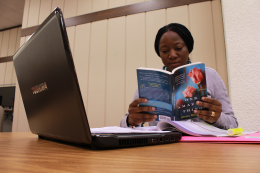 By Taylor Wallace, Reporter
The new common book "One Amazing Thing" is being used in a wide range of disciplines this semester, encourage readers to find their own amazing stories.
The "Your Amazing Story" writing competition and a companion art contest are also being held this month to get students involved in narrative storytelling. The top 15 submissions will be published in a booklet titled "Eastfield's Amazing Stories." The winners will be announced by common book author Chitra Divakaruni.
"What is your story?" said Pebble Barbero, a member of the Common Book committee. "It may be a fictional story or it may be your real story."
Among several guest speakers, Divakaruni will hold day and evening sessions in the Performance Hall on Oct. 10 to speak about her novel's themes.
Common Book committee member Amanda Preston said meeting the authors is a unique opportunity.
"It's not very often that you get to ask the author questions," Preston said.
Readers can ask Divakaruni questions and get their books signed.
Along with Mountain View, Eastfield will participate in a book club event. Students will be involved in interactive reading while they share and discuss central ideas of the book.
"I really like the idea that the campus is participating and I can discuss the [book] with my friends," Ellis said.
Other events include a multi-campus blood drive, a campus race during Health Week and movie showings.
For more information, call Barbero at 972-860-8343.