Five ways to avoid the blues this Valentines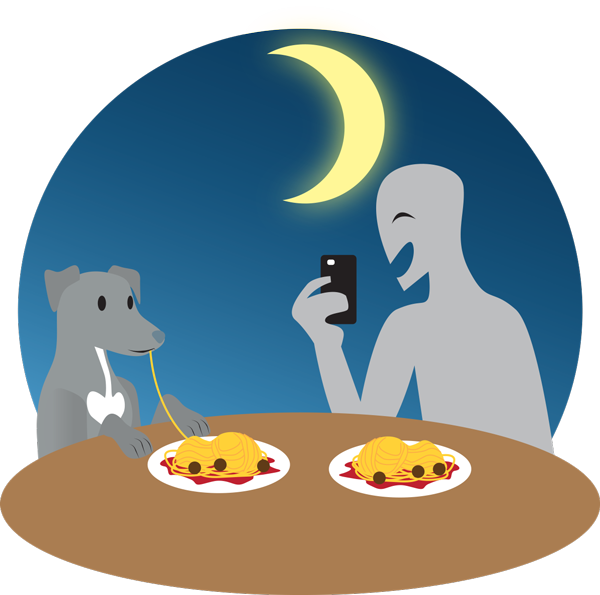 On Valentine's Day, many couples will do the typical lovey-dovey activities, but what about those of us without a date? What will we do to stave off perpetual crippling loneliness?
If you are single on February 14th, it's expected that you won't be partaking in most kinds of romantic encounters, but what else are you supposed to do? Just sit around waiting for the torture to end?
Other than simply remain alone and bored for the entire love-filled day, here are several suggestions to make the most out of being a single person on Valentine's Day.
—  Compiled by Andrew Walter. Illustrations by Esther Moreno.
Take your furry best friend out
Here's an easy one for any single person with a pet: go with a pet, preferably a dog, to a pet-friendly café or restaurant.
Dogs are generally much more cooperative and easygoing than most people, so in theory, they would make for excellent dates on the holiday dedicated to couples.
Some of the many dog-friendly restaurants around Dallas with great reviews include Katy Trail Ice House, The Dream Café and Rise No. 1. The wide range of meal options include Tex-Mex, French cuisine, and even vegan accommodations.
The best part about having a dog as a date is that if the food at the restaurant ends up tasting terrible, the dog would be more than happy to scarf down the leftovers.
Don't have a dog? Just borrow one from someone you know. I'm sure they'll say yes.
Go on a date with yourself
Still can't find a dog, but want a good meal? Treat yourself to a meal from a fancy restaurant. Order dinner for two, and then eat the entire dish alone.
Consider it as a way to reward yourself for all the hard work you do. By doing so, you'll be able to forget that you're the only person in the restaurant eating by yourself on Valentine's Day.
Besides, nothing helps fill the void in your heart like filling the void in your stomach.
When it comes to choosing a restaurant, remember to strike a balance between pleasure and your wallet. That can make all the difference in deciding whether you should eat at a Red Lobster or The Mansion on Turtle Creek.
Make a fake partner for Instagram
Great for those who love to snap photos, my next suggestion would be to create a fake Instagram lover. How could this be done?
Simple. A mannequin, gifts addressed to you from some imaginary person, a romantic note written by yourself and so on. Anything to convince your followers on Instagram of how #blessed you are to be with your totally real significant other on that special day.
Don't know where to buy a mannequin? That's easy. They can be found anywhere from Amazon to Walmart, and with free shipping much of the time.
On February 15th, all you have to do is make some sappy post about how you had a nasty breakup the day after Valentine's Day. With that, you could win mad sympathy points from your followers and eliminate any suspicion of your brilliant ruse.
Embrace your inner third-wheel
So what if you're alone? It doesn't mean you can't go on a date. Tag along on someone else's date. They'll surely be thrilled to have you there on one of the most romantic nights of the year.
In reality, this is probably the most difficult option to pull off.
To do this, you'd need to win approval from your friend and their lover, but if it works, you're going to have some great fun. By being a third wheel, you could witness a blossoming relationship or the beginning embers of a huge garbage fire. Maybe it's a combination of the two.
One immense benefit for this suggestion is the fact that it can work on almost every kind of date. A restaurant, the movies or the park would quickly come to mind.
To sweeten the deal for your friend and his date, you could offer to pay the tip during dinner. Or, if you're broke, you could always just crack lame jokes and make snarky comments whenever they try to have some romantic moments.
Either way, there's something to be had for everyone.
Just wallow in self-pity
If all else fails, you can fall back on the first stage of grief: denial.
If you couldn't get a date for Valentine's Day, then it was obviously not your fault.
It was the fault of all those disgusting normies who couldn't see your outstanding qualities.
How could they ever understand you if they never took the time to bask in your greatness?
Pfft. You don't need them. They were simpletons and you were too perfect a being to accept their love.
Trust me. That's the absolute truth. Just be sure to remind yourself that every now and then.
If that's not quite your speed, buy a year's supply of Blue Bell and rewatch "Pretty Woman" while drowning your sorrow in Moo-llennium Crunch.