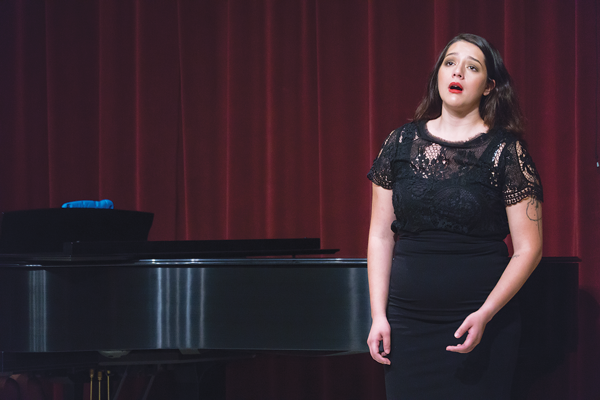 Growing up watching movies about Tejano singer Selena, music major Vanessa Kincheloe found herself with a passion for music and singing at a very young age.
She spent her childhood singing and making music in her Odessa home, using a karaoke machine to belt out her favorite tunes.
"I want to be a singer when I grow up," Kincheloe would tell everyone.
Kincheloe can't remember a time when music wasn't a big part of her life.
Now she's pursuing that passion as a career.
After graduating high school, Kincheloe married her longtime girlfriend, Teresa Carasco.
She moved to Dallas in 2015 with her wife, who got a teaching job at Seagoville High School.
After a quick Google search, Kincheloe found that Eastfield was the closest campus and enrolled for the fall.
She wanted to get through her classes quickly so that she could transfer to a university, but her workload proved to be too challenging and her grades suffered.
She also struggled with maintaining her mental health.
When she used to feel depressed, she would blame her life for her reactions. Then she was diagnosed and realized it wasn't her life but depression and anxiety that made her suffer.
"I think I had it for a while before I understood what it really was and how to help myself," Kincheloe said.
Carasco has always been supportive of Kincheloe's dreams.
But she knew when she saw changes in Kincheloe's attitude that her need for help with mental illness was greater than pursuing her passion at that time.
One of the most telling moments, she took Kincheloe to the Winspear Opera House for a performance.
The opera house is "beautiful and gorgeous, but it's really, really tall," Carasco said.
Seated six floors up, surrounded by hundreds of people caused Kincheloe to have an anxiety attack and the couple had to leave.
Because of the signs of mental illness, Carasco suggested Kincheloe get help from a doctor.
Kincheloe was diagnosed with depression and anxiety, but the diagnosis alone wasn't helping her.
After a few visits, she learned that she needed to take daily medication.
She was reluctant at first, but she and others around her noticed the quick change in her behavior.
"It's just a night and day difference," she said. "Now I'm here and I feel more dedicated than ever."
During Kincheloe's year off from classes, she worked at a daycare, teaching children the alphabet. That's where she realized she loved children.
She learned that her passion for working with children was similar to that for music.
Although she loved her job at the daycare, she wanted to get back to pursuing a career in music.
Once she felt a sense of stability again, Kincheloe decided to give school another try.
Voice professor and choir director Melinda Imthurn contacted Kincheloe during her recovery.
When she learned what Kincheloe was going through, Imthurn helped her find work that would fit with her studies.
Kincheloe now works at the Good Shepherd Episcopal School, where she teaches young kids basic music.
"They only needed me for two hours, which was perfect because I will still have time for school and still work with kids but better: teaching them music," Kincheloe said. "So it was like the perfect job."
Now well into her recovery from depression and anxiety, Kincheloe packs her day full of things she loves.
She works at her job, then comes to Eastfield for her French, math, music theory and piano classes.
She spends several hours a week in voice practice and even sings with the Women's Chorus of Dallas once a week.
Imthrun, the music program coordinator at Eastfield, also conducts the chorus.
Because of the role she's played in Kincheloe's life, Imthrun is one of her heroes.
[READ MORE- Opinion: Stigmatizing mental health after mass shootings only worsens harm]
Carasco has noticed the impact Imthurn has made in Kincheloe's life.
"With someone like professor Imthurn as her role model, that can really help her," Carasco said. "She sees in professor Imthurn a woman who she wants to be like."
Finding the motivation to get up every morning is no longer a daily battle, but Kincheloe has found new obstacles in getting from work to class on time and making time to work out.
With a very busy schedule it can still get tough for her, even with the medicine, but she's learned to make schedules and include breaks to help her throughout the day.
"I'm still learning," she said. "I don't get it right all of the time or maybe I don't get it right half the time, but I'm learning that's the key: time management."
Imthurn said she sees potential and talent in Kincheloe.
"Vanessa shows natural talent, drive, passion and discipline," she said. "It's not easy and you have to truly love singing. If you're passionate about it, you're going to want to spend the hours in the practice rooms, but if you're not, the hours in the practice room are misery."
Kincheloe has big dreams.
"I want to be a conductor," she said. "I want to be able to conduct chorales, orchestras, symphonies, even a band even though I've never worked with one. I want to be able to conduct because there are not a lot of women conductors in today's society or even in history. I want to help break that trend."
Click any photo to begin gallery: