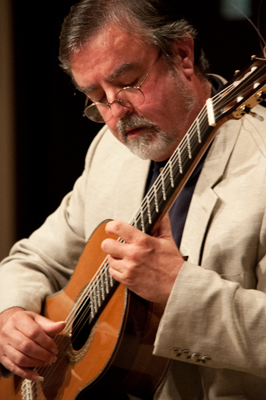 By Robert Burns, Contributing Writer
The rich melody of classical guitar strings filled F-117 for the weekly Wednesday Recital Series on Oct. 16.
The player?  Former Eastfield instructor Enric Madriguera, who is now a professor of aesthetic studies at the University of North Texas.
Madriguera selected arrangements related to classical guitar virtuoso Andres Segovia.  Each piece was written by someone who admired Segovia.
One of Madriguera's choices was "Tonadilla on The Name of Andres Segovia," which was written by Mario Castelnuovo Tedesco, a good friend of Segovia's.
Another piece, "Humorada," was composed by Madriguera's aunt, Paquita Madriguera, who was Segovia's second wife. Madriguera said he never knew Paquita, but she was a noted pianist.
The highlight of the program, though, was a duet written by Segovia himself entitled "Orraccion Estudios Diarios," which was performed by Madriguera and Eddie Healey, a current guitar instructor at Eastfield.
The concert was a homecoming of sorts for Madriguera.
"I came here in 1976 and left in 2006," he said. "I like coming back here, and I'm proud of the work I did here," he said.
Eastfield is in good company. Madriguera has played in festivals throughout the world, in places such as Valencia, Spain; Sao Paulo, Brazil; and Cuenca, Ecuador. He will embark on another tour of South America, Mexico and Spain in November.
It was only the second time Madriguera had performed the selected program. The first was in Seattle a week earlier.
"A program like this is hard work," he said. "Some of the pieces are quite challenging. Bach is difficult, but so was the last piece ['Tonadilla sobre el nombre de Andres Segovia']."
Although Madriguera makes it looks effortless, hours of work go into a program like this.
"I can't count," he said. "I'm on sabbatical and part of that is learning two new programs — this one, then one in the spring."
Despite the difficulty of the program, Healey and Madriguera didn't practice together much for their duet.
"I really had it learned before we met," Healey said. "I think we met about three times."
Madriguera has a couple of favorites in the program.
"[I like] the one Aunt wrote ['Humorada'] because of the special connection with my aunt, and the last one because of the ingenuity of how it was put together based on the name ['Tonadilla sobre el nombre de Andres Segovia']," he said. "But I liked it all."
Students and faculty also enjoyed the performance.
"I loved it," said Rachel Loss-Cutler-Hull, who teaches guitar at Eastfield. "Segovia is such an inspiration to classical guitarists, and to hear someone present a concert with that in mind is really fantastic."
Music major Robert Maddox was also inspired.
"I thought it was excellent," he said. "The way he phrases the music is definitely something to take away."
Student Richard Myers also enjoyed the performance.
"Actually, I could hear some discrepancies from the guitar playing, but other than it was pretty good," he said.
Healey said he thinks students should develop an appreciation for their music to develop greater understanding of it. Then students can develop a greater appreciation for the context in which the music was produced.
"What I think is so great about Dr. Madriguera's performance was the fact that he spent so much time playing and talking about the music he played," Healey said. "I think that can generate more interest in it. It is like going to an art gallery and seeing a piece of art that does not readily speak to the observer, but that you can learn something about the context that produced that art. Music works the same way."
The next concert on Oct. 30, will feature Eastfield vocal instructor Melinda Imthurn.