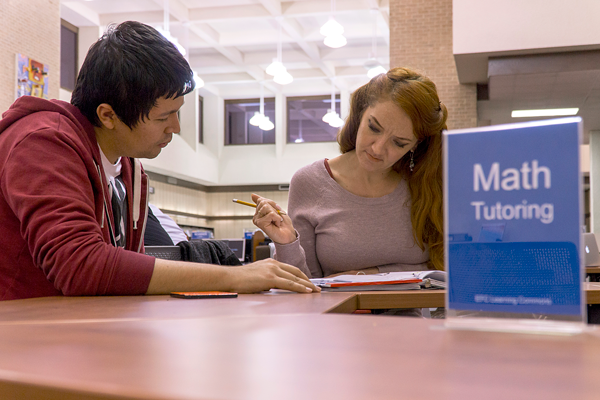 Free, walk-in tutoring is available in math, writing and science through Tutoring Services in the library.
"Students should utilize the service, because it is already included in the tuition," said Cindy He, instructional support associate for tutoring.
Tutors aid students to understand and practice the techniques necessary to perform well in their classes.
Math tutoring covers levels from developmental math to calculus, in addition to courses like economics and statistics. Times at which tutoring is available in specific subjects differ by semester.
Writing tutors can assist on any writing assignment, even if it's not for an English class. They also help with scholarship and college applications essays.
The tutors read the first two paragraphs of student papers, highlighting reoccurring problems and advising how to correct and prevent them.
For science, help is available in  biology, anatomy and physiology, chemistry, physics and geology.
Students planning to take the TSI can ask for preparation tips. Those who have taken the TSI may bring in their diagnostics sheets and receive advice on areas that need improvement.
In addition to face-to-face services, Tutoring Services has tools including virtual essay submission and math instructional videos.
He recommends seeking help early.
"Mid-terms and finals we're the busiest, and students come in with [so many] questions and expect us to answer it then and there, when everybody else has the same mentality," he said.
—Compiled by Jesus Ayala
Contact:
Library, L-200, 972-860-7174, libguides.eastfieldcollege.edu/tutoring, hours vary by subject