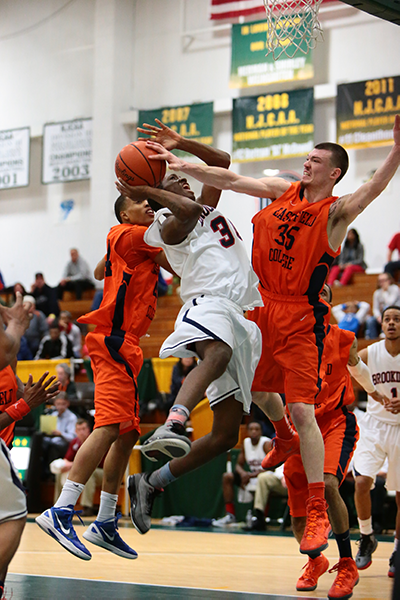 Updated Jan. 20 to reflect printed article:
Former Harvester basketball player Michael Ryan Love, 26, of Mesquite, was killed on the evening of Jan. 3 in Garland after he tried to recover a stolen camera, according to police.
The incident occurred in the 6500 block of Glenmoor Drive near Interstate-30 and Broadway Boulevard.
Police believe Love met with 39-year-old Terry Albert Simmons and 46-year-old Nathaniel Wooldridge. After Love obtained the camera, an argument and subsequent shootout resulted in the deaths of Love and Simmons.
Woolridge has been arrested and charged with the murder of Love. The investigation of the death of Simmons is ongoing.
Police Identify & Arrest Suspect Involved in Glenmoor Shooting where Two People were Killed. On January 11, w/ the assistance of the U.S. Marshalls Fugitive Task Force, GPD was able to locate & arrest Nathaniel Wooldridge in Dallas. He is charged w/ the murder of Michael Love. pic.twitter.com/po6SOMyogD

— Garland Police PIO (@GarlandPD) January 16, 2018
Love's mother, Lynn Love, said he didn't go looking for trouble that day.
"Anybody can tell you what a nice guy he was," she said. "He had a lot of friends and didn't dislike anybody. His family meant the world to him. He loved his family, he loved his friends and he loved basketball."
Love was born Sept. 29, 1991, in Fort Worth. Funeral services were held Jan. 11.
Love lived in Mesquite and attended West Mesquite High School. After graduating, he attended Kansas Wesleyan on a partial basketball scholarship before returning to Texas and playing for Eastfield.
Anthony Fletcher, who coached Love during his time at Eastfield, said as a player he was "laid back" and liked to joke around with his teammates.
"He was quiet, not really rambunctious and loud," Fletcher said. "He was a team player. In conference, he only averaged around 10 points per game. But when we went to the national tournament, … he played really well, just lights out. He gave up himself to the team and his selflessness helped us."
Under Fletcher, Love redshirted his first season as a Harvester but was a starter the following year with the team that placed second in the 2013 National Junior College Athletic Association national tournament.
In the tournament opener, Love scored 31 points, including the game-winning 3-pointer to help the team advance to the semifinals. He was named in All-Tournament Team that season.
Love's mother said he had played basketball since he was 6 years old and said she supported his love of basketball throughout the years.
"I was at every game and maybe missed only two home games," she said. "I was even known to get in my car and drive to Kansas to watch him play. I was the basketball mom."
After graduating Eastfield, Love played for another season at Jarvis Community College before returning to live in Mesquite.
"I remember when he got his starting spot, I had messed up, so he started and balled up," Danny Sanders, Love's teammate from Jarvis, said. "As a player he was great and awesome. As a friend he was even better. He always looked out for everybody. Everybody was his friend."
Love is survived by his mother; sisters Lindsey Cheney and Rachel Love; and his fiancee, Chelsea Johnson.
His obituary can be found here.
See a 2012 profile on Love during his time at Eastfield here.
—James Hartley contributed to this report