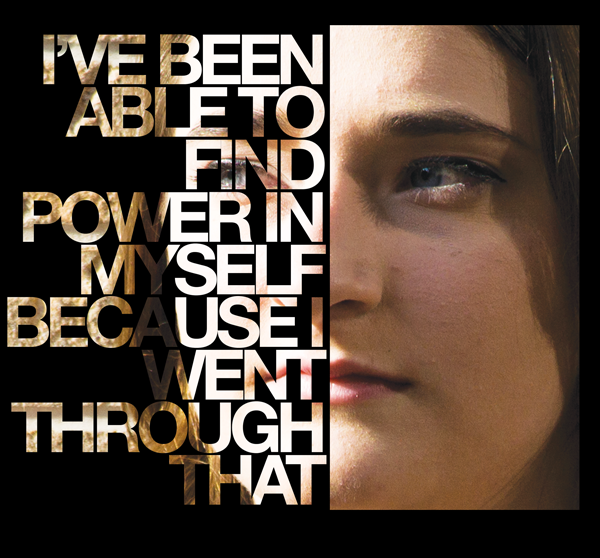 Rocio Martinez, 9, once again stands in her bathroom facing the reflection in the mirror. The girl staring back has tears rolling down her face. She hears a voice in her head telling her she's crazy and that it was only a nightmare. It sounds like her father's voice. Those are the consequences of watching scary movies, he says. Scary movies give you nightmares, and that's all this was, a hellish, cold-sweat inducing nightmare.
"This is not real," she tells herself, over and over again.
The girl in the reflection gets a slap in the face, and then another. Similar to the one her sister had given her. The invading tears continue to stream down her cheeks. She hits herself again. Whatever reality everyone else seemed to be in, she thought it best to join them.
Martinez had encountered something like this before. While being baby-sat at the age of 5 by her 13-year-old cousin, the teen forced her to give him a hand job. Once her sister returned home later that day, she found Martinez crying uncontrollably. Her sister, at the time 15, gave her a hard slap that calmed Martinez down.
Following that incident, Martinez's parents disregarded the young girl's story of the man in the house as mere imagination.
Martinez is one of over half of women in the U.S who have experienced unwanted and inappropriate sexual advances from men, according to an Oct. 17 ABC News/Washington Post poll. Women describe a wide range of abuse: rape, sexual assault, stalking, child sexual abuse, harassment, catcalling, groping and unwanted sexual overtures.
For many, the discussion of such instances is kept in secret. Martinez, now an Eastfield student, said she has had difficulty speaking about her abuse with anyone. The assault from her cousin was not the only case of sexual abuse. She felt that the multiple incidents she endured happened because of the person she is.
"I know it wasn't my fault," she said. "I thought maybe I could excuse the first time that it happened, but the second time that it happened, I felt like something was wrong with me. Like they knew to come after me."
The topic of sexual assault and sexual harassment, however, has recently shifted into the spotlight following the #MeToo social media campaign.
On Oct. 15, as the wave of rape and sexual harassment allegations were exposed against Hollywood producer Harvey Weinstein, actress Alyssa Milano asked women on Twitter to reply "me too" to her tweet if they had ever been sexually harassed or assaulted.
By the next day, the phrase had been used more than 500,000 times on Twitter and by 4.7 million people on Facebook.
The campaign had a clear goal: to let people know "the magnitude of the problem," according to Milano. A conversation exploring the unwanted sexual advances that women face in their lives and in their workplace has begun as a result.
Among those who are sharing their stories are Eastfield students, faculty and administrators.
Friends that do not stand up
Sarah Frichette was nicknamed jailbait at 16 by her friends while taking dual credit courses at Eastfield. Her friend group at the time was about 13 students whose ages ranged from 17 to 24. They regularly joked about sex, harassment and rape, she said.
Their treatment of each other reflected accordingly. Calling women sluts and whores was a joke. Overly sexualized women were funny. So, when Sarah's attacker, who was transgender and preferred female pronouns, assaulted her physically, it was no more than a slightly more obscene punch line to the group.
If anyone tried to stand up for another person, they were called prude and verbally attacked.
Frichette says she was humiliated one afternoon when she was walking toward the Pit and was greeted by her assaulter. She forced Frichette to give her a hug in front of a large group of friends.
When Frichette failed to respond to the hug, her harasser squeezed her butt with both hands. She recalls other times when she was touched inappropriately and commented on sexually.
Frichette says there were many other victims within her friend group who were subjected to public sexual advances. In one instance, a friend lost her balance near a chair and was pushed over by the attacker into a "doggy style" position and dry humped in front of everyone. She says many of the girls were clearly uncomfortable but didn't want to make a big deal out of the physical advances.
"Whenever something happened to me, I never intended on telling anyone," she said. "I planned to wait for that guy to graduate. I'd never see him again, I wouldn't have to worry about it anymore."
The harassment would likely have continued if Frichette's best friend hadn't witnessed the aggressiveness of an assault she had endured one day and pushed her to report it.
After reporting the incident to police, Frichette says she still feared the attacker would come back to do something worse since she had a tendency to hold grudges.
Frichette says she started attending the Baptist Student Ministry club after the incident and met new friends. She learned what healthy friendships were from students who had respect for women and says they are now some of her best friends.
"It's happened slowly, but I've been able to find power in myself because I went through that and I found those people to help me after," she said. "When younger students or people my age or older are going through that stuff, I'm able to empathize with them and talk to them about it and I understand what they're going through. It's easier to mentor and band together through it."
Harassed at school
Dance program coordinator Danielle Georgiou first experienced sexual harassment in the seventh grade. It was the end of the school year and everyone in her band class was passing around yearbooks. One of her classmates left a disturbing and unsettling message. In place of a playful signature or a few kind words wishing her a happy summer break were instructions on how she should give a blowjob.
"I was like 12 or 13 and I didn't know what it meant, so I asked an upper classman and they explained to me," she said. "That was the first time that I had ever dealt with sexuality before, or the abrasiveness of it. … I felt very uneasy and exposed because I didn't even know this guy, and he was telling me basically what he wanted me to do to him, and I just didn't understand."
For Georgiou and many other women like her, the first instance of sexual harassment was followed by many similar occurrences throughout her lifetime.
In that same school year, just before summer break, a different boy harassed her when he exposed himself when she was alone at her locker at school.
"I didn't know what to do." Georgiou said.
The incident, she says, opened her eyes. She no longer felt comfortable going to her locker.
"I didn't know if the guy was going to come back, and I didn't know what would be next if he tried to corner me because he got very close to me and exposed himself," she said. "And I just stood there because I didn't know what to do."
Georgiou reported the incident to a teacher, who told her that the next time it happened, she should just tell him not to do it.
"Nobody was able to help me or give me any sort of advice about what had happened."
I never told anyone until I was 24
"I disassociated from my body when it happened," Executive Dean Judith Dumont said.
It was close to the end of the school year for Dumont and her younger sister when their mother went out of town for the weekend.
The teens threw a party at their house, where they played drinking games, danced and listened to music.
"I was super drunk. I went back to my bedroom to go to sleep," Dumont said. "The party was still going on, loud music up front and I'm just back in my room. I didn't lock my door. I wouldn't think that I was at risk for anything. I just woke up with one of my guy friends on me."
Still intoxicated and unaware of what was happening, she asked the boy what he was doing.
She thought for a second that maybe he was horsing around or taking photos of her passed out.
"It happened so fast," she said. "I was confused and kind of swimming in my own body because I couldn't really control my body. I was so drunk and he eventually took his forearm and laid it across my clavicle and pulled my pants off and had sex with me."
Dumont recalls telling him to get off and then trying to crawl away from him.
He responded to her protests by digging his knee into the inner part of her thigh and covering her mouth.
"I never told anyone until I was 24 years old that I was raped," she said. "It's just one of those things that you don't realize how twisted it is until you separate yourself from it. … I developed an eating disorder. I got really depressed. … My grades dropped. I ran away. All these things happened because I didn't use my voice to talk about it."
Dumont faced sexual harassment during college when she worked as a waitress and bartender and again working for the Dallas County Community College District.
"I had a higher up administrator, a male higher up administrator, inappropriately touch me in an elevator," she said. "He touched the small of my back and whispered in my ear things he wanted to do to me."
Now will you be my girlfriend?
Karla Alvarado, now 18, was a senior in high school when she started hanging out with a guy who went to her school. A few times, he invited her to hang out with him at his house.
Alvarado, who had recently gone through a breakup, declined his offers, but the two occasionally met for meals.
One morning the guy called and asked if they could ride to school together and offered to pick her up.
"That morning that I drove with him, he dropped off his little brother, and I thought we were going to school but we weren't," Alvarado said. "He told me he needed to pick up some stuff from his house."
He persuaded Alvarado to go inside with him, telling her that his parents were home and that he needed just a few minutes to he grab his stuff.
"I mean I trusted that someone was home. I was like, 'Where is everyone?' And he said, 'Oh, I thought they were home,' " she said. "We started making out and whenever that happened he kind of laid me down."
She then told him she did not want to have sex with him, but says that didn't stop him.
He continued to lie on her and unbutton her pants and then pull them down.
"I told him a few times that I didn't want to have sex with him," she said, "He forced it. I pulled my pants up a few times, and he would pull them back down. He kept saying, 'Come on. Come on.' And I was like, 'No.' It was already happening, but I kept on pushing him off. I told him to stop, that I didn't want to have sex with him. … He just kept on going."
Alvarado started to cry.
"I don't know if he even noticed," she said. "He didn't even think he did anything wrong."
After the incident, Alvarado says the guy repeatedly asked, "Now will you be my girlfriend?" as if what he had done was somehow a token of admiration.
"For weeks, I was scared," she said. "All those memories would come to my mind so I'd spend a lot of time crying. … I could not look at him in the face because I felt gross. I felt dirty inside. I felt like it was my fault you know because I could have said, 'No, I'll just stay out here.' "
Alvarado told no one, fearing that blame would be placed on her.
"I know people will say, 'It's her fault. She should have never gone to his house or even inside his house,' " she said.
Later that school year, Alvarado overheard her friends talking about her rapist.
He had been arrested on rape charges.
Her friends believed the victim was partially at fault because she was high and provoked him.
Alvarado eventually told her best friend about her rape but never planned to tell anyone else, fearing criticism and blame.
"I couldn't imagine my future husband hearing that something like that happened to me," she said.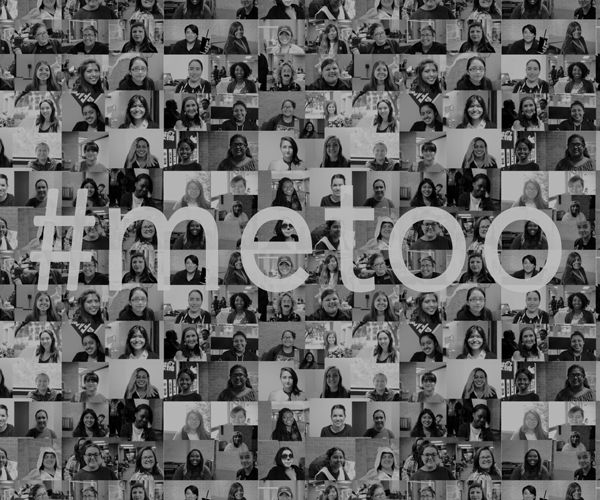 #MeToo
Blaming or ostracizing victims who come forward contributes to an environment in which rape is common, women are silenced, and rapists are not held accountable, victims' advocates say.
Individuals who speak out about sexual harassment are often attacked, scrutinized and questioned about their choices and actions.
Georgiou says that victim shaming plays a significant role in silencing individuals who have experienced sexual assault and often prevents them from reporting abuse to authorities or even telling friends.
"It will take a huge cultural shift to be able to feel comfortable just to talk to another person, because we all know we can go to a counselor, we have services, but it's you feeling able to go," she said.
Every woman approached for this story, even those whose stories are not shared here, said they had been a victim of either sexual harassment or assault.
However, only 1 out of the 10 women actually reported the incidents.
Although rape culture and sexual violence has received more media attention in recent years, a long history of patriarchal power still holds sway in public opinion.
"I have experienced having men say things, do things that I never really checked in as harassment," Executive Vice President Rachel Wolf said. "We've become so conditioned to seeing women portrayed in a certain way that we embrace it socially. Women embrace it and we forget to question it."
Georgiou said both men and women must examine what's taking place and talk about it instead of staying silent. She said speaking up is key to triggering social change.
"I hope that many men are spending some time looking back at their own actions to see what they have done … and really taking stock of their behavior or asking female friends of theirs, 'What is harassment to you? Have I done anything?' " she said. "If we can start that conversation too at this personal level for someone to say, 'I don't like it when you do that and this is why, because it makes me feel this way,' I think that'll help move us in the right direction."