Art-repreneur's mural adds splash on campus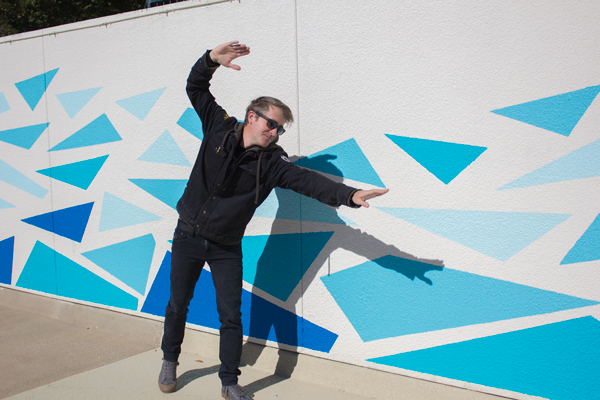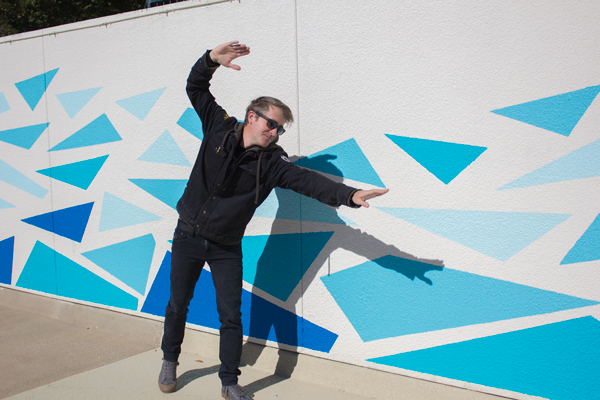 Eastfield's art collection just got a permanent addition in the form of a mural painted along the walls of the pool enclosure by local artist Brennen Bechtol. He was hired by the administration to provide some relief to the white walls of the pool.
Bechtol started drawing at an early age. He would sit in front of the television with a piece of paper and watch Saturday morning cartoons while drawing intricate battle scenes for classic shows like Transformers.
He attended Eastfield and was a student with now-professor David Wilburn. One of his professors, Kathy Windrow, still teaches here.
Windrow, a full-time painting and drawing professor, was very impressed with Bechtol's work.
"He came already knowing a lot about contemporary art," Windrow said. "He had a strong and unique aesthetic understanding as well. His work wasn't like a normal student's. It was more like graduate work.
She even bought a piece of his art that was being shown in a gallery and still owns it to this day.
"Brennen was my student in the 90s," Windrow said. "He was probably the best student I had in the 90s, and in my thirty years of teaching he's in the top five or ten."
Now, he paints signs professionally for Dallas businesses.
"When I first started it was a lot of knocking on doors," Bechtol said. "I'd go into construction sites where I saw a restaurant opening and give them my business card."
Once he got a few signs completed he would include them in his portfolio, and his body of work now spans many businesses including High and Tight barber shop in Deep Ellum, the family-owned BBop restaurant chain in Dallas and a multitude of businesses in Oakcliff.
He painted the walls of the pool with a mural with different shades of blue reflecting the water.
"I had the idea to paint waves, but deconstructed," Bechtol said. "I didn't want to paint typical waves. I wanted something a little more abstract. I also wanted to relate it to the architecture here, like those triangular shapes on the tops of the older buildings."
Dr. Jean Conway, president of the college, appreciated his take on waves for the mural.
"I really liked it, I liked the fact that it emphasized the whole idea of water," Conway said. "It seemed to just take the color of the swimming pool itself and move it up the wall."
Dr. Conway also liked how it made the pool feel less institutional and more inviting, something the college administration is attempting to do through the mural, resurfacing the pool and adding furniture that fits with the blue color scheme.
Judith Dumont, the Executive Dean of Workforce Development and Community Education, drafted the proposal to paint the pool walls.
"I call it the prison pool," Dumont said. "The whole area needed to be painted because it looked like a prison yard."
She asked the art faculty at Eastfield for a list of artists they know. One of the reasons she chose Bechtol was she believed his artwork would best reflect the campus.
"I believe that he would best represent Eastfield," Dumont said. "You have Dr. Conway who is very classy and tries to bring that to the college. But then, I believe, our student population has some edge to it. I love to walk the halls and pick up on the energy of the students and when I found out he's an alumni it was even better."
Windrow believes that Bechtol was a great choice for Eastfield.
"Eastfield has a great collection of artwork on display, and that's largely due to his wife Iris Bechtol," Windrow said. "For Eastfield to have a huge mural painted by Brennen Bechtol is a great."
Dumont said Bechtol is a example on how to make art a livelyhood.
"He's an 'art-repreneuer,'" Dumont said. "I think that's a great thing for students to see."