Students explore impact of alcohol abuse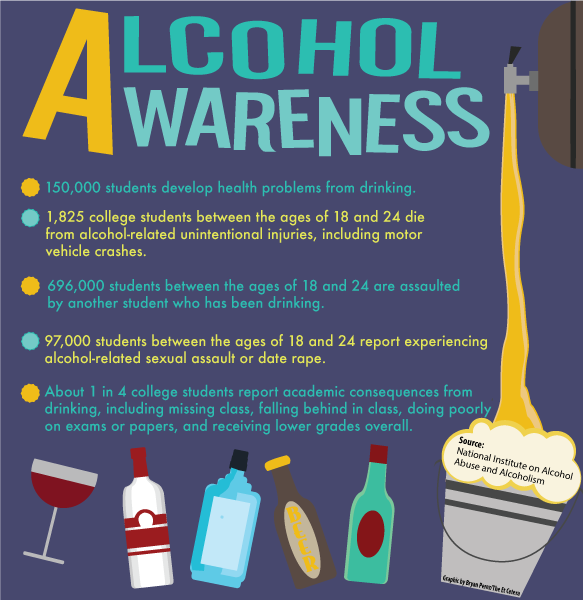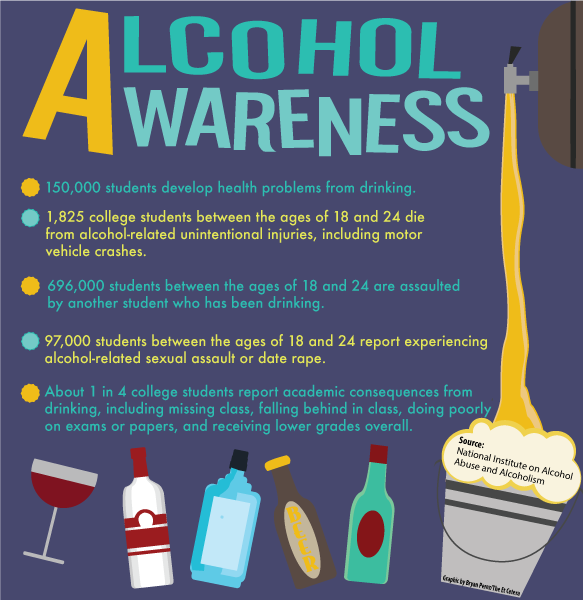 In the United States, nearly 14 million adults, or every one in 13, abuse alcohol or have an alcoholism problem, according to Project Know Understanding Addiction.
Digital media major Travis Beasley says that he comes from a history of alcoholism within his family.
"I wouldn't say my dad is a super alcoholic, but I mean he does drink a lot, " Beasley said. "It only bothers me when I'm actually trying to spend time with my dad, because I don't get to see him a whole lot. Whenever I do get to spend time with him, I'll probably get like 30 minutes of him being sober."
More than half of all adults have a family history of alcoholism or problem drinking, and more than 7 million children live in households where at least one parent is dependent on or has abused alcohol, according to the National Council on Alcoholism and Drug Dependence.
"I still hang out with my dad, Beasley said. "It's just he's not serious and stuff, and sometimes he'll say some [stuff] and I'll be like, 'I might as well just leave.' My cousins' dads were alcoholics. I just hope that it doesn't rub off onto the rest of the family."
The Providing Hope, Awareness, and Suicide Education Project, referred to as PHASE, hosted events Nov. 1-3 for alcohol awareness week. Activities included a drunken driving simulation, games and videos with information of drunk driving and speakers sharing their survivor stories.
"Alcoholism is kind of a personal thing and can be hidden because of the shame of it," said Courtney Pickens, program coordinator for PHASE. "I don't necessarily think that we can say this person is an alcoholic unless you know the person. You'd know it because you're not doing it as a social thing. It turns into 'I'm going out to have drinks because I don't want to deal with something else.' "
Pickens contributed to alcohol awareness week by organizing both campus events on Nov. 2 and Nov. 3.
"It's very important to listen when the students say they need more activities that focus more on things that they're going through or friends and family are going through," she said.
Pickens said drinking alcohol to cope with mental health problems is a dangerous route to take. Instead individuals should seek health alternatives like speaking to a professional counselor or even a friend who can guide you to wellness.
"I drink whenever I hang out with friends and it's just there," Beasley said. "It's just an occasional thing. I don't do it daily like that. I don't really care for drinking a whole a lot right now. It's just not something that I need to have."
About four out of five college students drink alcohol. About half of college students who drink also binge drink, according to NCADD.
The more students drink, the more likely they will suffer negative consequences. Those consequences can range in severity from having a hangover, performing poorly on a test, being hurt or injured or being taken advantage of sexually, according to NCADD.
"I do have friends who are of age to drink and I have friends who are underage who drink," Beasley said. "I'm not going to lie. Mainly everyone underage will drink eventually."
Youth who start drinking before 15 are six times more likely to develop alcohol dependence or abuse later in life than those who begin drinking at or after 21 years old, according to Mothers Against Drunk Driving.
Beasley said that none of his friends are alcoholics.
"I don't like to associate with them only because I don't want it to rub off on me," he said. "Stuff can go wrong at any point."
Excessive alcohol use is responsible for 2.5 million years of potential life lost annually, or an average of about 30 years of potential life lost for each death, according to the NCADD.
"It's not like I do it to avoid being depressed, you know, like some people might do," Beasley said. "If you know everyone else is doing it, not that I am peer pressured to it, I want to be on the same level as everyone else."
A common concern held by many alcoholism activist groups is drunk driving and its consequences.
"I would say that it is extremely important for students and everyone to be aware of how important it is how not to drink and drive," said Jaime Torres, a counselor at Eastfield. "It's about knowing your limits and having an alternative if you decide to drink."
If it's becoming a habit and more of a crutch, it should tell you something is not quite right, Pickens said.
"Reach out to someone reach out for help, don't take it for weakness," said Torres. "Don't think of it as something that you should be embarrassed about."
Pickens said that people should not be ashamed to acknowledge that they are struggling with alcoholism or any kind of mental illness, but that they should get help.
"We are human, this is a human experience," she said. You shouldn't feel ashamed of your human experience, you can just find somebody help you get through it."
Torres said to make sure you don't put yourself in a position when you're out drinking that can lead to unwanted consequences.
When he was a teenager, Torres got into a side collision accident because of a drunk driver not paying attention to the stoplight.
He said that, fortunately, nobody was hurt.
Drunk Driving is still the number one cause of death on roadways and all are totally preventable, according to MADD. It is responsible for 29 deaths every day, or one death every 50 minutes, totaling 10,497 deaths a year.
Pickens said that, if alcohol awareness is important to students, the college will continue to offer programs that cater to that.
"If you are dealing with any mental block, drug use or alcohol use that is not something you want to be part of anymore, your best bet is to seek counseling from a profession who knows how to help you with the steps." She said.