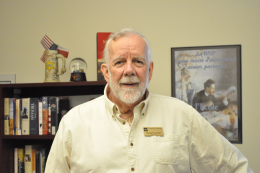 By Kevin Cushingberry Jr., Editor In Chief
In the fall of 1978, Dr. Richard Cinclair applied for a position that was then called division chair. Cinclair got the job, started on the first day of September, and enjoyed a five-decade career, which ended this month.
Dr. Jerry Henson, the only other man to hold the dean of Social Sciences position, said he remembers the beginning ofCinclair's career.
"My first task as Vice President of Instruction was to hire a new Social Sciences chair," Henson said. "Dr. Cinclair applied for that position. I saw in him the values I was looking for. I liked the way he thought and the things he valued, and I thought they fit Eastfield."
As the college progressed, so did the Social Sciences division. With the division's growth came new disciplines for Cinclair.
"My division was a lot smaller when I started, it was just social science," Cinclair said. "Since then we've added philosophy, religion, child development, business marketing, economics and criminal justice. It's almost doubled from the size that it originally was."
Those who work under Cinclair said one reason the Social Sciences division grew so much under him was Cinclair's ability to be flexible and adjust throughout the years.
"With the faculty here I've always tried to operate off of a pretty simple philosophy and that is to never say no," he said. "I try to encourage people, not discourage."
History professor Jane Penney has taught under Cinclair for 35 years.
"He was a great leader because he took the responsibility of making the faculty's job easier," Penney said.
Cinclair said his family played a large role in his career at Eastfield.
"My wife teaches full-time ESOL at Brookhaven," Cinclair said. "We have four children. Rick is an attorney, my second son David is a veterinarian. They both live in Plano, and my third son is an anesthesiologist in Austin. Then we have an adopted Korean daughter who is married to a soldier, and they live in Florida. They all have doctorates and are very successful in their professions. And now we have grandkids. Our oldest grandson is a freshman at Texas A&M College Station."
Cinclair said he enjoyed his time at Eastfield, and that it was rewarding. However, he began to realize he wanted to pursue other endeavors, while continuing to teach online.
"About 15 months ago, I told Michael Gutierrez, my boss, that I was thinking about [retiring]," Cinclair said. "As soon as I said it to him, then I began to seriously consider it."
Cinclair said there were a number of things he wanted to do that required more time than he could give.
"I'm going to be a volunteer with Austin Smiles, a bunch of doctors that go to Mexico, Guatemala, El Salvador, in particular, and they do cleft palate surgery," Cinclair said. "I'm an antique collector; I'm going to get back into that at a different level. I'm going to work with the Homeowners Association. I've even thought about doing hospice work with elderly men. People tell me I'm really good with working with people."
Cinclair said he has traveled extensively and plans to continue.
"If somebody had told me 20 years ago that I would walk the streets of Moscow, Ho Chi Minh City, Bangkok, Bejing, I would have said 'You're crazy,' but I have," he said. "We've got a trip for 2015 where we would go from Istanbul to Barcelona on an ocean trip. We like to travel, but probably our favorite thing right now is going to the national parks in the U.S. We've been to almost all of them west of the Mississippi. America is a real bargain to travel in. I'm going back to pheasant hunting. I grew up in South Dakota. I went last year with my youngest son, and this year I'm going with all three of my boys."
Cinclair shared a piece of advice with Mike Walker, who has taken over as dean of Social Sciences.
"I told [Walker] he should choose a word, something that he would like to do," Cinclair said. "I told him one of my favorite words is impact; and that is what I wanted to make, and I think that I have."
Henson said Cinclair's impact has been immeasurable.
"He, in my view, is among the very small number of people who had an [enormous] influence on the direction of Eastfield College for 35 years," Henson said.