Giving power to night life at the Texas fair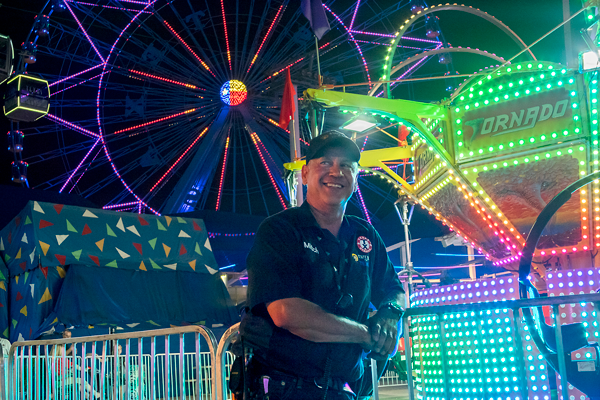 With a variety of electrical tools in-hand, Mitchell Walker moves into a dimly lit room in search of a breaker box.
The room is filled with several massive, softly whirring machines that line the wall.
"Well, the problem's not in here," Walker announces as he screws the faceplate back on to the breaker box. "There's a lot of problems, but that's not it."
His walkie-talkie comes to life as a scratchy voice on the other end alerts him of a problem elsewhere in the park. Walker tests each outlet as he makes his way toward his golf cart parked outside.
For most Texans, the State Fair evokes images of deep-fried foods, carnival-style games and Big Tex. For Walker, the State Fair is home for 29 days a year.
September 2017 marks Walker's fifth year as chief electrician.
He has 12 electricians serving under him with five stationed, two-man teams, and one portable two-man crew. Together, they keep the fair running smoothly.
In 2016, the State Fair welcomed 2.4 million visitors. Walker expects just as many this season.
"When we're in full swing, we're larger than Six Flags," he said.
At 277 acres, Fair Park houses attractions such as museums, the Cotton Bowl stadium, and the Midway, which features more than 70 rides, like the Texas Star and the Dentzel Carousel.
Every night, the fair conducts dozens of shows per hour. Everything, including the maintenance of standard light fixtures, refrigeration and air conditioning, is ultimately under Walker's supervision.
"I have a great team," he said. "They're able to maintain it. A lot of prayers and a lot of struggle, but it gets done."
Walker makes his way to a booth near the Midway, where two of his men are hunched over a small hole in the floor, one attempting to fix the overheating wires while the other holds a flashlight. Walker supervises and offers advice.
The fair doesn't stand still. Park guests still place their orders and the staff work to fill them, all the while avoiding the men on the ground
In spite of the sheer size and work required at the fair, Walker is able to boost morale among his team.
"Mitch is an outstanding person, always willing to give you recognition, a pat on the back," said Bobby Figueroa, a master electrician who works under Walker. "There's no 'I' in our team."
After devoting a month to the maintenance and tear down of the fair, Walker returns home, where he and his wife Angela to try unwind.
"He works 29 days without a day off," she said. "That first Saturday (after the fair ends), I make sure he has the food that he wants and the house is nice and cool. He's got the bedroom, if he wants to watch TV or whatever he wants to do for that Saturday and Sunday. For the first weekends when he's home it's like that."
Walker said that he enjoys the work because it teaches him new things daily and, as the second chief technician since the fair started in 1886, it places him in a unique role.
"I love what I do. It's challenging. It's rewarding," he said. "And it's great being a part of the history of the city of Dallas."