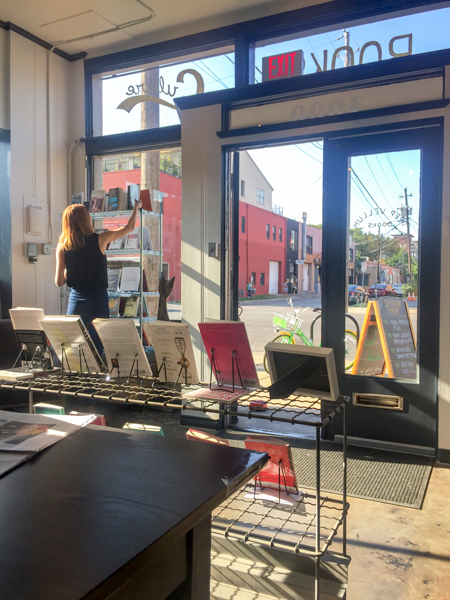 Coffee, Books, Culture. This is the slogan of one of the best independent bookstores in Dallas. Deep Vellum Books, located in Deep Ellum, makes you feel like you are just picking a book off of your bookshelf at home.
Sitting on the corner of South Walton and Commerce streets, Deep Vellum is inside a small square building that used to be the site of Club Clearview, a mainstay of Deep Ellum's golden age in the '80s and '90s.
The bookstore, named best in Dallas for 2017 by D Magazine, is small but cozy. They leave the doors open, a visual welcome echoed by the booksellers inside.
Two walls have black shelves that reach to the ceiling and are packed with books. The old Club Clearview neon sign rests beside one of the bookshelves, a subtle nod to their location's impact.
Nestled in the back corner is a small reading area with comfortable chairs within reach of outlets.
On the opposite corner is a small bar where they check out books and sell alcohol and local coffee provided by Noble Coyote Coffee roasters.
Deep Vellum started out as an independent publishing house in 2013 and then expanded into a bookstore in 2016.
Co-founder Will Evans runs the publishing house that is dedicated to translating the world's best novels into English. He also serves as the translator for these books.
One of the unique quirks that Deep Vellum provides is a "Blind Date with a Book."
You buy a book covered in brown wrapping paper with a "goes well with" list and "Is similar to" list on the cover. You never know what you will unwrap.
The black table in the center of the store has a family style dinner feel to it.
During my visit, my two brothers and I sat around it drinking coffee and reading the current New York Times and Dallas Morning News on hand.
They also host live performances, poetry readings, literary groups and even private events such as photography sessions and wedding showers. Schedule your events at deepvellum.com.
Deep Vellum isn't just about selling books.
It's about inviting people to come in and enjoy the North Texas breeze through an open door while sipping coffee and reading a book.
Swing by, grab a book and a chair and take a break.