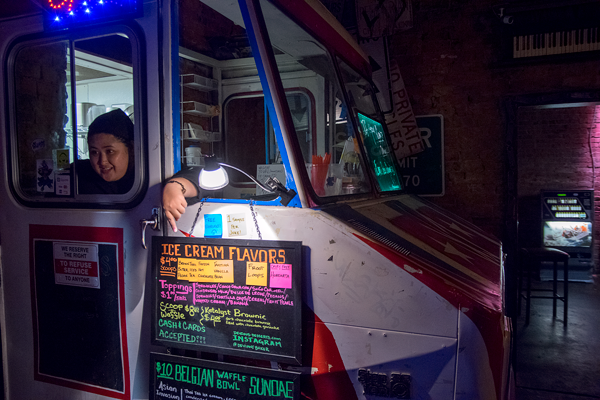 It's easy to miss the interesting places in a city as big as Dallas. The forest of neon signs advertising chain restaurants with boring concepts and the same old food can be blinding, keeping you from finding some truly unique dining experiences. Luckily, you have The Et Cetera.
We've compiled a list of the five most interesting places in Dallas affordable for the average Harvester. From fresh fusion food to a burger dive older than most students, here are our suggestions.
— Compiled by James Hartley
BBBOP
828 W. Davis St., 2023 Greenville Ave. and 5323 Greenville Ave., Dallas
Sometimes things that just logically shouldn't work well together form some unique, almost-perfect creations. BBBOP is a prime example. This family owned Korean influenced Tex-Mex restaurant defies norms and exceeds expectations in almost every area.
The restaurant is full of handmade tables and chairs. Your inner hipster will be pleased to hear that all of the food is locally sourced from farmer markets and small vegetable growers.
Signature dishes like Gangnam Kimchi Fries, TaKO's Tacos, K Wings and traditional Korean rice dish Bi Bim Bop give foodies a variety to choose from.
The best dish is definitely a tie between the Bi Bim Bop and the Gangnam Kimchi Fries. The traditional rice bowl is one of the best offerings in the area, rich with savory flavors and topped with a poached egg.
You wouldn't expect some of the best fries on the planet to come from a Korean Tex-Mex, but the curry ranch fries that come as a side for some dishes and are the base of the Gangnam Kimchi Fries, are just that.
While Korean tacos are an interesting concept, they fall short with the pork tacos. The sweet pork in a taco is a sin against the Tex-Mex gods. Luckily, they allow your choice of meat for the tacos.
To top off the unlikely mixture of themes, the speakers are set to Title Fight radio on Pandora, lightly playing a mix of late 2000s to early 2010s like "~" by Touche Armore and "The Night I Drove Alone" by Citizen in the background.
And a pro tip: skip the soda fountain and go directly to the kiwi green tea limeade — it will change your life.
TEN Ramen
1888 Sylvan Ave., Dallas
During peak times, this standing room only, house made-ramen shop will have people lining the bar in front of the kitchen and flowing out to a patio bar. With a borderline-overload on wood decor and chill EDM playing over the speakers, TEN Ramen is undoubtedly one of the most laid-back ramen shops in North Texas.
The narrow interior has room for 15 people tops. The menu is written on a chalkboard to the right of the door and patrons put their orders in on one of two tablets to the left of the door.
There's no pay with cash option here, so be prepared to pay with a card. The mango cream soda is a go-to non-alcoholic beverage, available for $2.50, and the Ahashi imported light beer is a crisp, flavorful option for just $4.
Every ramen option is great, but the Shoyu Ramen is the best. It's savory, bold tones make a rich, deep flavor that is expected from a good bowl of ramen. The house-made noodles are perfectly cooked and soak in the flavor of the rest of the bowl.
If you aren't feeling the ramen, go for the Buta Suboro rice bowl.
This is a great place to go with a friend or for a date, but not as well-equipped to handle a group of more than four. The limited space can add challenges, but it also adds to the atmosphere.  That paired with the food makes TEN Ramen a must-visit.
Devious Desserts
2724 Elm St., Dallas
Food trucks aren't anything special in Dallas, but Devious Desserts isn't any normal food truck.
You won't see it from the street because this food truck doesn't have a working engine in it. Or a back half.
Meriel Bautista, former executive pastry chef of  JOY Macarons in Oak Cliff and Nobu in the Dallas Hotel Crescent, has made a gourmet dessert stand out of the half food truck parked at the back of Wit's End bar in Deep Ellum.
"I had this wacky dream that I was selling ice cream out of here," Bautista said. "I talked to the manager here at Wit's End and he said, 'I can make that happen.' "
Thank God for that. Made from scratch ice cream, brownies, whipped cream, sauce toppings and even Belgian waffles can be combined to make the most amazing dessert creations ever served out of an oversized Chinese takeout box.
You can pick one dessert from the menu, make your own or go with one of Bautista's predesigned Belgian Waffle Bowl Sundae creations.
Each of the waffle bowls costs $10.
If you're feeling particularly adventurous, just ask for the Chef's Choice for the same price. Bautista will whip up something random but complimenting.
The Frozen Hot Chocolate (yes, that's a contradiction), Fruity Pebble and Café Cubano ice creams are also available on a rotation but not in the predesigned bowls.
Grab your dessert and then hop on one of the TVs in Wit's End and play classic 2D fight games on Play Station.
Ferris Wheelers Backyard & BBQ
1950 Market Center Blvd., Dallas
With a 50-foot Ferris wheel in the backyard, this restaurant is the newest and probably the best party stop on the list. It's also the most expensive with none of the meat dishes running under $10 per half pound and sides averaging $3.
The smoked meat and sandwiches are worth the price, but the sides are easy to pass on.
Whether you prefer a sandwich, sliced brisket, pulled pork or double-smoked, melt-in-your-mouth-tender beef tips, Ferris Wheelers will offer some of the best barbecue in town.
The sides may be small, overpriced and served lukewarm, but the main dishes make the trip worth it. If you want some waffle fries that bad, you can just stop at Chick-Fil-A on the way home and get a larger serving of fresh, hot fries.
The smoked meat portions are small but filling. Everything is smoked on the same day and packed full of flavor. You won't even need the barbecue sauce, which comes in house and spicy flavors.
This place screams Texas. With cow skulls, a giant painting of Chuck Norris in front of an American flag and signs advertising Texas craft beers, you'll be sure to know which state you're dining in.
While you're there, be sure to visit the backyard. You can play Cornhole, giant Jenga and take a free ride on the Ferris wheel.
Just make sure everyone likes (or can at least tolerate) country music, because that's about all they play.
Keller's Hamburgers and Beer Drive In
6537 E Northwest Highway, Dallas
This isn't the Sonic drive in you're used to. Keller's is a Dallas legend, serving up simple, cheesy, greasy cheeseburgers stuffed between a poppy seed bun.
These burgers won't win any awards for creativity or novelty, but averaging between $2 and $3, they will become one of your top choices throughout your time as a broke college student.
The environment can't be beat. While it can get crowded, Keller's allows you to eat in your own car. Laugh and talk as loud as you want without worrying about bothering other patrons or roll up the windows and enjoy a book or movie in the quiet of your vehicle.
The best option here is without contest the No. 8. A double patty, double cheese and chili mess that, considering you probably don't want to have to pay for a car detail after your meal, you'll want to be careful with.
If you're feeling hungry— or just want a challenge— add an extra patty to your No. 8 or any other burger for just 70 cents.
If you're wanting to avoid the mess that comes with the chili, the cheeseburger is a safe bet. If you're still not sure what to get, ask your carhop. It's a limited menu, so they usually know what's good.
And a last note: bring cash, that's all Keller's will take.