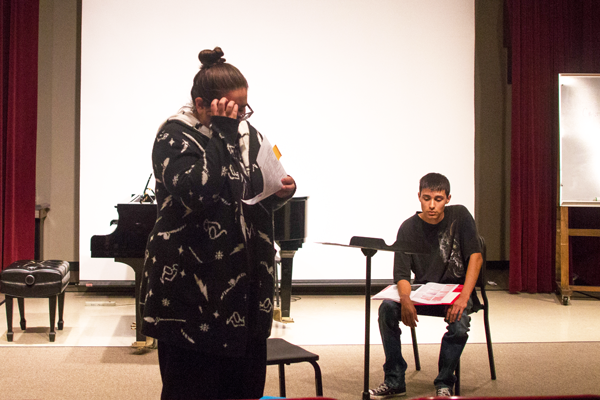 One out of every four female undergraduates will become a victim of sexual harassment before graduation, according to the United States Department of Justice.
The Harvester Theatre Company's production of "Say Something" will be a series of strategically constructed scenes exploring the devastating aftermath of sexual violence, rape and the challenges that exist in sexist female-male relationship culture.
"Title IX has been a huge issue right now with universities regarding sexual harassment, stalking, cases of molestation and even rape in some cases," said guest director Shelby-Allison Hibbs, who is also a professor of theater at the University of Texas in Dallas. "I'm hoping that through these scenes that people will find ways to have a more in-depth conversation about sexual harassment, discrimination and stalking."
The scenes are taken from various plays, including Naomi Iizuka's "Good Kids," which targets modern rape culture and victim shaming, as well as "Boy Gets Girl" by Rebecca Gilman, which explores stalking and the misperception of romantic pursuit.
These scenes are intended to be intense and thought-provoking and will be performed in various public locations throughout the campus.
"This issue, it doesn't happen just behind closed doors. It can happen really anywhere on campus," Hibbs said. "The seven-to-10-minute scenes will pop up at different places around campus. People will be coming and going from class, see a scene and then we would have a talk back afterward to talk through what they saw, what they think could happen and how they respond to it."
Although Eastfield has never experimented with site-specific theater before, Hibbs and theater coordinator  Dusty Reasons Thomas have a vision that through these intense interactions between characters, students will become more aware of sexual harassment and how complex it is.
Hibbs also wanted to go forward with the project in a way that would counter the portrayal of sexual assault victims in the media.
"These scenes really come from the perspective of a person who has been used, a person who is being threatened, a person who feels trapped," she said. "I'm hoping that people will be open to see their points of views in a more humanistic way than other ways that they have been portrayed in the media."
The scenes have affected the cast by opening them up to the perspectives of the roles they play.
"It's kinda surreal, and it's very enlightening for me because I've never been in the situation and I hope to never be in that situation," theater major Victor Deterra said. "For me it was just getting into that character of someone who is acting as this aggressor, who is coming onto this girl, and it just put me out of my comfort zone because it's not something I think I would ever do."
Deterra, who takes on the role of Conner from "Good Kids," hopes the guerrilla-style scenes will surprise their unconventional audience and will not allow students to dismiss the topic.
"What I hope some people get from it is a sense of awareness that this stuff does happen and can happen at any time and to anyone," he said. "It can happen to guys. It happens to girls. It can happen anywhere."
Fine arts major Conner Morris had a similar view and believes the production will influence students to help possible victims who may be struggling with similar circumstances.
"They'll probably want to help others, too," he said. "If they see something that's wrong with them, they'll want to say, 'Hey, what's up? Do you need help?' "
Thomas expressed how important it is for someone to speak up if they see that something is clearly wrong, which is why the title "Say Something" is reiterated throughout the scenes.
She acknowledges that quite often these things happen around us and if we pay closer attention we may be able to prevent them.
The production will be performed from Oct. 10-24 and will occur in the library, Upper Courtyard, pool locker rooms and the Pit.