Campus panel debates free speech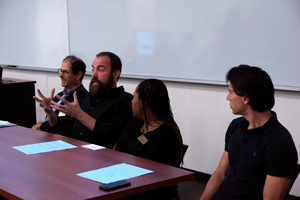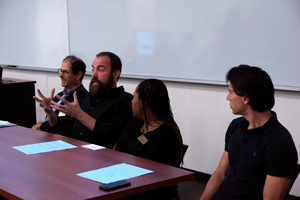 People deserve an absolute right to free speech, even if their words anger or hurt others, speech professor Nick Vera said at a Sept. 21 panel discussion on the subject.
"There's nuance here, but I will always err on the way of free speech," he said. "Bullying is a reality, but when you get out in the real world there's going to be no one who's going to protect you from someone saying ugly words to you.
"Bullying should be met with education rather than legislation."
Other panelists expressed more willingness to accept limitations on speech that involved racist comments and offensive expressions.
"I do think that there should be some type of limitations," adjunct government professor Tiffany Nacoste said. "I think that the school has a responsibility to absolutely protect."
Colleges have been a flashpoint for the free speech debate in recent months. 
White supremacists waving Confederate flags and shouting anti-Semitic chants marched through the University of Virginia's campus in August, igniting a national debate on hate speech.
In February, the University of California-Berkley canceled a speech by right-wing commentator Milo Yiannopoulos after violent protests.
Texas A&M refused to allow white nationalist Richard Spencer to speak on because of safety concerns.
College and university administrators say they are caught between protecting free speech and ensuring safety on their campuses.
Schools generally set aside areas on their campuses designated as "free speech zones," where anyone can give speeches or hold protests. Eastfield's is in the Lower Courtyard, though it has not been used in more than a decade. The college requires groups to reserve the space but does not regulate the content of their events unless they become disruptive or violent, administrators say.
History professor Matt Hinckley argues that colleges should restrict some rallies and protests, such as Neo-Nazis and hate groups.
"A college community has the right, I would argue, to regulate things in the public interest," he said.
Nacoste said college officials must walk a fine line to protect the individual but also allow the free exchange of ideas.
Vera responded: "Who's the person that's going to be the sole arbiter of what speech needs to be limited?"
Hinckley brought up the controversial flying of Nazi flags.
"They have a right to fly the Nazi flag if they want to," Hinckley said "but I will say this, if you fly the Nazi flag, you're a piece of sh*t as a human being."
Government professor Michael Iachetta said preventing free speech is dangerous.
"You don't shut people down by force," he said. "That's what tyrannies do."
Students who attended the panel left with equally divided views.
"People should have the right to say anything," said Awab Easha, a civil engineering major said.
Marketing major Crystal Salinas worries about speech targeting minorities.
"Things shouldn't be expressed that would be harmful to them or expressed in a way that makes them scared or segregated," she said.